What is Caltrate?
Caltrate is a range of supplements that claim to support healthy bones, joints, and muscles. This line of products uses calcium as the main ingredient and plays a major role in bone formation.
It is also a key component in supporting the process of metabolism. To enhance absorption, the formula contains Vitamin D, which is also beneficial to skeletal health[1].
Apart from bone health, the nerves, muscles, and hormones all get nourishment from calcium supplementation. These supplements come in the form of tablets, soft chew tablets, gummies, and mini tablets to suit consumer preference.
---
QUICK FACTS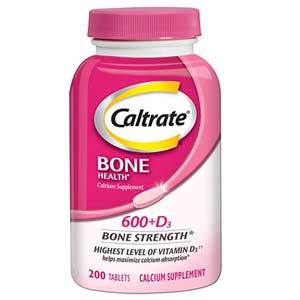 Buy on Amazon
Quick Facts & Specs
Caltrate 600+D3
Caltrate contains vitamin D3, the preferred form of vitamin D, to help maximize calcium absorption – which is essential for maintaining strong bones.
Form:

Pills

Type:

Supplements

Benefit:

Collagen Booster, Promotes a Young Appearance

Phone & Address:

1-800-245-1040 (15146738120), [email protected]

Brand:

Caltrate

Uses:

Promotes Bone & Joint Health, Digestive Health, Immune Support.*

Price:

$15.67*

Active Ingredients:

Calcium, Vitamin D, Maltodextrin
Caltrate 600+D3 Pros & Cons
Pros
The calcium in this formulation can lead to stronger bones
It promises to prevent Osteoporosis
Has Vitamin D that may promote healthy absorption of calcium
Supports nerves, hormones and muscle health as well
Cons
Caltrate may not address underlying reasons for calcium depletion
This supplement needs a prescription by a doctor
May cause a reaction when used with other drugs
---
The Science Behind Caltrate
Caltrate supplements play a major role in calcium supplementation. Calcium which is vital for bone formation becomes depleted with age. For instance, in the postmenopausal population, calcium levels dwindle forcing those in the age group to take bone support supplements.
And since calcium is not well absorbed in the bodies of elderly people or some individuals with some ailments, vitamin D must be present to enhance absorption. Once absorbed, calcium enhances the bones and teeth making them strong preventing osteoporosis.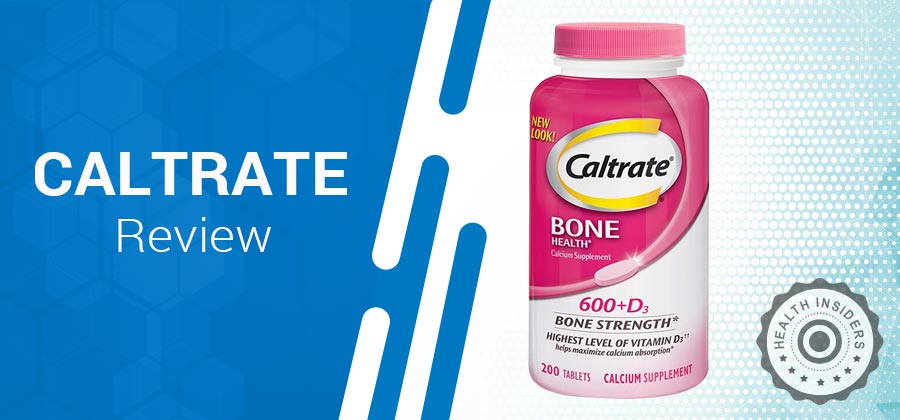 Who is the manufacturer of Caltrate?
The brand behind Caltrate supplements is Pfizer Consumer Healthcare. This American company focuses on partnering and funding programs that benefit the public. It also involves advances in medical care and improves patient outcomes.
In light of this, the company aims to provide medicines that are safe, effective, and affordable. In Japan, the company responsible for distributing these supplements is called Hisamitsu Pharmaceutical.
Caltrate Ingredients – Are they Safe and Effective?
The ingredients present in these supplements include:
Calcium – Mainly in the form of calcium carbonate. Calcium is a naturally occurring element in foods such as milk and cheese. According to the journal Nutrients[2], one paper indicates that calcium plays a major role in bone formation and metabolism. It also provides tissue strength in both bones and teeth.
Vitamin D – Usually recommended alongside calcium supplements to enhance calcium absorption. In an article by The Journal of Clinical Endocrinology and Metabolism[3], vitamin D enhances calcium mineralization. As such it is important in the prevention of osteoporosis. It also reduces susceptibility to fractures in the elderly population.
Caltrate – Questions and Answers
Q: How to Use Caltrate?
A: For Caltrate 600+ D3 and Caltrate + D3+ minerals take 1 tablet up to twice a day with or without food or as recommended by a doctor. If you are taking Caltrate gummy bites, take two gummies up to twice a day with or without food.
Q: How much does Caltrate Cost?
Caltrate 600 + D3 Plus Minerals retails at $18.49
Caltrate Gummy bites – $15.98
Caltrate 600 + D3 Plus Chewables – $13.32
Q: What are the side effects of taking Caltrate?
A: The producer agrees that in some cases, certain supplements in this line of products may cause mild stomach upset, vomiting, or constipation.
Q: Can I Take Caltrate If I am Lactating or Diabetic?
A: While the product site does not include this information, it is advisable to seek medical advice if you are either lactating or diabetic.
Q: Does Caltrate Work?
A: This product may work to deliver its bone health support promise. And this is owing to the fact that it contains ingredients that work to support bone health in the long run.
Q: What Is Caltrate Moneyback Guarantee, Return & Refund Policy?
A: The producers sell Caltrate supplements via different online platforms, for that reason the return policy will depend on the site you purchase from.
Q: How I can buy some of the Caltrate Bone and Joint with U11 in it?
A: You can find Caltrate Bone supplement lines at most major stores and online like Amazon, Costco, Walgreens, Walmart, and more.
Q: Does Caltrate have vitamin D and is it Safe?
A: This product may be safe since it is doctor recommended and that the ingredients.
Caltrate Alternatives
Citracal Calcium + D3 – This is a slow-release formula where users are required to take the supplement only once for optimal absorption.
Bluebonnet Calcium Citrate with vitamin D3 – This calcium supplement contains few ingredients which make it perfect for minimalists.
User Reviews & Results
Some users were appreciative of the relief they felt while using this product while others complained of the side effects they faced.
Caltrate – Packages, Deals, Prices & Where to Buy It?
As we said earlier, Caltrate supplements come in many forms; tablets, mini tablets, chewables and gummies.
These supplements include;
Caltrate 600 + D3 tablets (200 tablets)- $15.67
Caltrate 600 + D3 soft chews (60 count)- $9.03
Caltrate 600 + D3 Gummy Bites (100 count) – $15.98
Caltrate 600 + D3 Plus Minerals tablets (165 tablets)- $15.62
Caltrate 600 + D3 Plus Minerals chewables (60 tablets)- $7.88
Is There Anything Else You Should Know About Caltrate?
While taking Caltrate 600 + D, you should;
Inform all your health providers that you are using this product
Inform your doctor if you are allergic tartrazine which is present in some products
Inform your doctor if you are under medication before starting on this supplement
Follow the diet plan provided by your doctor
Inform your doctor if you are pregnant, planning to get pregnant or breastfeeding so that your doctor can assess all risks before recommending it
The Bottom Line on Caltrate
As we age, calcium levels in our bodies decline causing problems such as bone and muscle pain. As a means of keeping these issues at bay, calcium supplements[4] may come in handy.
This is a calcium support supplement that may promise to keep your bones healthy and free from osteoporosis.
With the addition of vitamin D to its ingredients, calcium is readily absorbed in the bloodstream to work on the bones, muscles, nerves, and hormones. Caltrate comes in tablets, mini-tablets, soft chew tablets, and gummies to suit your preference.
SOURCES
Health Insiders relies on peer-reviewed studies, academic research institutions, and medical associations. We avoid using tertiary references. You can learn more about how we ensure our content is accurate and current by reading our editorial policy.
[1] Eastell, R., & Lambert, H. (2002). Plenary Lecture: Strategies for skeletal health in the elderly. Proceedings of the Nutrition Society, 61(2), 173-180. doi:10.1079/PNS2002160
[2] Vannucci, L.; Fossi, C.; Quattrini, S.; Guasti, L.; Pampaloni, B.; Gronchi, G.; Giusti, F.; Romagnoli, C.; Cianferotti, L.; Marcucci, G.; Brandi, M.L. Calcium Intake in Bone Health: A Focus on Calcium-Rich Mineral Waters. Nutrients 2018, 10, 1930, https://doi.org/10.3390/nu10121930
[3] J. Christopher Gallagher, Vinod Yalamanchili, Lynette M. Smith, The Effect of Vitamin D on Calcium Absorption in Older Women, The Journal of Clinical Endocrinology & Metabolism, Volume 97, Issue 10, 1 October 2012, Pages 3550–3556, https://doi.org/10.1210/jc.2012-2020
[4] Institute of Medicine (US) Committee to Review Dietary Reference Intakes for Vitamin D and Calcium; Ross AC, Taylor CL, Yaktine AL, et al., editors. Dietary Reference Intakes for Calcium and Vitamin D. Washington (DC): National Academies Press (US); 2011. 2, Overview of Calcium.