What is UMZU?
UMZU is a popular brand of all-natural dietary supplements designed to boost overall health and wellness. Made of pure organic ingredients, these products support digestive health, provide energy, improve mood and cognition, help with weight loss, promote skin health, and balance the hormones. Here are some of the top products in the line:
UMZU Zupoo – This digestive supplement detoxes your intestines and promotes better gut health, more regular bowel movements, and eliminates symptoms like gas and bloating.
UMZU Thyrite – This supplement speeds up your metabolism for fat-burning and weight loss, and it provides support to your thyroid gland.
UMZU Collagen Protein – This is a chocolate-brownie flavored drink which is full of collagen to promote skin and joint health.
UMZU Sleep – This apple-cinnamon flavored drink supplement helps you get to sleep quickly, have a better quality rest, and wake up refreshed.
| | |
| --- | --- |
| Features | Educational Guidance in Product Use |
| Form | Capsules |
| Health Benefits | Digestive Health, Immune Support, Energy, Boosting Mood and Cognition, Supporting Muscle, Bone, and Skin Wellness, Hormonal Balance, Fitness, Weight Loss |
| Ingredients | Probiotics, Collagen, Digestive Enzymes, Betaine, Vitamin D3, L-Taurine, L-Tyrosine, L-Leucine, Kelp, Forskolin, Boswellia Serrata, Bromelain |
| Type | Organic Health Supplements |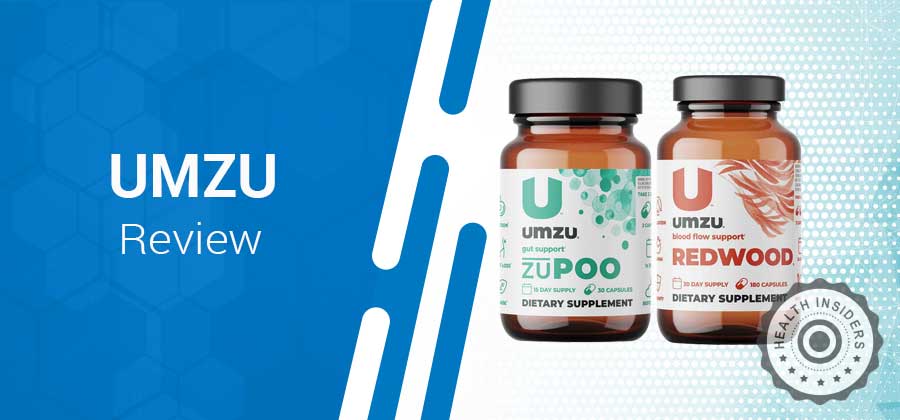 How Does UMZU Work?
Generally speaking, these formulas work to balance the hormones in the body for better overall functioning and more energy, as well as support metabolic health.
There are ingredients which raise levels of key brain neurotransmitters, promoting better mood, decreasing anxiety, improving sleep, and supporting cognitive performance. An article in StatPearls explored the physiology and neurotransmitters [1].
This brand includes ingredients which support digestion, such as digestive enzymes and probiotics. The enzymes help break down food into small particles that are easier to digest. Probiotics are good bacteria that line the intestines and support a better microbial balance. An article in Tropical Life Sciences Research discussed the benefits of probiotics [2].
Ingredients like collagen support skin health, firming and lifting to eliminate wrinkles and lines. Other ingredients promote hydration and enhance skin elasticity. In addition, collagen helps repair damage to the cartilage and boost joint health.
These supplements are very high in antioxidants, which kill damaging free radicals and lower oxidative stress. This promotes healing and strengthens the immune system. The formulas are also rich in anti-inflammatory agents which help reduce swelling and pain.
Pros and Cons of UMZU
Pros
All the supplements in the UMZU brand have scientific support.
The company provides complete transparency about ingredients and dosages.
UMZU supplements help balance your hormones for numerous health benefits.
There are no harmful additives or fillers in the UMZU products.
Some products help promote optimal and natural gut health for better digestion.
Cons
Free shipping for orders over $99 is only for U.S. residents.
Some users will find the supplements more effective than others.
There are no free samples of the UMZU products available.
What Are the Ingredients in UMZU Supplements?
These are some of the primary active ingredients in UMZU:
Aswagandha – This is an herb commonly used in Ayurvedic medicine which has many medicinal benefits. It can decrease stress levels by lowering levels of cortisol. It may also increase testosterone, building muscle mass and improving libido.
It also has potent brain benefits and may reverse some nerve cell damage [3]. A review in the Journal of Ethnopharmacology looked at the use of this herb in treating brain disorders [4].
Collagen – Collagen is a protein which exists naturally in the body, largely in the skin and connective tissue. It diminishes with time, so the added amount helps tighten the skin and smooth wrinkles and lines.
It can also repair cartilage damage and promote joint health. A systematic review in the Journal of Drugs and Dermatology explored the dermatological applications of collagen [5].
Betaine – This is a type of amino acid which exists naturally in the body, and it helps metabolize an important amino acid called homocysteine.
In addition, it promotes proper liver function and helps with cellular reproduction [6]. An article in Biology discussed the beneficial health effects of betaine [7].
Boswellia Serrata – This is an herbal extract derived from a tree, and it has potent anti-inflammatory benefits. This can be beneficial in treating joint and muscle pain. In addition, it has mood-boosting properties.
Boswellia is high in antioxidants which promote healing in the body and strengthen the immune system. A study in Phytotherapy Research concluded that Boswellia improved physical and functional abilities in arthritis patients [8].
How Does UMZU Rate?
| Feature | Rating | Comments |
| --- | --- | --- |
| Ingredients | 10 | Pure, organic ingredients with science and research supporting their benefits |
| Safety | 9 | No harmful fillers or additives includes, few side effects, safe manufacturing processes |
| Guarantee | 10 | 60-day money back guarantee |
Frequently Asked Questions (FAQs)
Q: Is UMZU Legit?
A: There's no doubt that UMZU is a legitimate brand and company. This is a popular organization with 7 years of experience in the industry, and they have a good reputation. The company has a legitimate street address in Boulder, Colorado. There are numerous UMZU reviews online which indicate that this is a real and well-appreciated brand.
Q: Where Can You Buy UMZU?
A: These supplements are for sale on the manufacturer's official website, and from a number of other online and offline retailers like Amazon and Walmart. The manufacturer is offering free shipping for U.S order above $99. Here are the prices of some of the top products on the official site:
UMZU Redwood – $33.96
UMZU Zupoo – $29.95
UMZU Testro X – $54.95
UMZU Floracil50 – $44.95
UMZU Collagen – $44.95
UMZU Cortigon – $39.95
UMZU Sensolin – $49.95
Q: What is the UMZU Return Policy?
A: The manufacturer is offering a 60-day money-back guarantee starting from 2 weeks after you bought the product. Contact UMZU customer service and then send back the items within 60 days of the purchase date. There's a limit of 3 items every 12-month period.
Q: Who is the Manufacturer of UMZU?
A: UMZU LLC is a company that produces health and wellness products using pure, organic ingredients. They have their headquarters in Boulder, Colorado. A neuroscience student called Christopher Walker started UMZU company in 2015 after experiencing health challenges.
Q: Does UMZU Work?
A: UMZU includes quality ingredients selected because of the scientific research supporting their benefits, meaning that these supplements are potent and should work well. If you read through some of the outstanding UMZU reviews, you'll see that most users found these supplements to be highly effective.
Q: Is UMZU Safe?
A: UMZU is a very safe brand. The company only uses pure, organic ingredients in their formulas, with no chemical or artificial additives. These are not substances which lead to harmful side effects, although you should check with your doctor if you take medication. The company manufacturers according to strict safety standards.
Q: How Does UMZU Compare with Other Brands?
Brand
Price Range
Ingredients
Primal Harvest
Approx. $30s and $40s
Reishi, Probiotics, Prebiotics, Postbiotics, Fruits and Vegetables, Turmeric, MCT, Lion's Mane Mushroom, Collagen
Steel Supplements
Approx. $25-$100
Alpha Yohimbine, Huperzine A, N-Acetyl L- Carnitine, Caffeine Anhydrous, Hordenine HCL, DHEA, Magnesium, Vitamin D3
ActivatedYou Probiotics
Approx. $60-$80
Broccoli, Green Tea, Turmeric, Probiotics, Astralagus, Fennel Seed, Green Tea, Kale, Cinnamon Bark, Aloe Vera, Spinach, Ginger Root
Total Life Changes
Approx. $12-$60
CBD, Peppermint Oil, Papaya, Soluble Fiber, Vitamins A, C, and D, B Vitamins, Geranium, Grapefruit, Bergamot, Eucalyptus, Tea Tree Oil, Ylang Ylang
SkinnyFit
Approx. $34-$60
Collagen Peptides, Acai, Apple Cider Vinegar, Milk Thistle, Guarana, Green Tea, Ginseng, Yerba Mate, Hibiscus, Oolong Tea, Beet Root Juice, Vitamins and Minerals
Q: What Sets UMZU Apart From the Competition?
A: What makes UMZU special compared to many other brands is its mission and philosophy. They help users to thrive by balancing metabolic and hormonal health, which offers benefits for the body and mind. They also espouse a philosophy of transparency about their products and the related nutritional and other facts.
Q: What Do the Customers Think of UMZU?
A: Naturally the UMZU reviews varied somewhat from product to product, but generally speaking customers loved these supplements. Many people spoke of great health benefits like weight loss and improved digestion and noted that this brand had a significant impact on their lives.
Conclusion
UMZU is a well-known natural supplement brand which focuses on balancing the metabolism and the hormones in the body for various health benefits. These products offer benefits like weight loss, improved digestion, elevated mood, muscle and bone health, and stronger immunity. This is a quality brand with reasonable-priced products.
The UMZU supplements reviews varied somewhat, but the vast majority of the feedback about this brand and the products was very positive. Customers spoke of numerous health benefits, and many said they were taking more than one product at the moment. There were no reports of side effects from UMZU supplements.
UMZU is one of the top health and wellness supplement brands on the market, and they use only 100% naturally-sourced ingredients. They are few side effects associated with taking these products. If you're looking for a health boost, UMZU is a brand we can highly recommend.
8 sources
Health Insiders relies on peer-reviewed studies, academic research institutions, and medical associations. We avoid using tertiary references. You can learn more about how we ensure our content is accurate and current by reading our editorial policy. When you're in the market for a new health supplement brand, it's important to make sure you do your own personal research outside of the information provided by the manufacturer. Research the health benefits and the ingredients, and check whether there is any research supporting their efficacy. Here are some links to get you started.
[1] Physiology, Neurotransmitters: https://www.ncbi.nlm.nih.gov/books/NBK539894/
[2] Beneficial Properties of Probiotics: https://www.ncbi.nlm.nih.gov/pmc/articles/PMC5031164/
[3] Protective Role of Ashwagandha Leaf Extract and Its Component Withanone on Scopolamine-Induced Changes in the Brain and Brain-Derived Cells (plos.org)
[4] Zahiruddin S, Basist P, Parveen A, Parveen R, Khan W, Gaurav, Ahmad S. Ashwagandha in brain disorders: A review of recent developments. J Ethnopharmacol. 2020 Jul 15;257:112876. doi: 10.1016/j.jep.2020.112876. Epub 2020 Apr 16. PMID: 32305638.
[5] Choi FD, Sung CT, Juhasz ML, Mesinkovsk NA. Oral Collagen Supplementation: A Systematic Review of Dermatological Applications. J Drugs Dermatol. 2019 Jan 1;18(1):9-16. PMID: 30681787.
[6] Betaine: https://www.mountsinai.org/health-library/supplement/betaine
[7] Beneficial Effects of Betaine: A Comprehensive Review: https://www.ncbi.nlm.nih.gov/pmc/articles/PMC8224793/
[8] A Pilot, Randomized, Double-Blind, Placebo-Controlled Trial To Assess The Safety And Efficacy Of A Novel Boswellia Serrata Extract In The Management Of Osteoarthritis Of The Knee: https://www.ncbi.nlm.nih.gov/pmc/articles/PMC6681146/
[9] Health Benefits of Probiotics: A Review: https://www.ncbi.nlm.nih.gov/pmc/articles/PMC4045285/
[10] Stuart AS Craig, Betaine in human nutrition, The American Journal of Clinical Nutrition, Volume 80, Issue 3, November 2004, Pages 539–549
[11] Vitamin D: The "Sunshine" Vitamin: https://www.ncbi.nlm.nih.gov/pmc/articles/PMC3356951/
[12] An Evidence-Based Review: Anti-Obesity Effects Of Coleus Forskohlii: https://www.sciencedirect.com/science/article/abs/pii/S2186495016000055
[13] Digestive Enzyme Supplementation in Gastrointestinal Diseases: https://www.ncbi.nlm.nih.gov/pmc/articles/PMC4923703/