What is Topicals Faded Serum?
Topicals Faded Serum is a creamy skincare product that actively helps diminish stubborn marks on the skin, as per its producer.
It supposedly improves post-acne scars, dark spots, melasma, and any form of discoloration or hyperpigmentation.
Topicals Faded Cream has key ingredients that have been evaluated to ensure it provides all these benefits. This dermatologically tested serum is allegedly good for all skin types, including sensitive skin.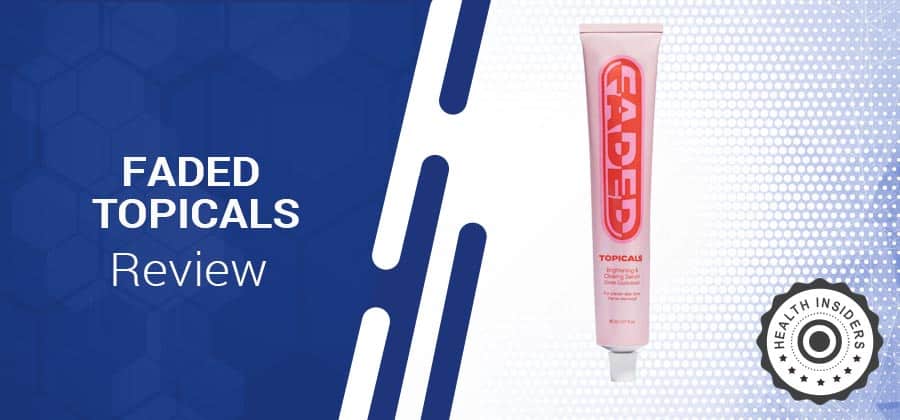 Benefits of Topicals Faded Serum
Introducing the remarkable Topical Faded Serum, a powerhouse solution with multiple benefits:
Brightens Skin
Fades Dark Spots
Effectively Balances Skin
Safe for Hyperpigmentation
Topicals Faded Serum Key Points
Buy on Amazon
Buy on Walmart
Promise: Visibly work to reduce stubborn discoloration, post-blemish marks, scars, and spots – for all skin shades and ethnicities.
Form:

Lightweight cream

Type:

All skin types, even sensitive skin. Ideal for those with hyperpigmentation.

Research:

Uses evidence-supported ingredients

Brand:

Topicals Faded

Uses:

Gentle enough for daily skincare use

Price:

$32

Active Ingredients:

Tranexamic acid, Azelaic acid, Kojic acid, Niacinamide, Centella Asiatica, Alpha Arbutin, Licorice, Turmeric.

Reputation:

good as it is cruelty-free, vegan and gluten-free, and fragrance-free, reviews are mostly positive.
Topicals Faded Serum Pros & Cons

It supposedly evens skin tone
Helps fade post-blemish marks and scars
Improves dark patches
It helps Improves skin discoloration

It may have a pungent smell to some people because it is fragrance-free
Some people may experience a purge when they first start using this serum
May not deliver the same exact results for everybody
Topicals Faded Serum Ingredients
Kojic Acid
Kojic acid is extracted from various species of mushrooms and is also a byproduct in the fermentation of rice wine and soy sauce.
It inhibits and prevents the formation of tyrosine, thus helping to brighten skin and fade dark spots. Tyrosine is a key enzyme involved in the synthesis of melanin, the pigment that gives skin color.
By inhibiting tyrosine, kojic acid is able to reduce abnormal hyperpigmentation associated with aging and sun damage.
The Cosmetic Ingredient Review Expert Panel decided that Kojic acid is safe to use in cosmetics in concentrations of 1 percent.
Niacinamide
Niacinamide is the amide form of vitamin B3 (niacin). It is a potent antioxidant and plays a major role in cellular metabolism.
Advertisement
*All individuals are unique. Your results can and will vary.
It helps reduce and prevent acne because of its antimicrobial and sebostatic effects, protecting against the bacteria that cause acne while helping reduce oil production.
According to the Biomolecules and Therapeutics journal, niacinamide can repair the skin barrier and improve skin moisture.
It also fades hyperpigmentation and reduces inflammation, blotchiness, and the appearance of wrinkles and fine lines.
Centella Asiatica
Centella Asiatica, also known as Cica or tiger grass, has been used for centuries in Ayurveda and Traditional Chinese medicine.
It has recently risen in popularity in several skin care products because of its numerous benefits to the skin.
According to a publication in the journal Advances in Dermatology and Allergology, the most important components in tiger grass are asiaticoside, madecassoside, Asiatic acid, and madecassic acid.
These components make Centella Asiatica extract possess antibacterial, antioxidant, and anti-inflammatory properties, which can help calm and repair skin, and increase the amount of collagen in the skin.
Licorice
Licorice root extract is one of the best naturally-derived ingredients for hyperpigmentation. Glabridin and glycyrrhiza glabra are the active components in licorice extract.
Glycyrrhiza glabra has antioxidant and anti-inflammatory properties, and can therefore soothe the skin protecting against environmental free radicals.
Glabridin on the other hand inhibits the production of melanin. The outer layer of the darker skin is replaced by lighter skin after continuous application.
According to a publication in the Antioxidants Journal, licorice extract improves hyperpigmentation by dispersing the melanin, inhibiting melanin biosynthesis, and inhibiting cyclooxygenase activity thereby decreasing free radical production.
How To Use Topicals Faded Serum?
Apply a thin, even layer of Topicals Faded Cream to cleansed, dry skin after toning but before moisturizing. Use on areas with the most hyperpigmentation and uneven tone, or all over the face.
Gently massage into the skin until it has been absorbed. Use once weekly, working your way up to daily use. Moisturize well while using the product and use sun protection during the day.
Advertisement
*All individuals are unique. Your results can and will vary.
Side Effects of Topicals Faded Serum
Based on our meticulous research, we have found compelling evidence on the official website indicating that 100% of participants experienced significant overall skin improvement. This noteworthy outcome underscores the product's reliance on natural ingredients and its proven absence of any potential side-effects.
How Does Topicals Faded Serum Work?
As the name implies, Topicals faded serum for dark spots and discoloration works by gently fading dark marks, spots, and acne scars and also reduces hyperpigmentation. The serum gets absorbed fast and infuses into the problem areas, which makes it more likely to deliver the results
The key ingredients are also supposedly research-confirmed to have a positive effect on active acne, and that gradually fades away the marks. The serum should be incorporated into your skincare routine so that you can reap the benefits after a while.
Topicals Faded Serum Alternatives
Topicals Faded Serum

Drmtlgy Needle-less Serum

Renee Rouleau Skin Care

Product

Price

$32.00
$69.00
$42.50

Ingredients

Tranexamic acid, Azelaic acid, Kojic acid, Niacinamide, Centella Asiatica, Alpha Arbutin, Licorice, Turmeric
Hyaluronic Acid, Niacinamide, Ceramides, Peptides, Bambusa Vulgaris Leaf, Pea Extract, Panthenol, Glucosamine
Lactic Acid, Licorice Root, Vitamin E

Rating

3.9/5

4.9/5

3.8/5

Pros

It supposedly evens skin tone
Helps fade post-blemish marks & scars
Improves dark patches
Improves skin discoloration

Deeply hydrate the complexion
Eliminate fine lines
Make the skin smoother
Gives skin a radiant glow
Improve the appearance of the pores

Treat multiple skin problems
Products is high in antioxidants
They have anti-inflammatory properties

Cons

It is fragrance-free
Some people may experience a purge
May not completely clear old scar marks

Results will vary for different individuals
High demand may sometimes lead to low stock

Some ingredients may cause a rash or redness
Slightly more expensive

Where To Find
See Review
See Review
See Review
How Does Topicals Faded Serum Rate?
| Feature | Rating | Comments |
| --- | --- | --- |
| Ingredients | 4.6 | It has evidence-based active ingredients that deal with hyperpigmentation. |
| Price | 4.0 | The topical faded serum is worth the money. |
| Manufacturer | 3.8 | The brand offers high-quality and innovative products. |
Topicals Faded Serum Customers Reviews
Everything you could want
This has a ton of active ingredients for reducing hyperpigmentation. It faded my acne scar and dark marks, in like a week. It smells unpleasant, but at least they're not putting in fragrance.
– Trebor6
Skincare review
I love this serum so much for my hyperpigmentation, dark spots, sun spots, acne, and rosacea.
– Angel Garcia

Advertisement

*All individuals are unique. Your results can and will vary.
It is a good product
I like the product, it takes time to make a difference, but it does deliver results.
– Jennifer
Works wonders
The product contains excellent skin-brightening ingredients that work effectively in reducing dark spots. I had to try faded products mainly because of the hype on TikTok. I have been trying different skincare products to heal dermatitis but nothing seemed to work until I tried faded tropical. It has helped it fade away and smoothen my skin.
– Alina.
Conclusion
Generally, it is safe to say that the Topicals Faded Serum is well formulated with active evidence-based ingredients that some research sources indicate may work efficiently and be as gentle as possible on the skin.
Dark spots on the skin gradually become less visible after some weeks of continued use of the gel. However, it has an uncomfortable sulfur-like smell which some users may not appreciate.
Still, the serum is good for all skin types of any ethnic background. It is cruelty-free, vegan, and dye-free. Topicals Faded Serum gel has a smooth and creamy texture. Its thicker consistency makes the skin supple and plump.
It is also said to smooth out rough and textured skin, brighten and balance skin tone, and revive dull and tired skin. Topicals Faded Serum brightening and clearing serum however does not bleach or lighten skin.
Topicals faded reviews are found on Topical's official website with pictures from some customers showing their before and after use of Topicals Faded cream.
Frequently Asked Questions (FAQs)
Q: Where Can You Buy Topicals Faded Serum?
A: Topicals Faded serum and other Topicals products can be purchased on the brand's website as well as on Sephora.com.
Q: What is the Topicals Faded Serum Return Policy?
A: Topicals believes that customer satisfaction is important and that is why it accepts returns. Topicals offer a 45-day money-back guarantee for this product. Kindly refer to the official website for instructions.
Q: Who is the Manufacturer of Topicals Faded Serum?
A: The manufacturer of Topicals Faded Serum is the brand Topicals.
Q: Is Topicals Faded Serum Worth It?
A: Yes, Topicals Faded Serum is worth it because the product delivers great value for the money.
Q: What Sets Topicals Faded Serum Apart From the Competition?
A: The key ingredients in Topicals Faded Serum brightening and clearing gel are the reason this product stands out. They have been intensively studied and proven to work well. Topicals Faded Serum cream is also cruelty-free, fragrance-free, gluten-free, and vegan. The Topicals brand also uses Eco-friendly packaging which is sustainable for the environment and can be recycled.
5 Sources
Health Insiders relies on peer-reviewed studies, academic research institutions, and medical associations. We avoid using tertiary references. You can learn more about how we ensure our content is accurate and current by reading our editorial policy.
[1] Burnett CL, Bergfeld WF, Belsito DV, Hill RA, Klaassen CD, Liebler DC, Marks JG Jr, Shank RC, Slaga TJ, Snyder PW, Andersen FA. Final report of the safety assessment of Kojic acid as used in cosmetics. Int J Toxicol. 2010 Nov-Dec;29(6 Suppl):244S-73. doi: 10.1177/1091581810385956. PMID: 21164073.
[2] Zhen AX, Piao MJ, Kang KA, Fernando PDSM, Kang HK, Koh YS, Yi JM, Hyun JW. Niacinamide Protects Skin Cells from Oxidative Stress Induced by Particulate Matter. Biomol Ther (Seoul). 2019 Jul 5;27(6):562-569. doi: 10.4062/biomolther.2019.061. Epub ahead of print. PMID: 31272139; PMCID: PMC6824628.
[3] Fratczak  A, Polak K, Szczepanek M, Lis-Swiety A. The role of proprotein convertase subtilisin/kexin type 9 (PCSK9) in the pathophysiology of psoriasis and systemic lupus erythematosus. Advances in Dermatology and Allergology/Postepy Dermatologii i Alergologii. 2022;39(4):645-650. doi:10.5114/ada.2022.118919.
[4] Ciganovic P, Jakimiuk K, Tomczyk M, Zovko Koncic M. Glycerolic Licorice Extracts as Active Cosmeceutical Ingredients: Extraction Optimization, Chemical Characterization, and Biological Activity. Antioxidants (Basel). 2019 Oct 1;8(10):445. doi: 10.3390/antiox8100445. PMID: 31581512; PMCID: PMC6826613.
[5] Bylka W, Znajdek-Awizen P, Studzinska-Sroka E, Brzezinska M. Centella asiatica in cosmetology. Postepy Dermatol Alergol. 2013 Feb;30(1):46-9. doi: 10.5114/pdia.2013.33378. Epub 2013 Feb 20. PMID: 24278045; PMCID: PMC3834700.