About NutraBurst
NutraBurst is a liquid supplement that is primarily meant to enhance overall health. It's incredibly rich in vitamins, minerals, amino acids, herbs, phytonutrients, and whole-food greens. It can help resolve deficiencies in the body and provide extra energy. Antioxidants help to heal the body and strengthen physical immunity.
---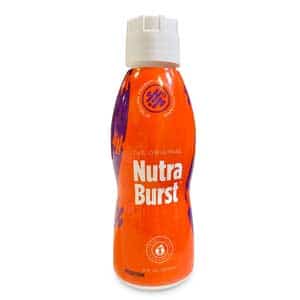 Buy on Official Website
Buy on Amazon
Quick Facts & Specs
NutraBurst
NutraBurst is a complete vitamin supplement that meets and exceeds the recommended daily consumption of vitamins and essential nutrients in a single tablespoon.
Form:

Liquid

Type:

Supplement

Benefit:

It claims to detoxify your body.

Brand:

Total Life Changes

Uses:

This product could ease your digestion and help food absorption.

Active Ingredients:

Acai Berry, Resveratrol, Green Tea, Hoodia, Quercetin, minerals, herbs, nutrients, amino acids, and whole food greens

Price:

$54.95
NutraBurst Pros & Cons
Pros
NutraBurst contains many vitamins, minerals, antioxidants, and other nutrients.
It claims to detoxify your body.
As a liquid, NutraBurst may be very easy to consume.
There's a good chance that NutraBurst benefits the immune system.
This product could ease your digestion and help food absorption.
Cons
The manufacturer does not provide a complete ingredient list.
NutraBurst TLC is a fairly expensive product.
Some users hated the taste of NutraBurst.
---
How Does It Work? | The Science Behind NutraBurst
NutraBurst contains numerous vitamins and minerals which help to resolve any deficiencies in the body and elevate overall health. It's high in amino acids, which are important for the proper growth and functioning of the body.
Amino acids don't exist naturally in our bodies, so we must get them from food or dietary supplements. An article in Nutrients[1] explored amino acid metabolism and nutrition in health and disease.
Many of the ingredients, like whole food greens, are rich in antioxidants. This helps to heal in the body and protects it from harm, by killing free radicals and lowering oxidative stress. A review in Nutrition Journal[2] looked at the importance of antioxidants in decreasing oxidative stress.
NutraBurst Ingredients – What to Look For?
Here are some of the primary active NutraBurst ingredients:
Advertisement
*All individuals are unique. Your results can and will vary.
Acai Berry – This is a fruit derived from the acai palm tree, which is native to South America. It's a superfood high in nutrients which can promote overall health. It's rich in fiber and antioxidants. Acai berry helps to ease digestion and to strengthen the immune system.
A study in Biology of Sport[3] showed the great health benefits of acai due to its antioxidants properties.
Resveratrol – This is a chemical found in red wine, grapes, and certain berries. It has possible health benefits including lowering blood pressure and supporting brain health.
A review published in Nutrients[4] explored the health effects of resveratrol discovered in human intervention trials. They mentioned that the antioxidants, anti-inflammatory, and anti-tumorigenic properties do a lot to stave off chronic disease.
Vitamin C – This is an extremely powerful antioxidant which can kill free radicals and decrease oxidative stress in the body. This strengthens immunity and may help to prevent illness. An article published in Frontiers in Psychology[5] explored the role of Vitamin C in health and disease.
NutraBurst FAQs
Q: How to Use NutraBurst?
A: The recommended daily dosage is one tablespoon per day. You may drink it directly, or you can add it to your favorite beverage. This will not affect the efficacy of the product. Do not consume more than one daily tablespoon for any reason.
Q: Does NutraBurst Have Any Side Effects?
A: There are some mild NutraBurst side effects which you could get in response to ingredients in the product. For example, green tea may cause stomach upset and constipation. Quercetin may lead to tingling in the arms and legs or headaches. A high dose of resveratrol could lead to stomach difficulties.
Q: Can I Take NutraBurst If I Have A Health Condition?
A: Although this is a healthy product, there are a number of medical conditions which preclude taking it. Some of these include bleeding disorders, surgery within 2 weeks, hormone-sensitive conditions, kidney problems, diabetes, anemia, anxiety disorders, heart conditions, diarrhea, glaucoma, high blood pressure, liver disease, osteoporosis, or irritable bowel syndrome.
Q: Does NutraBurst Work?
A: NutraBurst contains a lot of healthy ingredients, so it should help to resolve deficiencies and support the immune system. These are the primary benefits the company promotes with regard to this product. Some users in the NutraBurst reviews said it curbed their hunger, so there's a chance there could be some weight loss benefits. Several users were happy with the NutraBurst before and after.
Q: What Is NutraBurst Moneyback Guarantee, Return & Refund Policy?
A: The manufacturer has a 30-day return policy. If you're not happy with NutraBurst, contact the company for instructions and then send the product back within 30-days of the purchase date.
If this is not your first return, the product must be new and in its original condition. You'll get a full refund, minus the shipping and handling fees.
Q: Who Manufactures NutraBurst?
A: A company called Total Life Changes LLC manufactures NutraBurst. They have their headquarters in Fair Haven, Michigan. The CEO, Jack Fallon, started the organization in 1999. They sell supplements, books, and apparel related to health and wellness. They are leaders in the industry and sell their products all over the world.
Advertisement
*All individuals are unique. Your results can and will vary.
Q: How Does NutraBurst Taste?
A: According to reviewers, NutraBurst has a citrus flavor. Some customers found the taste to be pleasant, while several others complained that it tasted bad. It's unfortunate that there aren't more flavor options available.
Q: Why is NutraBurst Good for You?
A: NutraBurst TLC is a healthy product that contains 72 minerals, 10 vitamins, 22 phytonutrients, 19 amino acids, 13 whole food greens, and 12 herbs. It may provide you with energy and resolve any existing deficiencies. In addition, many of these are rich in antioxidants which support a strong immune system.
NutraBurst Alternatives – Compare with Similar Items
Brand
Price
Ingredients
NutraBurst
$54.95
Acai Berry, Resveratrol, Green Tea, Hoodia, Quercetin,
and other vitamins, minerals, herbs, nutrients,
amino acids, and whole food greens
Athletic Greens
$97
Superfoods, Vitamins, Minerals, and Probiotics
Ensure
$10.99 for one drink
Protein, Calories, Vitamins, Minerals
Isolate Splash – Revolution Nutrition
$32
Amino acids including L-Tyrosine, L-Arginine, L-Glycine,
L-Lysine, L-Serine, L-Tryptophan, L-Proline
NutraBurst is a little expensive for the market, but it includes many ingredients. There's some overlap with other products. However, since we don't get a detailed ingredient list from many of these brands including NutraBurst, it's difficult to compare amounts and quality.
Is NutraBurst Safe? – Warnings & Complaints
We don't have a complete list of the product ingredients, so we can't say for sure if it's safe. However, given that most of the contents include vitamins, minerals, and nutrients it probably is fine to take. It certainly includes no artificial or chemical ingredients. You may experience some mild side effects.
NutraBurst Customer Reviews & Results – What Users Are Saying
There are many NutraBurst reviews online including on YouTube. The vast majority of users were very pleased with the health benefits of the product. They claimed it gave them a lot of energy, a feeling of well being, and some said it suppressed their appetite.
There were also a smaller number of users that said it did not work for them, or that they hated the taste. A few people had mild side effects.
Advertisement
*All individuals are unique. Your results can and will vary.
NutraBurst: Packages, Deals, Prices & Where to Buy It
You can buy NutraBurst from the manufacturer's official website, from NutraBurst Amazon, and from a number of other retailers both on the web and in regular retail locations. The prices do vary a little from retailer to retailer, but the NutraBurst price on the official site is $54.95.
The Bottom Line on NutraBurst
NutraBurst is a liquid organic supplement filled with minerals, vitamins, nutrients, herbs, and whole-food greens. Most likely NutraBurst results in improved general health and may provide extra energy. It has numerous antioxidants which strengthen the immune system. It may have some weight-loss benefits, but the manufacturer makes no promises.
There were numerous NutraBurst reviews online, and most of them were very good. Users were happy with the health and energy results they got from the product, and some even said it curbed their appetites and helped them with weight loss. There were also some users who found the product ineffective, or who had side effects.
There are some mild side effects which could occur from ingredients in NutraBurst. If you should have any symptoms that seem serious, stop using this product right away. Before you begin taking NutraBurst, go to your doctor and check that it's medically suitable for you.
Is There Anything Else You Should Know About NutraBurst?
NutraBurst promises to enhance your overall health, and it may give you additional energy. We hope this product has given you a greater sense of well-being and elevated your immunity and bodily functioning. There are numerous natural ways you can increase your health. Here are some suggestions:
Eat a nutritious diet filled with vitamins, minerals, and antioxidants and avoid bad foods like sugar and processed items.
Keep to a healthy weight. Being overweight can put you at risk for a number of physical health problems.
Exercise on a regular basis, or at least a few times every week. This can help prevent some health conditions, and it can assist in controlling your weight.
Seek out social support from friends and family as much as possible. This is a human need, and it boosts the immune system.
Sources
Health Insiders relies on peer-reviewed studies, academic research institutions, and medical associations. We avoid using tertiary references. You can learn more about how we ensure our content is accurate and current by reading our
editorial policy
.
1. Amino Acid Nutrition and Metabolism in Health and Disease
2. Kurutas, E.B. The importance of antioxidants which play the role in cellular response against oxidative/nitrosative stress: current state. Nutr J 15, 71 (2015). https://doi.org/10.1186/s12937-016-0186-5
3. Effects of supplementation with acai (Euterpe oleracea Mart.) berry-based juice blend on the blood antioxidant defence capacity and lipid profile in junior hurdlers.
4. Health Effects of Resveratrol: Results from Human Intervention Trials
5. Vitamin C in Health and Disease: Its Role in the Metabolism of Cells and Redox State in the Brain.