What is NovoTHOR?
NovoTHOR is a powerful photobiomodulation technology which uses both red light therapy and near infrared light at wavelengths of 660mn and 850nm. The NovoTHOR bed is full body length, comes in NovoTHOR and NovoTHOR XL sizes, and delivers a number of health benefits.
These include elevating general health and immunity, repairing muscle damage, easing joint pain and swelling, promoting skin health and hair growth, and improving mood. This technology has medical grade safety features. The FDA designates it as a class II medical device.
---
Buy on Official Website
Quick Facts & Specs
NovoTHOR
NovoTHOR is a whole body red light therapy bed that uses red and near-infrared light to treat injuries, reduce pain, relax muscles/joints.
Type:

Light Therapy

Benefit:

Relieves joint and muscle pain.

Brand:

NovoTHOR

Uses:

Relaxes and redevelops the muscles.

Price:

$14,000
NovoTHOR Pros & Cons
Pros
NovoTHOR Light Therapy can relieve joint and muscle pain.
This red light therapy device contains 2.7 KW of power.
NovoTHOR has medical grade safety features.
This brand relaxes and redevelops the muscles.
NovoTHOR can optimize health and immunity.
Cons
The benefits will vary somewhat from user to user.
It's big and requires somewhere for mounting or storage.
NovoTHOR is heavy to carry.
---
How Does NovoTHOR Work?
NovoTHOR offers red light therapy at 2 wavelengths, which are 660mn and 850nm. At 660mn, the light doesn't penetrate too deeply, making it ideal to treat skin aging and acne, wounds, and hair growth. A study on rats in the Journal of Cosmetic and Laser Therapy[1] concluded that low -level laser therapy can heal second degree skin burns.
A wavelength of 850nm penetrates much more deeply, making it suitable for muscle repair, decreasing joint pain, and even neurodegenerative conditions.
The photons travel into the body to the mitochondria, and this stimulates the production of additional ATP (adenosine triphosphate). It powers the cellular energy in your system, promoting a number of health benefits like repair and pain reduction. An article in Journal of Functional Foods[2] discussed the health potential of taking an oral ATP supplement.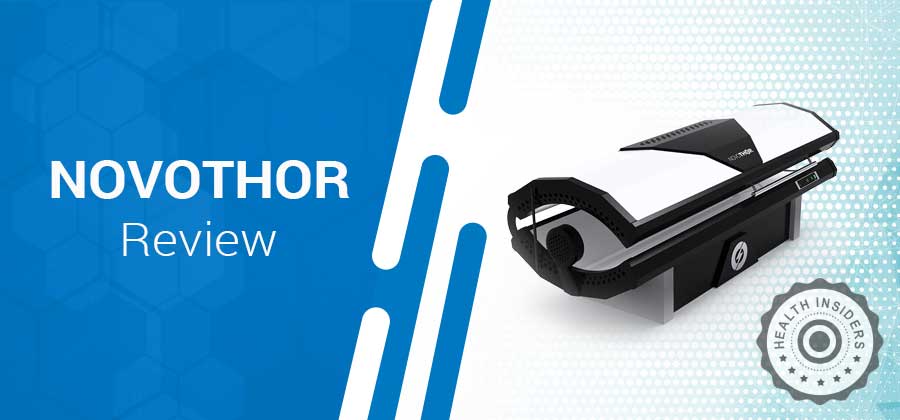 Advertisement
*All individuals are unique. Your results can and will vary.
What Are the Components of NovoTHOR?
NovoTHOR offers a light therapy device which is powerful and tested extensively for safety at every stage of development. It offers 2.7 KW of power and contains drivers and advanced engines which regulate the flow of power.
A systematic review in the Journal of Lasers in Medical Science[3] concluded that these devices are safe in treating patients with knee pain and stiffness from osteoarthritis.
The treatment area is a full-length bed which covers the entire body. The device uses a passive and active cooling system to help keep the LEDs in good working order. They also keep the user cool while using the device.
This product uses medical grade equipment and power supply, and technology to decrease EMI/RFI noise. It's suitable for at-home use, but it's also ideal for clinical and hospital settings and will not interfere with other technology.
An article in the Journal of Power Electronics[4] discussed the design and implementation of an active EMI filter for decreasing noise.
NovoTHOR Design Considerations
NovoTHOR Laser offers two full-body options for the product, regular and XL. There are no smaller sizes for targeted healing. In terms of the design of the product as a whole, you couldn't get much better than this optimal performance, full power device with numerous safety features.
The cooling system is a unique component that both keeps the machine from overheating and cools down the user during the treatment. Another unique feature is the low EM/RF interference, which decreases the amount of noise output.
How Does NovoTHOR Rate?
Feature
Rating
Comments
Power
10
2.7 Kw of power
Safety
10
Medical grade safety features and power supply; FDA approved as Class II Medical Device;
testing at every stage of production
Performance
9.5
High power, dose, and light distribution
NovoTHOR – Frequently Asked Questions (FAQs)
Q: Who Can Set Up a NovoTHOR?
A: The device is heavy so you'll have to get delivery, but once it's in place it's not difficult to use at all. You just plug it in and use the screen to set your treatment time and preferences. Try ideally for about 20 minutes every other day and remember not to overuse the machine. This will not lead to greater NovoTHOR bed benefits.
Q: How Much is NovoTHOR?
A: You can buy NovoTHOR Light Therapy in many locations all over the world, as detailed on the map on their website. There are both online and offline retailers who offer it, but you can't get it directly from the manufacturer's official website. While there is no price listed, Forbes cited the NovoTHOR bed price as $14,000. We don't know if there is a separate price for the XL model [5].
Advertisement
*All individuals are unique. Your results can and will vary.
Q: What is the NovoTHOR Return Policy?
A: You can't buy NovoTHOR directly from the official website, so they don't offer a return policy. However, you can buy this device from numerous retailers and they each will have their own separate policy.
Q: Can You Use NovoTHOR for Cancer Treatment?
A: The National Cancer Institute[5] indicates that near-infrared light can cause cancer cells to swell and burst, killing them. Other research shows less in the way of tumour shrinkage but does demonstrate the safety of these devices on malignant lesions.
Q: Does NovoTHOR Really Work?
A: Yes, there's very little doubt that NovoTHOR is an effective device. The efficacy of red light therapy for a number of health benefits is well established. This is an extremely powerful machine in a range above most similar devices.
It also includes a number of safety and technical features which ensure it will keep working well, as the dual cooling system. Most of the NovoTHOR bed reviews were highly positive, and users loved the results of this technology.
Q: How Does NovoTHOR Compare with Other Brands?
A:
| Brand | Cost | Features |
| --- | --- | --- |
| Orion 1000 | $1254 | 200 medical grade 5 watt LEDs, 4 fans for cooling, red and NIR light switches, lifetime use of 50,000 hours |
| Ultimate Red Light Therapy Device | $1249.99 | 1500W, red and NIR light, lifetime use of 50,000 hours, 300 LED count, Zero EMF output |
| Kala Elite | $1058 | 215 1000W red and infrared lights, 4 different modes and treatment frequencies, hanging kit, EMF emission of zero |
| Mito Max | $699 | 1000W power, 200 LED, 4 fans to keep the LEDs cool, duel switches for red and NIR, lifetime use of 50,000 hours |
Q: What Sets NovoTHOR Apart From the Competition?
A: NovoTHOR Therapy is not only a full body product for any adult, but it's also over 7 feet long. There are many things that make this model stand out. It's approved by the FDA as a class II medical device, and the manufacturer also does extensive testing of the product beyond what most other companies carry out.
The cooling system is unique in that it works to cool both the LED lights and the users, while for most companies the priority is more towards cooling the technology. At 2KW, this is a much more powerful device than any of the competition.
Q: What Do the Customers Think of NovoTHOR?
A: Although there were not a lot of NovoTHOR bed reviews online, the ones that did exist sung the praises of this red light therapy device. Customers got amazing results like a decrease in pain and inflammation in the muscles, younger-looking skin, longer hair, and many others.
Advertisement
*All individuals are unique. Your results can and will vary.
Other Considerations
The manufacturer is THOR, and they have over 30 years of experience in the area of red light therapy. That's 30 years of research and development into the best and most high-powered device on the market. Another unique feature of this product is that it's more than just an at-home technology. It's also meant for hospital and clinic settings, and as such is fully medical grade.
Useful Links
Here are some links that may be useful to you in expanding your knowledge of the topic, so you can make the best buying decision possible:
Conclusion
NovoTHOR is a red therapy device that offers both red and near-infrared light. It's a full-body model which can treat a number of conditions, such as muscular damage, joint pain, hair loss, depression, and aging skin. This is one of the most powerful red therapy devices out there, and it's suitable for at-home and hospital settings.
The NovoTHOR bed reviews were overwhelmingly quite positive. Users were happy with the device, how easy it is to use, and the amazing results they got quickly. People mentioned a decrease in pain in the muscles and joints, wounds healing, skin wrinkles disappearing, and numerous other benefits. They also said it boosted their overall health and wellness.
NovoTHOR is an incredibly safe product that uses medical-grade technology and is FDA-approved as a Class II medical device. It will not lead to any harmful NovoTHOR side effects. The manufacturer is highly reputable with 30 years of experience in the industry, so they are a brand you can trust.
Sources
Health Insiders relies on peer-reviewed studies, academic research institutions, and medical associations. We avoid using tertiary references. You can learn more about how we ensure our content is accurate and current by reading our editorial policy.
[1] Effect of low-level laser therapy (660 nm) on the healing of second-degree skin burns in rats
[2] Health and ergogenic potential of oral adenosine-5′-triphosphate (ATP) supplementation
[3] Safety and Effectiveness of Low-Level Laser Therapy in Patients With Knee Osteoarthritis: A Systematic Review and Meta-analysis
[4] Design and Implementation of an Active EMI Filter for Common-Mode Noise Reduction
[5] Killing Cancer Cells with the Help of Infrared Light – Photoimmunotherapy
[6] Liu, Yu-Lu1; Gong, Si-Yi1; Xia, Shu-Ting2; Wang, Ya-Li3; Peng, Hao4; Shen, Yun1; Liu, Chun-Feng2,5 Light therapy: a new option for neurodegenerative diseases, Chinese Medical Journal: March 20, 2021 - Volume 134 - Issue 6 - p 634-645 doi: 10.1097/CM9.0000000000001301
[7] Efficacy of phototherapy to treat facial ageing when using a red versus an amber LED: a protocol for a randomised controlled trial
[8] Factors affecting Low Level Laser Therapy
[9] Examining the Safety and Efficacy of Low-Level Laser Therapy for Male and Female Pattern Hair Loss: A Review of the Literature
[10] Low Level Laser Therapy In Dentistry: A Systematic Review.