What is Red Light Therapy?
Red light therapy, or low-level light therapy, is a technology involving the use of laser light at different wavelengths to provide medical and other benefits. Some of these include anti-aging skin care, wounds, and acne, reduction of pain and inflammation, elevating mood, growing hair, and repairing muscles. Manufacturers generally sell this technology as red light therapy at home devices which are very easy to use.
What Does Red Light Therapy Do?
Red light penetrates deep into the body, to a degree that other types of light like UV rays are not able to reach. It sends photons which help stimulate the production of ATP (adenosine triphosphate) that supplies the energy for all of the cells.
A study in Photochemistry and Photobiology concludes that low level light therapy increases mitochondrial membrane potential and ATP synthesis [1].
The body uses the energy to provide numerous red light therapy benefits, depending on the wavelength of red light used. Different wavelengths penetrate the body at different levels, providing various benefits at each level.
The Journal of Clinical and Aesthetic Dermatology found that phototherapy with light emitting diodes was effective in healing a number of medical and dermatological conditions [2].
What Are the Benefits of Red Light Therapy?
Red light therapy helps improve your mood.
It helps to decrease pain and inflammation.
Red light treatment helps grow the hair.
It helps provide anti-aging benefits and heal acne.
Red light therapy helps treat wounds.
1
STIMULATE HAIR GROWTH
Stimulates stem cells in the hair follicle to encourage active growth
2
IMPROVED SKIN HEALTH
Reduction in appearance of fine lines, wrinkles, and scars
3
PROMOTE CELLUAR HEALTH
Strengthens hair and improves skin elasticity
4
IMPROVE CIRCULATION
Dilates blood vessels for increased flow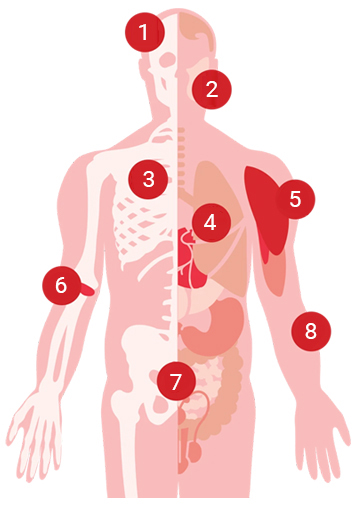 5
REDUCE RECOVERY TIME
Stimulates mitochondria and stem cells for faster recovery
6
REDUCE INFLAMMATION
Soothes sore muscles, joint pain, and arthritis
7
INCREASE FERTILITY
May stimulate the brain's pineal gland
8
REDUCE PAIN
Reduces muscle spasms and increases blood flow
Does Red Light Therapy Work?
The technology and science behind the therapy have scientific support, showing that red light therapy devices have numerous benefits for the body, skin, and hair. For example, Chinese Medicine Journal discussed the use of red light therapy in treating neurodegenerative disorders [3]. A study in the Journal of the American Academy of Dermatology found that red light laser therapy provides anti-aging benefits to the skin [4].
How Do I Choose a Red Light Therapy Device?
The market is swelling with various red light therapy devices, and you may wonder how to decide on the correct brand. Here are some of the most important features to examine:
Features – It's important to think about the size you want in terms of what parts of your body you want to treat. Most manufacturers offer several options, from small to full body devices. In addition, look at the wavelengths offered and whether they suit your purposes. Other features to look for include mounting devices.
Safety – The technology itself is quite safe and does not cause much in the way of red light therapy side effects. It is important to check that the manufacturer does their production in an FDA-approved facility using strict safety standards. Some devices are FDA approved, and that's ideal.
Manufacturer – It's always a good idea to buy from a known, reputable manufacturer that has a reputation for producing quality products. With a lesser known brand, you don't know what to expect.
Reviews – Looking at customer reviews is an excellent way to get an idea of the user experience for the product, and both the benefits and drawbacks. Before purchasing a brand, read a number of different reviews.
Value for Cost – You should compare the prices of different brands with what features and benefits they offer. However, don't look at price alone. There are some lower priced brands that are very good as well.
Satisfaction Guarantee – It's important to be able to try out a product to see if it works for you, so make sure there is a generous return policy. You should get a minimum of 60 days to send back the product, and any manufacturer that trusts their brand will give you this.
What Are the Best Red Light Therapy Devices?
In our evaluation of numerous brands, we concluded that the Platinum LED Biomax Products were far superior to other devices on the market. They are approved by the FDA as Class II medical devices and are also ETL/UL certified for electrical safety assurance. There are no side effects associated with this brand, as with the majority of red laser therapy products.
The Biomax set includes the following:
Power Link Cable
Digital Link Cable
Mounting Hardware
Panel Linking Hardware
Door Hanging Kit
Sunglasses
Therapy Companion App
Biomax: Therapy 300, 450, 600, 900
There are 4 different sized panels in the line, starting with the smallest at 300 which is 48cm x 23cm with 100 x 3watt LEDs. As the tiniest panel, it's useful for localized treatment of specific areas, like a wound or red light therapy for face.
The 450 is also not a full-body panel at 48cm x 30cm with 150x 3watt LEDs. It's also ideally used for targeted treatment; it just gives you a slightly bigger range.
The 600 panel is 36″ x 9″ (91cm x 23cm) with 200 x 3watt LEDs and qualifies as a full-body model. This is suitable for more complex issues like joint and muscle pain in various regions.
The 91cm x 30cm with 300x 3watt LEDS is actually the same height as the 600, it's just wider so it gives you more room generally.
The range for these panels span from 630nm to 850nm, with 5 wavelengths offered. Each wavelength offers different health benefits. This is more choice than many other brands offer, making this a high-quality line.

Platinum LED Biomax Multi-Light Setups
The new Biomax upgrade gives you the option of buying pairs of lighting panels for use together. They have set up several configurations that may be useful as sets, including:
300 + 600
600 + 600
2 x 300 + 600
2 x 600 + 600
450 + 900
900 + 900
2 x 450 + 900
2 x 900 + 900
The Original Bio Lights
The manufacturer recently redesigned the BioMax Range, giving it more light power, an enhanced wavelength spectrum, a built in control and timer, and zero exposure to potentially harmful EMFs (non-native electromagnetic fields).
It also gives you greater modularity, with the ability to connect more than one panel for expanded usage. The original Bio Lights only had 2 wavelength options, the 660nm and the 850nm. The new models offer 5 wavelengths, 630nm, 660nm, 810nm, 830nm, and 850nm.
Biomax Mounting Systems
Biomax gives you the opportunity to mount your panel on a door, table, floor, or wall. There are 4 different mounting systems available:
BioMax Tabletop Stand – Allows you to mount the panel on the table or floor.
BioMax Mobile Rack Stand – It's a standing rack system that can hold 3 panels.
BioMax Horizontal Stand – This stand allows you to mount 1 or 2 panels.
Wall Mount Bracket – You can use it to mount the panel on the wall.
BioMax Price List
BIOMAX 300 – $569
BIOMAX 450 – $649
BIOMAX 600 – $899
BIOMAX 900 – $1149
BIOMAX Tabletop Stand – $99
BIOMAX Mobile Rack Stand – $299
BIOMAX Horizontal Stand – $299
BIOMAX Wall Mount Bracket – $69
BIOMAX 300 + 600 – $1368
BIOMAX 600 + 600 – $1698
2x BIOMAX 300 + 600 – $2686
2x BIOMAX 600 + 600 – $3346
BIOMAX 450 + 900 – $1698
BIOMAX 900 + 900 – $2198
2x BIOMAX 450 + 900 – $3346
2x BIOMAX 900 + 900 – $4346
Frequently Asked Questions (FAQs)
Q: Where Can You Buy Red Light Therapy?
A: Red light therapy devices are for sale all over. You can get them from many online retailers, as well as from offline stores like Walmart. The prices vary quite a bit depending on the model and brand.
Q: How To Use Red Light Therapy At Home?
A: This will depend somewhat on the red light therapy bed you choose, as some are full body and others are smaller and specific to more localized areas. Some brands give you the option of mounting the device on the door, table, or wall using a pulley and hanging wires.
Make sure you buy a device that has a strong LED power output, or you'll have to sit right up close to it to get the benefits. For most devices, all you have to do is plug them in, and often there is a screen on the panel to choose the time of your session and other features. Some products have an app where you can track your progress.
Q: How Often Should I Use Red Light Therapy?
A: You can use it every day if you like with no side effects, but keep in mind that with red light more is not necessarily always better. There is a threshold after which it will stop being beneficial. The optimal amount is about 3-5 sessions a week.
Q: How Long Does It Take for Red Light Therapy to Work?
A: This really depends on what condition you're treating, how powerful a wavelength you're using, and how often you do the treatments. Something small like a cut should only take a few sessions, while arthritis is more complex and will likely take longer. It may take 6 months to see full hair growth results.
Q: What is Infrared Light Therapy?
A: Infrared Light Therapy is very similar to red light therapy and offers the same benefits. The only real difference is that you can see red light therapy, while infrared light therapy is not visible. While red light therapy uses wavelengths from 600-900nm, infrared light tends to be over 900mn.
Q: Do You Have to Wear Goggles to Protect Your Eyes?
A: Is red light bad for your eyes? Many red light therapy devices come with protective goggles to wear over your eyes, and there's some debate as to whether this is actually necessary. In fact, there is no research showing that this technology is damaging to the eyes, and there are some studies inculcating that they have positive benefits for vision.
For example, a study in Experimental Eye Research indicated that red light therapy can help prevent retinal degeneration [5].
Q: Does Red Light Therapy Have Side Effects?
A: Red LED light therapy is a safe device, and it's very unlikely to cause any harmful side effects in the body or on the scalp. According to scientists at the Wellman Center for Photomedicine at Massachusetts General Hospital, this is a safe and well-tolerated technology [6].
Q: Can I Use Red Light Therapy if I Have a Health Condition?
A: There are few health conditions that preclude using red light therapy, but if you have a skin condition or tumor on your scalp then this is the wrong treatment for you at the moment.
Q: What Wavelengths are Available in Red Light Therapy?
A: Most red light therapy devices offer wavelengths that span from 600mn to 900nm, and they may have several different options. Different wavelengths have benefits for different medicinal and health issues.
Q: What Wavelength Should I Use?
A: It varies, depending on the issue you want to treat. If you are looking for skin care like anti-aging, acne, or treatment of wounds, choose a wavelength between 600-700nm which doesn't penetrate deeply into the body.
If you want to work on joint or muscle pain, or any other full-body treatment, choose a wavelength between 800-850mn.
Q: What Are the Red Light Therapy Skin Benefits?
A: There's some evidence that red light therapy stimulates the production of elastin and hyaluronic acid, which improves skin elasticity, moisturizes, and eliminates dryness [7]. In addition, it initiates collagen production, which tightens the skin and helps smooth wrinkles and lines. Red light therapy can also decrease the production of sebum on the skin, which may eliminate acne.
Q: How Are LEDs and Lasers Different in Red Light Therapy?
A: There's actually no real difference between them. Some marketers will try to say that one or the other is superior, but there's absolutely no evidence to show that. Each of them delivers photons, which do not change from one technology to the other.
Q: Who Should Use Red Light Therapy?
A: In truth, any adult could benefit from red light therapy, as it delivers general health properties as well as helping with specific conditions like muscle or joint pain, tissue repair, skin aging and acne, hair growth, and even mood. It's always a good idea to double-check with a physician before using a new device like this.
Q: Is Red Light Therapy Safe?
A: A number of studies show the safety and efficacy of this technology for various conditions (8). In general, it's very safe and should not lead to harmful side effects. However, you may also check the safety qualifications of the model. Ideally it's best to choose FDA approved red light therapy devices.
Q: Will Red Light Therapy Disrupt My Sleep?
A: A red light therapy device that emits blue light may disrupt your sleep, but most quality products do not emit any blue light at all. In general, these devices should not affect your sleep, but there's a small chance they might when used intensively. For this reason, you are better off doing your treatments in the morning or afternoon.
Q: Can Red Light Therapy Raise Testosterone Levels?
A: A red light therapy lamp could raise testosterone levels of you use it correctly for this purpose. You may use it on the testes directly for short, regular time periods. In addition, since the thyroid stimulates hormone production, you may also use it on this gland at 650-900mn to raise testosterone levels in the body.
Q: Is Red Light Therapy Good For You?
A: On the whole, this technology is very good for you. Naturally there are red light therapy pros and cons, but generally speaking these devices have a tremendous number of health benefits to offer the body, skin, hair, muscles, joints, and mood. It increases ATP production which boosts cellular energy and may even play a role in treating neurodegenerative conditions.
The Final Word
Right light therapy is a highly beneficial technology which delivers photons deep into the body, providing numerous health benefits. It stimulates the production of ATP, which promotes cellular energy in the body.
Other LED light therapy benefits include eliminating acne, smoothing wrinkles and lines, healing wounds, easing joint and muscle pain, repairing tissue, and boosting mood, among others. There is a lot of research supporting the efficacy of this technology, as well as its safety. There are no harmful side effect associated with red light home treatment.
The red light therapy reviews naturally differ depending on the brand, but the general consensus was that the technology itself was absolutely life changing. Many customers said they loved the red light therapy before and after. Users with health difficulties like arthritis and skin conditions were amazed at how quickly and effectively the red light spectrum functioned to heal and enhance.
When you purchase one of these devices, make sure you choose a size and wavelength that suits your needs, as we have outlined. Try to go with a known, respected manufacturer which that quality products, and check the safety details of the device. For example, some products are FDA approved or have other certifications.
Red light therapy is not only safe and effective, it's extremely easy to use and meant for at-home use. We highly recommend that you look into the benefits of red light therapy devices as soon as possible, as they are certain to boost your quality of life considerably.
8 sources
Health Insiders relies on peer-reviewed studies, academic research institutions, and medical associations. We avoid using tertiary references. You can learn more about how we ensure our content is accurate and current by reading our editorial policy.
[1] Ferraresi, Cleber & Kaippert, Beatriz & Avci, Pinar & Huang, Ying-Ying & Sousa, Marcelo & Bagnato, Vanderlei & Parizotto, Nivaldo & Hamblin, Michael. (2014). Low-level Laser (Light) Therapy Increases Mitochondrial Membrane Potential and ATP Synthesis in C2C12 Myotubes with a Peak Response at 3–6 h. Photochemistry and photobiology. 91. 10.1111/php.12397.
[2] Ablon G. Phototherapy with Light Emitting Diodes: Treating a Broad Range of Medical and Aesthetic Conditions in Dermatology. J Clin Aesthet Dermatol. 2018;11(2):21-27.
[3] Liu, Yu-Lu1; Gong, Si-Yi1; Xia, Shu-Ting2; Wang, Ya-Li3; Peng, Hao4; Shen, Yun1; Liu, Chun-Feng2,5. Light therapy: a new option for neurodegenerative diseases. Chinese Medical Journal: March 20, 2021 - Volume 134 - Issue 6 - p 634-645 doi: 10.1097/CM9.0000000000001301
[4] Low-Level Red And Infrared Light Increases Expression Of Collagen, Elastin, And Hyaluronic Acid In Skin - Journal of the American Academy of Dermatology (jaad.org) https://www.jaad.org/article/S0190-9622%2819%2933160-3/fulltext
[5] Lu YZ, Natoli R, Madigan M, Fernando N, Saxena K, Aggio-Bruce R, Jiao H, Provis J, Valter K. Photobiomodulation with 670 nm light ameliorates Müller cell-mediated activation of microglia and macrophages in retinal degeneration. Exp Eye Res. 2017 Dec;165:78-89. doi: 10.1016/j.exer.2017.09.002. Epub 2017 Sep 6. PMID: 28888911.
[6] Study Led By Mass. General Suggests Light Therapy Is Safe And May Help Patients With Moderate Brain Injury: https://news.harvard.edu/gazette/story/2020/09/mgh-led-study-shows-light-therapy-is-safe/
[7] Low-Level Red And Infrared Light Increases Expression Of Collagen, Elastin, And Hyaluronic Acid In Skin - Journal Of The American Academy Of Dermatology (Jaad.Org) https://www.jaad.org/article/S0190-9622%2819%2933160-3/fulltext
[8] Examining the Safety and Efficacy of Low-Level Laser Therapy for Male and Female Pattern Hair Loss: https://www.karger.com/Article/FullText/509001