About Neutrogena Rapid Wrinkle Repair
Neutrogena Rapid Wrinkle Repair is a skincare line that includes a series of 10 anti-aging products. The line includes items like regenerating cream, cleanser, oil, tone repair, serum, and moisturizer. These products aim to reduce the appearance of wrinkles, hydrate, replenish, and restore the skin.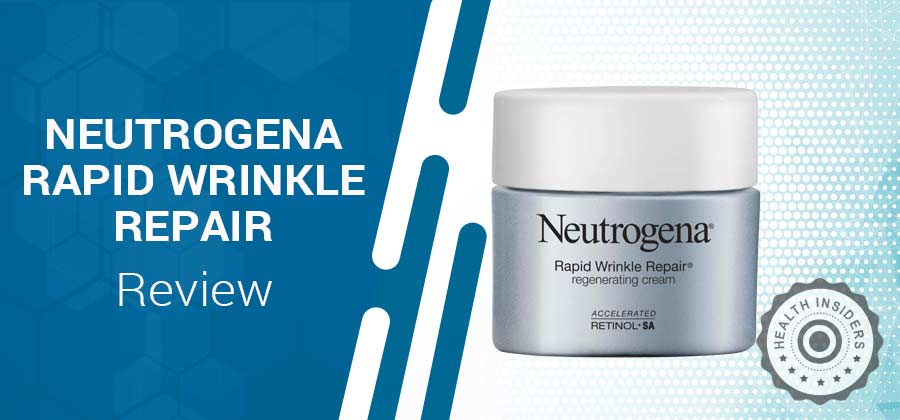 Neutrogena Rapid Wrinkle Repair Ingredients – The Breakdown
Each product has its own set of ingredients, but there are 3 key substances that make up the core of these products:
Retinol – It increases the amount of collagen produced by your body, which can eliminate wrinkles. It also tightens the skin and makes it more elastic. A review in Aesthetic Surgery Journal looked at the evidence behind the retinoids as Cosmeceuticals.
Glucose Complex – According to Cosmetics Info, glucose draws hydration, which provides the skin with volume and smooths out wrinkles and lines. This also makes it good moisturizer. It's an excellent skin-conditioning agent.
Hyaluronic Acid – This substance attracts hydration, and this smooths out wrinkles and expression lines on the face. An article in the International Journal of Macromolecules looked at hyaluronic acid as a promising skin rejuvenating tool.
How Does It Work? | The Science Behind Neutrogena Rapid Wrinkle Repair
This product line contains elements which draw moisture, and this hydrates the skin. It also claims to provide the skin with volume, which smooths out wrinkles.
Retinol is the main ingredient in many of these products, and it deeply penetrates the skin to renew the cells. An overview in
Clinical Interventions in Aging
looked at the efficacy and safety of using retinoids for skin aging.
Other ingredients like glucose complex speed up the activity on the surface of the skin, which can also get rid of wrinkles and expression lines.
Neutrogena Rapid Wrinkle Repair Pros & Cons
Pros
These products can reduce wrinkles.
Claims to deeply hydrate the skin.
Neutrogena can cleanse the skin.
These products can get rid of dark spots.
This line is reasonably priced.
Cons
It would be better to have all these benefits in one product.
Some products may give you a rash or allergic reaction.
Customer Questions and Answers
Neutrogena Rapid Wrinkle Repair Alternatives
Brand
Price
Active Ingredients
Neutrogena
Rapid Wrinkle Repair
$10.87-$35.99
Retinol, Hyaluronic Acid, Glucose Complex
Forever Flawless
$49-3999
Diamond Powder, Vitamin C, Vitamin A, Gingko Biloba, Aloe, Coconut Oil, Jojoba Seed Oil
DermaSet
$99.00
Hyaluronic Acid, Apple Stem Cells, Sea Fennel Stem Cells, Argireline Extract
Kremotex
$79.98
Apple Stem Cells, Peptides, Jojoba Seed Oil, Vitamin C, Licorice Root Extract
Plexaderm
$59.95
Titanium Dioxide, Acetyl hexapeptide-8, hydrolyzed rice protein
Genifique Serum
$105.00
Bifida Ferment Lysate (Bifidus Prebiotic)
DermaSet 3D Rollerball Eye Serum
$39.00
Hyaluronic acid, kinetin triple peptide compound, caffeine barley extract
Lift Factor Plus
$79
Aloe Vera, green tea, arginine
Musely Skin Care
$30-$80
Tretinoin, Hyaluronic Acid, Titanium Dioxide, Cucumber Extract
Miami MD Cream
$49
Progeline, Haloxyl, Matrixyl 3000, Eyeliss, Argireline, Acetyl Hexapeptide
Each of these lines have a very different set of ingredients that they use frequently in their formulas. There's some overlap, but there are also a lot of unique elements.
The core ingredients in Neutrogena Rapid Wrinkle Repair are actually very standard in skincare products. The price range for these skincare lines also differs quite a bit. Neutrogena Rapid Wrinkle Repair offers the lowest prices of all of them.
Is Neutrogena Rapid Wrinkle Repair Safe? – Warnings & Complaints
These products are perfectly safe. They contain gentle organic ingredients which are not dangerous to your skin. At worse, you may get a rash or irritation at the place where you used the cream.
Neutrogena Rapid Wrinkle Repair Customer Reviews & Results
These are quite popular products which receive a lot of good reviews from customers. In general, users find these products to be effective at removing the signs of aging from their skin, preserving the skin, and preventing damage. They were also happy with low prices.
As always, there were users who weren't happy with this product line, but they were not as numerous. Some found the products ineffective, and some had mild side effects like itchiness.
Neutrogena Rapid Wrinkle Repair: Packages, Deals, Prices & Where to Buy It
You can't buy this line on the official website. You can get these products at several online and offline retail locations. For example, Amazon, Walmart, and Shopper's Drug Mart. The prices only vary slightly. The prices are as follows:
Neutrogena Rapid Wrinkle Repair Cleanser – $10.87
Neutrogena Rapid Wrinkle Repair Retinol Oil – $24.99
Neutrogena Rapid Wrinkle Repair Regenerating Cream – $29.97
Neutrogena Rapid Wrinkle Repair Moisturizer SPF 30 – $26.99
Neutrogena Rapid Wrinkle Repair Moisturizer Night – $29.96
Neutrogena Rapid Wrinkle Repair Serum – $34.99
Neutrogena Rapid Wrinkle Repair Moisturizer Eye – $29.96
Neutrogena Rapid Tone Repair Moisturizer SPF 30 – $29.97
Neutrogena Rapid Tone Repair Moisturizer Night – $29.97
Neutrogena Rapid Tone Repair Dark Spot Corrector Serum – $35.99
The Bottom Line
Neutrogena Rapid Wrinkle Repair is a line of anti-aging skin care products which aim to diminish the appearance of wrinkles, hydrate the skin, eliminate areas of pigmentation, cleanse the skin, and more. These are very reasonably priced items which use a core set of ingredients which are quite typical for anti-aging products.
Most of the customer reviews for this line were fairly positive. Many users did reap the benefits of these items in younger-looking skin. Of course, there were some people who were less happy with the product, but a fewer number.
It's a good idea to meet with a dermatologist before you start using these products, to make sure they are suitable for your skin.
Is There Anything Else You Should Know About Neutrogena Rapid Wrinkle Repair?
Neutrogena Rapid Wrinkle Repair is an anti-aging skincare line that will hopefully repair and replenish your skin and restore it to youth.
Besides products, there are lifestyle choices you can make which can keep your skin more youthful. Here are some tips:
The sun can age your skin quickly. Never deliberately lie out in the sun, and wear sunblock if you're going to be out.
Consume a diet rich in antioxidant foods, like carrots, leeks, garlic, onions, berries, nuts, milk, lean meat, and seafood.
Remove your makeup carefully every night with a high-quality remover. Then cleanse it carefully.
Try to stay as active as possible. Exercise can keep your body and your skin younger.