Overview of the InstaNatural Brand
When AJ Patel began InstaNatural in 2014, he found out that, in his words, there was "white space" in the beauty and health area. Exploiting this space, he, supported by his team, was able to capitalize by introducing new goods geared to things consumers were already looking for but couldn't find. This, merged with aggressive market action, extended InstaNatural's product portfolio, and sales followed.
InstaNatural operates from Orlando, Florida, with a team of 25 people.
How Does InstaNatural Work?
InstaNatural creates products with natural and organic ingredients as much as possible. All InstaNatural skincare products contain a blend of hibiscus, hesperidin, rosemary, and meadowfoam seed oil, which they refer to as C Botanical Blend.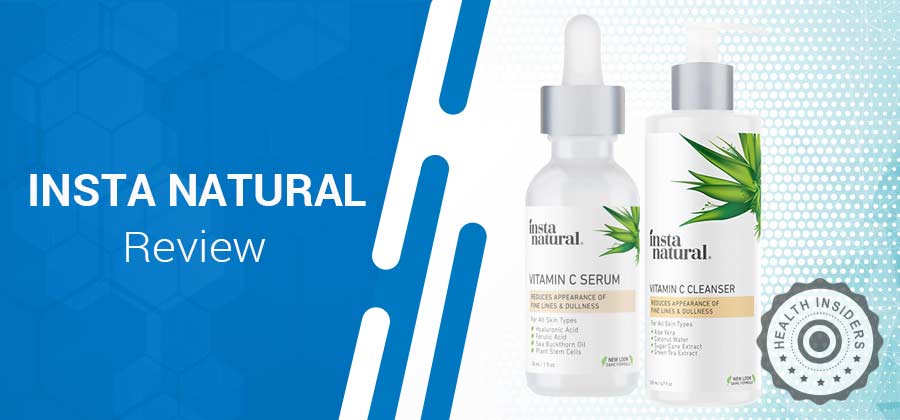 Features
paraben-free, petroleum-free, No SLS, no mineral oils
Benefits
reduce signs of aging.
Ingredients
Ubiquinone, sodium hyaluronate, sodium ascorbyl phosphate (vitamin C), caffeine
Type
Skin, hair, and body care.
General Specifications
Primary Ingredient
Vitamin C and hyaluronic acid
Product Count
71
Body Parts
Face, torso, skin.
Form
Cleansers, toners, serums, moisturizers, eye care, exfoliants, and masks
InstaNatural Product Ingredients
Below are the ingredients of selected InstaNatural products.
Hydrogenated castor oil, honey and coconut oil, are among the primary constituents of InstaNatural Cleansing Balm. Both hydrogenated castor oil and coconut oil aid in removing makeup, excess oil, grime, and other forms of impurities from the skin's surface thereby leaving the skin smooth and soft. The formula incorporates a form of honey known as manuka honey.
Bees that mainly feed on manuka shrub on remote North Island of New Zealand create manuka honey. It is raw type of honey that is devoid of processing; thus, it contains vitamins and active enzymes and. Manuka honey has anti-inflammatory properties and aids in the reduction of redness. It is also known to promote regeneration of skin, healing of cellular defect, and MMP inhibition (enzymes that damage collagen).
Niacinamide is a crucial element in InstaNatural Niacinamide Serum. It is a vitamin B3 type known for its several skin advantages and also known as a powerful antioxidant. After topical application, it raises the skin's antioxidant capacity by raising the reduced forms. Furthermore, research has revealed that niacinamide helps enhance skin hydration and reduce inflammation, wrinkles, hyperpigmentation, blotchiness, and acne. Aloe vera extract, avocado oil, olive oil, sodium hyaluronate and hesperidin are among the other helpful constituents in the InstaNatural Niacinamide Serum.
Many elements in InstaNatural Eye Serum can be helpful in improving the appearance of areas around the eye, including caffeine, ubiquinone and sodium ascorbyl phosphate Sodium ascorbyl phosphate can be referred to as a stable vitamin C derivative, a powerful antioxidant that protects the skin from free radicals causing wrinkles. Vitamin C can also lighten skin tone as well as lessen dark spots.
Some Important InstaNatural Products
InstaNatural provides a wide range of products, including body, skin and hair care. Toners, serums, cleansers, moisturizers, exfoliants, masks and eye care are among the InstaNatural skincare items. Some of the popular InstaNatural skincare products are discussed below: Niacinamide Serum, Eye Serum and Rose Cleansing Balm,
InstaNatural Cleansing Balm ($11)

The Rose Cleansing Balm is known as a mild cleansing balm that should be used first in a cleansing routine. It is designed to remove makeup swiftly, hydrate and nourish dry skin, reduce the look of redness and irritation, and deeply help to moisturize for improving tone, radiance and texture.

Advertisement

*All individuals are unique. Your results can and will vary.

InstaNatural Niacinamide Serum ($18)

This product is designed for people who have dry, dehydrated, or sensitive skin, as well as those who have discoloration, acne, or acne scars. It is said to help reduce redness and irritation caused by breakouts, facilitate reduction of hyperpigmentation, diminish the post-inflammatory hyperpigmentation caused by acne, and strengthen the skin's natural barrier for healthy, protected skin.

InstaNatural Eye Serum ($20)

This is a potent blend of vitamins and some other compounds intended to brighten the eye area. It can also improve skin tone and reduce under-eye bags, puffiness, sagging skin, and other issues.
Pros and Cons of InstaNatural
Pros
Accelerates the aging process by increasing collagen production.
Assists in the fight against dark spots by reducing clogged pores and blackheads.
Because of its non-greasy nature, it is excellent for all skin types.
Reviews have been mostly favorable.
Enhances appearance.
Cons
Bottles are small, along with quantity.
Some users may find the scent to be overpowering
How Does Brand Rate?
Feature
Rating
Comments
Performance
9.5

helps the skin to feel soft and smooth.
enhances skin regeneration.
helps to repair cellular damage,
deeply moisturize to improve radiance, tone, and texture.

Safety
9.5
Very few people report on side effects.
Skin type
9
Suitable for all skin types.
Preservatives
8
Paraben-free, SLS-free, oil-free, and dye-free.
What distinguishes InstaNatural from the competition?
All InstaNatural products are organically sourced, natural in their ingredients, and have retained a good number of customers to prove that they are taking the right steps.
They might just be a team of fewer than 30 people, but they have shown outstanding commitment to maintaining that same standard that endeared them to so many customers.
How Does InstaNatural Differ From Other Brands?
Brand
Cost Range
Features
Beverly Hills MD Dermal Repair Complex
$39.95

Targets internal problems that cause visible aging.
Reduces the appearance of wrinkles and dullness.
protects and enhances skin elasticity.

NO BS Skincare
$5 – $290

Deep hydration.
Safe and free of toxic substances.
Contains green tea, jojoba oil and aloe vera

Jan Marini
$30- $310

Mildly helps in dissolving old skin cells, and promotes cell regeneration.
Gluten and free of paraben.
Made up of ingredients like hyaluronic acid, glycolic, vitamin C, retinol, and salicylic acid.
Recommended for all types of skin.

Caudalie
$15 – $89

Vitamin C content helps to minimize wrinkles and age spots.
Contains hyaluronic acid, which improves the firmness and brightness of the skin.

Murad Skin Care
$20 – $50

A high concentration of hyaluronic acid intensively hydrates the skin, reducing skin problems.
The unique mixture significantly has anti aging effects, also reduces the appearance of fine lines and wrinkles.
What Do Customers Think About InstaNatural?
Most reviews on InstaNatural website are good, with three of their core products described above garnering above 4-star ratings.
InstaNatural Cleansing Balm reviews reveal that the product successfully takes out makeup and keeps skin soft and not in any way oily. "Love it!" exclaims one reviewer. "Removes mascara and eyeliner. This balm moisturizes and softens my eye region while removing all traces of makeup. I wholeheartedly endorse!" However, according to one bad review, this balm might leave your skin feeling kind of oily and unclean.
InstaNatural Eye Serum has received a mixed bag of negative and positive feedback. Many customers appear to dislike the orange tint of the eye serum, and one reviewer even stated that the InstaNatural Eye Serum stains surfaces. However, there are favorable reviews;
"I've always had some dark under-eye circles, but within only a few weeks of taking the product, my eyes had brightened up," one reviewer adds. It's fantastic at such a minimal cost!"
Advertisement
*All individuals are unique. Your results can and will vary.
Frequently Asked Questions
Q: Is InstaNatural vegan?
A: Is InstaNatural a vegan product? InstaNatural is cruelty-free but not entirely vegan, which means that some of its products contain substances obtained from animals.
Q: Is InstaNatural fragrance-free?
A: Parabens, SLS, formaldehyde releasers, petroleum, artificial perfumes, and dangerous preservatives are absent from InstaNatural products.
Q: How do you use InstaNatural serum?
A: Massage a tiny amount of serum into cleansed and toned skin, allowing it to penetrate completely. After that, apply an adequate moisturizer.
Q: How do I contact InstaNatural?
A: You can contact our customer service department, send an email to cs@instaNatural.com, or use our website's online assistance.
Q: Which serum should I choose?
A: InstaNatural offers a selection of serums to address specific skin issues. You can contact our customer service staff at 1-800-290-6932, Monday through Friday, 9 a.m. – 5 p.m, or visit our online store to see which one best meets your needs.
Q: Can I continue to use your products when I am pregnant or breastfeeding?
A: When using any personal care products, we urge that you consult with your healthcare expert if you have any concerns.
Q: Are InstaNatural products tested on animals?
A: We are Leaping Bunny Certified, which means that we never test our products or materials on animals at any level of development.
Q: What is InstaNatural?
A: InstaNatural is a major online retailer of cosmetics and personal care items. We began as a tiny company in Florida to provide natural, effective skincare treatments.
Conclusion
With a large number of positive reviews, InstaNatural products have come to stay. However, on the website, it is advised to consult your doctor before using InstaNatural products in the event that you're either pregnant or strongly allergic.
Advertisement
*All individuals are unique. Your results can and will vary.
7 sources
Health Insiders relies on peer-reviewed studies, academic research institutions, and medical associations. We avoid using tertiary references. You can learn more about how we ensure our content is accurate and current by reading our editorial policy.
[1] Lin TK, Zhong L, Santiago JL. Anti-Inflammatory and Skin Barrier Repair Effects of Topical Application of Some Plant Oils. Int J Mol Sci. 2017;19(1):70. Published 2017 Dec 27. doi:10.3390/ijms19010070
[2] Final report on the safety assessment of Ricinus Communis (Castor) Seed Oil, Hydrogenated Castor Oil, Glyceryl Ricinoleate, Glyceryl Ricinoleate SE, Ricinoleic Acid, Potassium Ricinoleate, Sodium Ricinoleate, Zinc Ricinoleate, Cetyl Ricinoleate, Ethyl Ricinoleate, Glycol Ricinoleate, Isopropyl Ricinoleate, Methyl Ricinoleate, and Octyldodecyl Ricinoleate. Int J Toxicol. 2007;26 Suppl 3:31-77. doi: 10.1080/10915810701663150. PMID: 18080873.
[3] Johnston M, McBride M, Dahiya D, Owusu-Apenten R, Nigam PS. Antibacterial activity of Manuka honey and its components: An overview. AIMS Microbiol. 2018;4(4):655-664. Published 2018 Nov 27. doi:10.3934/microbiol.2018.4.655
[4] Niaz K, Maqbool F, Bahadar H, Abdollahi M. Health Benefits of Manuka Honey as an Essential Constituent for Tissue Regeneration. Curr Drug Metab. 2017;18(10):881-892. doi: 10.2174/1389200218666170911152240. PMID: 28901255.
[5] Wohlrab J, Kreft D. Niacinamide - mechanisms of action and its topical use in dermatology. Skin Pharmacol Physiol. 2014;27(6):311-5. doi: 10.1159/000359974. Epub 2014 Jun 27. PMID: 24993939.
[6] Bissett DL, Oblong JE, Berge CA. Niacinamide: A B vitamin that improves aging facial skin appearance. Dermatol Surg. 2005 Jul;31(7 Pt 2):860-5; discussion 865. doi: 10.1111/j.1524-4725.2005.31732. PMID: 16029679.
[7] Hernández-Camacho JD, Bernier M, López-Lluch G, Navas P. Coenzyme Q10 Supplementation in Aging and Disease. Front Physiol. 2018;9:44. Published 2018 Feb 5. doi:10.3389/fphys.2018.00044