About iGrow Peig 10400
iGrow Peig 10400 is a low-level laser therapy device which can initiate hair growth and thickness in people who have experienced hair loss. This laser therapy for hair product is a helmet-like device which has headphones attached, so you can listen to music during your treatment. It uses both LED diodes and red lasers.
---
iGrow Peig 10400 Pros & Cons
Pros
This product may incite hair growth in people with hair loss.
It could make your hair thicker.
iGrow Peig 10400 is suitable for all types of hair.
This product contains customizable headphones.
It combines LED diodes with red lasers.
Cons
The company doesn't cite the strength of the device.
You have to wait 6 months for full results.
It's possible to have a skin reaction on your scalp.
---
How Does It Work? | The Science Behind iGrow Peig 10400
The laser diodes and red lasers send photons which penetrate into the scalp, and this stimulates the hair follicles. In addition, it activates the hemoglobin, which leads to improved blood flow. Over time and consistent treatments, this causes hair growth and it could also stop shedding.
A study published in Harvard Library found that this type of device is effective and safe for both men and women who want to grow their hair.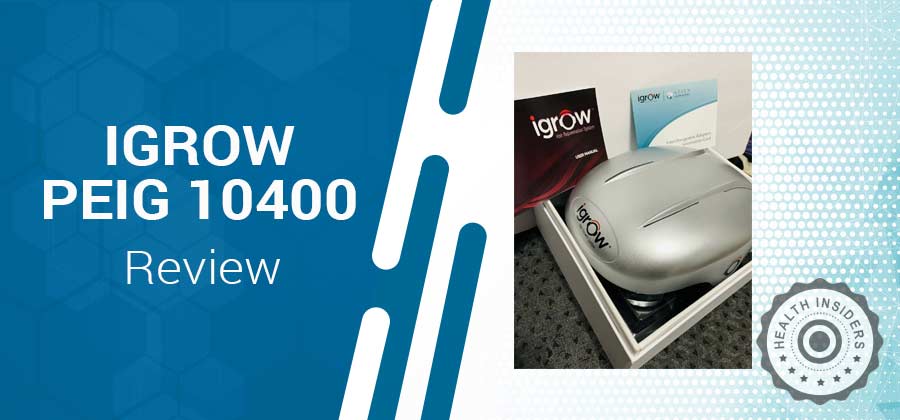 iGrow Peig 10400 Ingredients – What to Look For
The 'ingredients' for iGrow Peig 10400 are the LED diodes and red lasers used to penetrate the scalp and activate the hair follicles and blood circulation. Over a period of several months, this can stop shedding and initiate hair growth. It should make your hair healthier and stronger.
We don't know exactly how strong this product is, so it may not be the best laser hair growth device in the world. However, research has shown that this technology does work to cause hair growth, so it should have some positive effect.
A review of the research studies published in Lasers in Surgery and Medicine found that this was both a safe and effective method for hair growth in men and women.
SEE ALSO – Hair La Vie
iGrow Peig 10400 Alternatives
Brand
Price
Ingredients
iGrow Peig 10400
$299.99-449.99
LED and red lasers
Valotin
$49.52
Vitamin A, Aloe Vera, Alanine, Biotin and Green Tea
iRestore Laser Hair Growth System
$695
255 diodes
NEW Laser Therapy Hair Growth Helmet
Device Hair Loss Treatment
$221
678 nm
Newest USB Hair Growth Regrowth Helmet Hair
Loss Treatment Cap Hair Treatment Cap Helmet
$158
Unknown
HydraskincarePro 3
$195
Unknown
The price of iGrow Peig 10400 is fairly average, however, we don't know how strong the device is and this makes it difficult to compare with other brands.
Advertisement
*All individuals are unique. Your results can and will vary.
Is iGrow Peig 10400 Safe? – Warnings & Complaints
This laser hair regrowth device doesn't appear to be very strong, and it's unlikely to cause much in the way of side effects. It's possible to have a skin reaction on the scalp, but the product certainly has no other risks unless you look directly into the laser with your eye.
Are laser hair growth devices safe? There's been a lot of research indicating that this technology for hair growth is quite safe. For example, a 16-week study in Medicine used a similar product to this one and found that it was both safe and effective.
iGrow Peig 10400 Customer Reviews & Results
The laser hair growth device reviews for this product were fairly good, although not outstanding. About 2/3 of the reviewers gave this product a very high rating and said it did indeed make their hair grow within a few months. However, there were some users who said the product didn't work for them.
iGrow Peig 10400: Packages, Deals, Prices & Where to Buy It
You can buy iGrow Peig 10400 on the manufacturer's official website, on Amazon, eBay, and from other online and offline retailers. It's currently unavailable on Amazon. On the official site, the price is $449.99. You can get it on eBay for $299.99.
The Bottom Line
The iGrow Peig 10400 is laser therapy for hair growth device which is meant for men and women who have experienced hair loss. It looks like a helmet, and the user wears it for 20-minute sessions a few times a week. Over an approximately 6-month period, the hair should grow in and become thicker. In addition, it should stop shedding.
The home medical hair growth laser device reviews for this product were moderately good. Just under 70% of the users liked this product and said it did wonders for their hair. However, there were also some customers who didn't get any benefit.
We don't know how strong this device is, but there's a chance of having a skin reaction on the scalp with laser therapy for hair regrowth. If this does occur, stop using the device. It's a good idea to go to the doctor before beginning to use this laser hair therapy for hair loss products.
Is There Anything Else You Should Know About iGrow Peig 10400?
iGrow Peig 10400l is laser therapy for hair loss device which can help people to grow their hair. We hope that this product is working well for you and giving you the long, thick hair that you want. In addition to laser therapy, there are some natural methods for growing your hair. Here are some tips:
Use an aloe vera mask. Spread it throughout your hair and leave it on for about 20 minutes before washing. The antioxidants and the moisture should really enrich your hair.
Keep your hair out of the sun when it's at its peak. It can really dry your hair and do damage. Wear a hat or a scarf if you're going out in the heat.
Don't shampoo your hair too often. This strips it of the natural oils it needs to be healthy. In addition, make sure you condition every time you wash your hair.
Eat a healthy diet with a lot of vitamins and minerals, as well as antioxidants. This will enrich and nourish your hair follicles.
SOURCES
Health Insiders relies on peer-reviewed studies, academic research institutions, and medical associations. We avoid using tertiary references. You can learn more about how we ensure our content is accurate and current by reading our
editorial policy
.
[1] Avci P, Gupta GK, Clark J, Wikonkal N, Hamblin MR. Low-level laser (light) therapy (LLLT) for treatment of hair loss. Lasers Surg Med. 2014 Feb;46(2):144-51. doi: 10.1002/lsm.22170. Epub 2013 Aug 23. PMID: 23970445; PMCID: PMC3944668
[2] Efficacy and Safety of a Low-level Laser Device in the Treatment of Male and Female Pattern Hair Loss: A Multicenter, Randomized, Sham Device-controlled, Double-blind Study
https://dash.harvard.edu/bitstream/handle/1/12152951/3986893.pdf?sequence=1&isAllowed=y
[3] Yoon JS, Ku WY, Lee JH, Ahn HC. Low-level light therapy using a helmet-type device for the treatment of androgenetic alopecia: A 16-week, multicenter, randomized, double-blind, sham device-controlled trial. Medicine (Baltimore). 2020 Jul 17;99(29):e21181. doi: 10.1097/MD.0000000000021181. PMID: 32702878; PMCID: PMC7373546