About Flexomentin
Flexomentin is a joint health supplement that claims to improve flexibility, lower inflammation, and maintain joint function in the long-term. It is a 3-in-1 upgraded formula designed from clinically approved ingredients, that supposedly work effectively.
These ingredients are a combination of natural herbs and extracts thus the pills are considered safe with minimal to nil side effects.
In precise, some of the things that Flexomentin does is that it enhances joint mobility and strength, may support better movement. Besides, promotes an active lifestyle, reduces inflammation and pain, keeps joints healthy for longer.
---
Flexomentin Pros & Cons
Pros
It may improve joint mobility and strength
Claims to enhance better movement
May promote a more active lifestyle
May improve joint lubrication
Contains natural ingredients
Cons
May not diminish joint pain immediately
The information about potential side effects is unclear
Joint pain may resurface after dose completion
May cause product dependency
---
How Does It Work? | The Science Behind Flexomentin
Flexomentin works through its joint supporting ingredients to improve flexibility, mobility, and an active lifestyle. The ingredients in this supplement help to improve and strengthen the joints while eliminating soreness, stiffness, and pain. Flexomentin ingredients also promote more joint lubrication and stronger cartilage. The extracts are claimed to be absorbed into the bloodstream and build up in the body and start working. A clinical study by the company proved that participants experienced reduced joint pain, better mobility, and flexibility.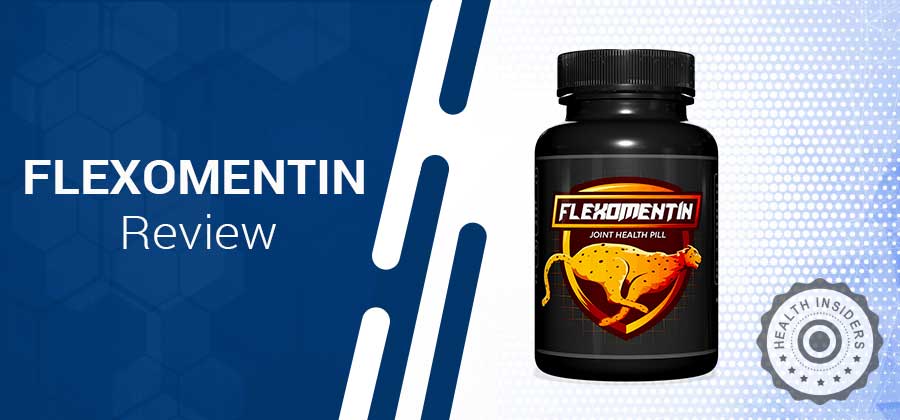 Flexomentin Ingredients – The Breakdown
The ingredients in this supplement are;
Turmeric – this ingredient together with its curcumin-enriched extracts are used in the treatment of arthritis. According to randomized clinical trials recorded in the Journal of Medicinal Food, turmeric extracts are effective in the treatment of arthritis, a joint disorder that is characterized by chronic inflammation.
Boswellia serrata – In the Phytotherapy Research journal an extract from this ingredient was administered to patients with osteoarthritis of the knee. The trial result revealed that Boswellia serrata treatment improved physical function in patients. It was able to do this by reducing pain and stiffness in the knee.
MSM – methylsulfonylmethane has become a popular dietary supplement that is commonly used as an anti-inflammatory agent. According to the Nutrients journal, MSM supplementation improves antioxidant capacity, joint/muscle pain, inflammation, and oxidative stress.
Collagen – collagen-based products are gaining popularity due to their positive effects on skin and bone. Collagen peptides have been claimed to increase bone strength and mineral density supporting their capability against osteoporosis. And since collagen is a major component of the matrix, it also improves arthritic conditions according to PLoS One.
Advertisement
*All individuals are unique. Your results can and will vary.
Flexomentin – Questions and Answers
Q: How to Use Flexomentin?
A: Take 2 pills a day with a glass of water for best effects. You can take the pills with or without food. And if you want faster results, you may increase your dosage to 4 capsules a day in the first two weeks.
Q: Does Flexomentin Have Any Side Effects?
A: While the company does not disclose any side effects, natural ingredients such as turmeric may cause adverse effects such as nausea and upset stomach.
Q: Can I Use Flexomentin If I Have A Health Condition?
A: Yes, there are no restrictions regarding those with health conditions. However, it is still recommended to consult your doctor before settling for this supplement.
Q: Does Flexomentin Work?
A: Yes, this joint supplement may work as it contains effective ingredients that improve lubrication, flexibility, and mobility of the joints. Moreover, all the ingredients are supported by science.
Q: What Is Flexomentin Money-back Guarantee, Return & Refund Policy?
A: Unsatisfied customers can return products within 30 days after the purchase date. The company claims that it offers customers a 100% money-back guarantee.
Flexomentin Alternatives
| Brand | Price | Ingredients |
| --- | --- | --- |
| Tamaflex | $39.99 | Boswellia Serrata, Turmeric |
| Flexuron Joint Formula | 29.95 | Krill Oil, Astaxanthin, Hyaluronic acid |
| Joint MD | 49.99 | MSM, Bromelain, Milk Protein Concentrate, Curcumin Extract, Ginger Extract, Alpha Lipoic Acid |
| Wobenzym N | $33.59 | Rutoside Trihydrate, Bromelain, Papain, Trypsin |
| Supple Drink | $99.95 | Chondroitin 4-Sulfate, 6-Sulfate, Vitamin D3, AKBA extract, Vitamin C, Glucosamine |
| Arctic Blast | $79.99 | Emu Oil, Peppermint Oil,St. John's Oil,Camphor Oil |
| Joints Alive | 49.97 | Turmeric Extract, Methylsulfonylmethane (MSM), Boswellia Serrata Extract, Black Pepper |
| Instaflex Joint Support | $48.49 | Hyaluronic acid, turmeric, collagen II, ginger, white willow bark |
| Joint Vibrance | $58.00 | Collagen, Hyaluronic Acid, Glucosamine, Chondroitin, MSM |
| Juvenon | $44.95 | Boswellia Serrata Extract, Milk Thistle, Angelica Dahurica, Boron |
Is Flexomentin Safe? – Warnings & Complaints
Yes, this product may be safe because its ingredients are backed by science. The company that formulates Flexomentin claims that the supplement is manufactured in a clinically approved facility to ensure safety. That said, it is still important to consult a physician before use.
Flexomentin Customer Reviews & Results
Customer reviews on this supplement are generally positive. Users who have used it for years claim that the supplement works as advertised. These reviewers are grateful that they are feeling much better and have gotten their active life back. Athletes including runners and tennis players also swear by this joint solution. Although there are negative reviews, they are quite a few with users complaining of mild side effects they experienced.
Flexomentin: Packages, Deals, Prices & Where to Buy It
A one-month supply bottle costs $35.99 on the company's official website where you can purchase it from. This product can only be purchased online from the company website as it not available on other retailer websites.
SEE NEXT – ProJoint Plus Review

Advertisement
*All individuals are unique. Your results can and will vary.
The Bottom Line on Flexomentin
Flexomentin is a joint supplement that claims to improve flexibility, mobility, and strength. It is formulated using winning ingredients that have scientific support to back their effectiveness.
All types of users can benefit from this product including athletes whose joints are usually worn out due to overuse. Apart from scientific proof, this product is also backed by positive customer reviews. Users mentioned that this supplement improved their joint health. It also allowed them to live their active life to the fullest.
However, there were negative reviews, they were very few that were overshadowed by the positive ones. Some users complained about the side effects such as nausea. If apprehensive about these side effects, you can check out other joint pain supplements online.
Is There Anything Else You Should Know About Flexomentin?
Flexomentin is made in the USA and is doctor recommended. According to the official website, so far over a million supplements have been sold. The company has over 300,000 community members and over 73,000 verified reviews which further emphasize the product's credibility. Users can also get cool offers on special occasions on the company's site so be on the lookout.
SOURCES
Health Insiders relies on peer-reviewed studies, academic research institutions, and medical associations. We avoid using tertiary references. You can learn more about how we ensure our content is accurate and current by reading our editorial policy.
[1] Age and joint mobility. Br Med J. 1968 Nov 16;4(5628):405. PMID: 5687602; PMCID: PMC1912367
[2] James W. Daily, Mini Yang, and Sunmin Park.Journal of Medicinal Food.Aug 2016.717-729.http://doi.org/10.1089/jmf.2016.3705
[3] A pilot, randomized, double-blind, placebo-controlled trial to assess the safety and efficacy of a novel Boswellia serrata extract in the management of osteoarthritis of the knee https://onlinelibrary.wiley.com/doi/full/10.1002/ptr.6338
[4] Butawan M, Benjamin RL, Bloomer RJ. Methylsulfonylmethane: Applications and Safety of a Novel Dietary Supplement. Nutrients. 2017 Mar 16;9(3):290. doi: 10.3390/nu9030290. PMID: 28300758; PMCID: PMC5372953.
[5] Dar QA, Schott EM, Catheline SE, Maynard RD, Liu Z, Kamal F, Farnsworth CW, Ketz JP, Mooney RA, Hilton MJ, Jonason JH, Prawitt J, Zuscik MJ. Daily oral consumption of hydrolyzed type 1 collagen is chondroprotective and anti-inflammatory in murine posttraumatic osteoarthritis. PLoS One. 2017 Apr 6;12(4):e0174705. doi: 10.1371/journal.pone.0174705. PMID: 28384173; PMCID: PMC5383229
[6] The facts about joint supplements. Consum Rep. 2013 Oct;78(10):12. PMID: 24032180.