What is EarthsCure?
EarthsCure is a luxury skincare line that promises to provide deep anti-aging benefits. It's made of quality ingredients that may firm the skin and make it more elastic, eliminating wrinkles and lines. These are very hydrating products that moisturize and get rid of dry skin. In addition, they are extremely healthy, packed with vitamins and antioxidants which repair skin damage. The EarthsCure reviews and ratings were very positive.
Here are some of the top products in the EarthsCure skincare line:
Natural Anti-Aging Cream – This is a vegan anti-aging skin care cream with retinol as its base ingredient, among others. It promises to eliminate wrinkles, lines, and dark spots.
Nano Peptide Moisturizer + Amino Acids – It's a potent anti-aging moisturizer which can firm the skin, remove wrinkles and lines, and improve the skin's tone and texture.
Anti-Oxidant Exfoliating Facial Scrub – This is a powerful exfoliant which removes dead skin cells and other impurities. It's also very hydrating and can get rid of dryness.
Ocean Mineral Illuminating Cleanser – This product is a very deep cleanser that eliminates all dirt, oils, and makeup from your skin and leaves your complexion radiant.
Bouncy and Bright Serum, Elite Vitamin C – A potent anti-aging serum designed to remove dark spots, lift saggy skin, even out tone and texture and make the skin brighter.
EarthsCure – Quick Facts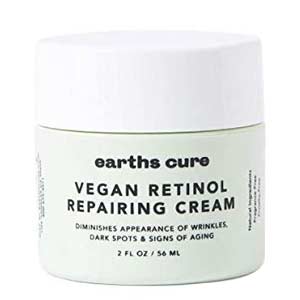 Buy on Amazon
EarthsCure is an anti-aging skincare line that claims to slow down the ageing process.
Form:

Cream

Type:

Skin

Benefit:

They may deeply moisturize and get rid of dryness.

Brand:

EarthsCure

Address & Phone:

Los Angeles, CA. (800) 674-3571

Uses:

The products are rich in antioxidants.

Ingredients:

Retinol, Peptides, Vitamin C, Jojoba Oil, Gotu Kola, Hyaluronic Acid, Aloe Vera, Vitamin E, Dandelion

Price:

$20-159
Pros And Cons of EarthsCure

The products could offer rich anti-aging benefits.
They may deeply moisturize and get rid of dryness.
EarthsCure Skin Care is suitable for all skin types.
The products are rich in antioxidants.
EarthsCure may tighten the skin and improve elasticity.

You may develop an allergic skin reaction.
They are expensive to purchase in spas
How Does It Work? | The Science Behind EarthsCure
The EarthsCure ingredients contain a lot of antioxidants, which kill free radicals in your skin and lower oxidative stress. This leads to the reparation of damage to the skin barrier. Antioxidants also protect the skin from environmental agents like pollution and UV rays.
According to an article in the Journal of Investigative Dermatology Symposium Proceedings[1] antioxidants add great value to a sunscreen.
The products are also replete with anti-inflammatory agents, which reduce redness and swelling in the skin and can help to ease skin conditions. Ingredients like Vitamin C can reduce pigmentation and fade brown spots on the skin.
A study published in JAMA Network[2] found that using Vitamin C for 3 months led to significant improvement in photodamaged skin.
In addition, this line is high in peptides, which are strings of amino acids which produce more collagen in the skin. This makes it tighter and more elastic, which can help smooth wrinkles and lines and leave a younger-looking complexion.
There are some deeply hydrating ingredients, like jojoba oil and hyaluronic acid. The moisture goes under the skin and makes it plumper, smoothing wrinkles and lines on the complexion.
EarthsCure Ingredients – What to Look For?
Here are some of the primary active EarthsCure ingredients:
Dandelion – This is a plant called Taraxacum Officinale, which grows all over the world. It's high in Vitamin C, which both reduces pigmentation and contains antioxidants. This helps repair the skin and protect it from damage.Dandelion is also high in minerals and other vitamins. A study published in Industrial Crops and Products[3] highlighted the potent antioxidant benefits of dandelion.
Advertisement
*All individuals are unique. Your results can and will vary.
Gotu Kola – This is a flowering plant called Centella Asiatica native to Asia. It has the ability to boost collagen levels, which may tighten the skin and smooth out wrinkles. It also has potent anti-inflammatory benefits which could reduce swelling and skin conditions. An article published in Advances in Dermatology and Allergology[4] examined the role of Gotu in cosmetology.
Hyaluronic Acid – This gel-like substance exists naturally in the body, in the skin, and in connective tissue. It can absorb a tremendous amount of liquid, which provides the skin with hydration and volume. It eliminates dryness and can help smooth wrinkles. A study published in the Journal of Cosmetic Dermatology[5] found that hyaluronic acid both reduced signs of age and improved face volume.
EarthsCure Alternatives – Compare with Similar Items
Brand
Price
Ingredients
EarthsCure
$20-159
Retinol, Peptides, Vitamin C, Jojoba Oil, Gotu Kola,
Hyaluronic Acid, Aloe Vera, Vitamin E, Dandelion
Celluage
$128.16
Syn-Coll, Kojic Acid, and Hyaluronic Acid
ActivatedYou Essential Skin Food
$69.95
Vitamin C, Cosmythic, Dermaval, Amino Acid Complex
Prache Cream
Unknown
Retinol, Currant Seed Extract, Phytoceramides, Acmella Flower Extract
Meanigful Beauty
$30s-60s
Superoxide Dismutase, Sodium Hyaluronate, Oxybenzone,
Retinol, Chondrus Chrispus, Niacinamide,
Sunflower Seed Oil
Countertime
$60s-120
Retinatural Complex, Fermented Sugars,
Nasturtium Flower Extract, Bergamot Fruit Oil,
Soybean Oil, Tocepherol
The prices of the EarthsCure products are quite reasonable for the most part and clearly average for the market. This line uses a very solid collection of known quality skincare ingredients. There are some things in other brands that are not included, but that doesn't detract from the fact that these are good products.
Is EarthsCure Safe? – Warnings & Complaints
The ingredients in the EarthsCure products are very safe, organic substances with no artificial or chemical inclusions. There's always the chance that you could get a reaction from an allergy, in which case you should stop using the line.
EarthsCure Customer Reviews & Results – What Users Are Saying
The EarthsCure reviews were mostly very good, although of course, it varies a little from product to product. Most customers loved the benefits of these items and found that they did successfully remove signs of age and nourish the skin. Only a very small number of users were unhappy with the results.
EarthsCure: Packages, Deals, Prices & Where to Buy It
You can buy these products on the manufacturer's official website, on Amazon, and on a couple of other online retail sites. The prices on the official site are as follows:
3-Step Anti-Aging Routine – $89
Natural Anti-Aging Cream – $38
Nano Peptide Moisturizer + Amino Acids – $36
Anti-Oxidant Exfoliating Facial Scrub – $36
Ocean Mineral Illuminating Cleanser – $28
Bouncy and Bright Serum, Elite Vitamin C – $38
Advanced Anti-Aging Set – $159
Anti-Aging Routine for Dry Skin – $89
All in One Body Treatment – $60
Makeup Removing NanoPads – $20
Final Verdict
EarthsCure Skin Care is a line with high-end products that provide anti-aging benefits for the skin. They aim to remove wrinkles, lines, age spots, and other signs of age on the skin. In addition, they promise to tone the skin, deeply moisturize, and repair skin damage. These are quality products at reasonable prices.
The vast majority of the EarthsCure product reviews had good things to say about this line. People raved about how well the creams eliminated their wrinkles and lines and left their skin smooth and healthy, and young. Only a few customers complained that the items didn't work well for them.
These are very gentle products suitable for all skin types, including very sensitive ones. However, if you have an allergy to an ingredient you could have a skin reaction. If you notice symptoms, stop using the product immediately. It's a good idea to see a dermatologist before using new skincare, to make sure it's suitable for you.
Is There Anything Else You Should Know About EarthsCure?
EarthsCure is a luxury skincare line made up of anti-aging products. We hope these items have worked well for you, removing wrinkles and lines and other skin blemishes. There are also some natural, lifestyle methods you can use to make sure your skin stays young-looking. Here are some ideas:
follow a strict skincare regimen every morning and every night, carefully cleansing, toning, and moisturizing your skin. You should also exfoliate about 3 times a week.
Follow a healthy, well-balanced diet rich in nutrients that will nourish your skin. Include plenty of fruits and vegetables.
Exercise several times a week, as this really gets your circulation flowing and it can strengthen the immune system. It also makes the skin much healthier.
Protect your skin from the sun's rays anytime you go outside by wearing a potent sunblock. Sun can really accelerate aging in the skin.
EarthsCure – Frequently Asked Questions
Q: Is EarthsCure Safe?
A: Toxins, additives, and fragrances that may irritate the skin are not used by EarthsCure. The company recommends its brands to people of all skin types, particularly those with sensitive skin.
Q: How Should You Apply EarthsCure?
A: EarthsCure products should be used both during the day and at night. You can start by washing your face. Then, rub a dime-sized sum around your eyes, ears, and neck. Enable the product to dry completely before applying makeup. The drugs are also effective on the wrists, elbows, and knees.
Q: What Are The Side Effects Of EarthsCure?
A: There have been no recorded side effects from using EarthsCare drugs. However, as with all skincare items, side effects vary from person to person. Consult the doctor to see if EarthsCure is good for you.
Advertisement
*All individuals are unique. Your results can and will vary.
Q: Does EarthsCure Provide A Free Trail Or Refund Policy?
A: EarthsCure does not do free trials, but all of their offerings are supported by a money-back guarantee.
Sources
Health Insiders relies on peer-reviewed studies, academic research institutions, and medical associations. We avoid using tertiary references. You can learn more about how we ensure our content is accurate and current by reading our editorial policy.
[1] Non-Sunscreen Photoprotection: Antioxidants Add Value to a Sunscreen
[2] Traikovich SS. Use of Topical Ascorbic Acid and Its Effects on Photodamaged Skin Topography. Arch Otolaryngol Head Neck Surg. 1999;125(10):1091–1098. doi:10.1001/archotol.125.10.1091
[3] Skin-care effects of dandelion leaf extract and stem extract: Antioxidant properties, tyrosinase inhibitory and molecular docking simulations
[4] Centella asiatica in cosmetology
[5] Anti-aging and filling efficacy of six types hyaluronic acid based dermo-cosmetic treatment: double blind, randomized clinical trial of efficacy and safety.