About Celluage
Celluage Skin Cream is an anti-aging product which promises to remove the signs of age from the complexion, such as wrinkles, lines, and other abrasions. It tightens the skin and improves elasticity, and it also deeply moisturizes and gets rid of dryness. It's high in antioxidants which repair the skin and protect it from damage, like UV rays.
---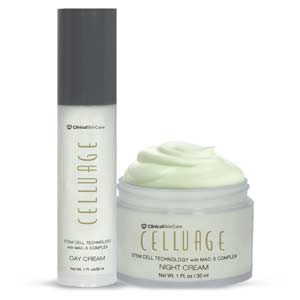 Buy on Official Website
Quick Facts & Specs
Celluage
Celluage is an anti-aging day and night cream that claims to reduce wrinkles and creases while also firming the skin.
Form:

Cream

Type:

Skin

Benefit:

The product may deeply moisturize and eliminate dryness.

Brand:

Use Celluage

Address & Phone:

21606 Devonshire St #3159 Chatsworth, California, 91311. (877) 295-0462

Uses:

Celluage might tighten the skin and improve elasticity.

Ingredients:

Kojic Acid, Hyaluronic Acid, RonaFlair LDP, Syn-ake, Syn-Coll

Price:

$128
Celluage Pros & Cons
Pros
Celluage could remove wrinkles and lines.
The product may deeply moisturize and eliminate dryness.
Celluage might tighten the skin and improve elasticity.
This cream could repair damage to the skin barrier.
The product may protect the skin from UV rays.
Cons
You can only buy it on the official website.
It's possible to experience an allergic skin reaction.
The price point is very high.
---
How Does It Work? | The Science Behind Celluage
Celluage Cream contains a couple of different peptides. There are amino acids that initiate collagen production, replacing some that diminish with age. This tightens the skin and makes it more elastic, smoothing wrinkles and lines. An article in the International Journal of Molecular Science[1] examined the anti-wrinkle benefits of peptides.
Another peptide called Syn-ake relaxes the muscles and slows their movement, so it appears as if there are fewer wrinkles and lines. This cream has some very hydrating ingredients which moisturize the skin and eliminate dryness.
They also plump the complexion, helping to smooth wrinkles and lines. Celluage is rich in anti-inflammatory agents which reduce redness and swelling and can heal skin conditions.
There is a unique ingredient called RonaFlair LDP which is a cosmetic filler that smooths wrinkles, lines, and other abrasions on the face.
Celluage includes a lot of antioxidants, which kill free radicals and lower oxidative stress. This helps to repair damage to the skin barrier, and it protects it from environmental stressors like UV rays and pollution. An article in Plastic and Reconstructive Surgery[2] examined the essentials of antioxidants in skincare.
Advertisement
*All individuals are unique. Your results can and will vary.
Celluage Ingredients – What to Look For?
Here are some of the primary active Celluage ingredients:
Syn-Coll – This is a synthetic peptide which increases collagen production, tightening the skin and making it more elastic. It's effective at smoothing wrinkles and lines. A study in Scientific Reports[3] looked at the enhanced skin permeation abilities of anti-wrinkle peptides.
Kojic Acid – This is a chemical agent produced by fungi. It has excellent lightening properties and can fade age spots, scars, and sun damage. It has antioxidants that can repair and protect the skin. An article published in Biomedicine and Pharmacotherapy[4] examined the applications of kojic acid in cosmetic and pharmaceutical applications.
Hyaluronic Acid – This substance exists naturally in the skin, and it has the ability to hold a tremendous amount of liquid. It moisturizes the skin and gets rid of dryness, and well as giving it volume and smoothing wrinkles and lines. An 8-week study published in the Journal of Clinical and Aesthetic Dermatology[5] found that a new nano-hyaluronic acid decreased wrinkle depth, improved firmness and elasticity, and improved skin hydration.
SEE ALSO – Quench Crème Review

Celluage – Questions and Answers
Q: How to Use Celluage?
A: You should use Celluage twice a day, in the morning and again before you go to sleep. Apply it to damp skin, so wash your face or take a shower first. Take a small amount of the cream onto your fingers and rub it all over your skin until it's absorbed. After 30 days you should see potent results.
Q: Does Celluage Have Any Side Effects?
A: There is a possibility that you could experience an allergic reaction to an ingredient, leading to a rash or redness, or itchy skin. If this occurs, stop using the product right away and see a dermatologist if you think it's necessary.
Q: Can I Take Celluage If I Have A Health Condition?
A: There are few health conditions that could preclude taking Celluage Cream, but if you have an allergy to an ingredient you could have a reaction. It's important to check the list carefully before using the cream to make sure it's suitable for you.
Q: Does Celluage Work?
A: Celluage contains some potent anti-aging ingredients including 2 types of peptides, the deeply hydrating hyaluronic acid, and kojic acid. They have the potency to tighten the skin and remove wrinkles and lines, as well as hydrate and provide other benefits. It should be an effective anti-aging cream. Sadly, there are no Celluage Day and Night Cream reviews to confirm this.
Q: What Is Celluage Moneyback Guarantee, Return & Refund Policy?
A: The manufacturer has a 30-day return policy for all regular items, but not for sale items. The product must be in its original condition and packaging. If you're not happy with the item contact the company and let them know. Do not send the product back to the seller. You should receive a full refund.
Q: Who Should Apply Celluage?
A: Begin using Celluage Cream in your 20s, before the signs of age have begun to show. It will slow down aging and protect your skin from environmental harm like UV rays. If you are in middle age, this cream is ideal to remove wrinkles and lines and firm your skin.
Q: Who is the Manufacturer of Celluage?
A: The official site lists NB Marketing Group, Inc at the bottom, but we believe that may be the distributor. The manufacturer is called Celluage, and they are a skincare company that produces anti-aging products. However, there is virtually no information about this organization online at all.
Advertisement
*All individuals are unique. Your results can and will vary.
Q: Can I Buy Celluage in Stores?
A: No, there are no retail stores which sell Celluage. There doesn't appear to be any other place to buy it except for the official website.
Celluage Alternatives – Compare with Similar Items
Brand
Price
Ingredients
Celluage Day and Night Cream
$128
Kojic Acid, Hyaluronic Acid,
RonaFlair LDP, Syn-ake, Syn-Coll
Lancome Absolue
$270
Zea Mays Oil, Apricot Kernel Oil, Oryza Sativa Bran,
Castanea Sativa, Malus Domestica Fruit Cell Culture
Prache Cream
Unknown
Retinol, Currant Seed Extract, Phytoceramides, Acmella Flower Extract
Countertime
$100
Fermented Sugars, Tetrapeptide, Retinatural Complex
IT Cosmetics
$17.32
Turmeric Root, Canola Oil, Aloe Leaf, Coconut Oil,
Grapefruit Oil, Bergamot Oil, Orange Peel, Retinol,
Licorice
There is a real range of prices among these brands. Celluage is still somewhat high, but there are also more expensive products. Note that the price of Celluage is for 2 products, while the others are one.
The formulas for these anti-aging products vary quite a bit, each of these having a unique selection of ingredients. Celluage is a strong product among other brands.
Is Celluage Safe? – Warnings & Complaints
Celluage Skin Anti Wrinkle Serum is a safe product. At worst you could end up with a skin reaction to an allergen or an ingredient like kojic acid, which can cause irritation.
Celluage Customer Reviews & Results – What Users Are Saying
We couldn't find any Celluage reviews online which discussed this product at all. This is never a good sign for a brand, but possibly the product is somewhat new and people haven't had a chance to write a review. At any rate, we can't get any idea of customer opinion on Celluage.
Celluage: Packages, Deals, Prices & Where to Buy It
As far as we can tell, the only place where you can buy this product is on the Celluage official website. The Celluage Day and Night Cream is only sold as a set, and it's priced at $128.16. A set of 3 bottles costs $174. For a six-month supply, the Celluage price is $228.
Advertisement
*All individuals are unique. Your results can and will vary.
The Bottom Line on Celluage
Celluage is an anti-aging day and night cream rich in peptides and other ingredients which tighten the skin, improve elasticity, and smooth wrinkles and lines. It's a deeply hydrating cream that moisturizes, gets rid of dryness, and plumps the skin.
The price of the product is quite high, and there's very little information about the manufacturer online. In addition, we couldn't find any Celluage skincare reviews on the Internet at all, which is not a particularly good sign. We'd like to find out what users thought of this cream.
There is a chance that you could end up with skin irritation or reaction to one of the Celluage ingredients. If you notice a rash or other symptoms, stop using the cream immediately. It's a good idea to go to a dermatologist before using it to make sure it's suitable for your skin.
Is There Anything Else You Should Know About Celluage?
Celluage Skin Care is an anti-aging cream that should firm your skin, hydrate, and remove wrinkles, lines, and other signs of age. We hope this product is working as you expected and is giving you a younger, fresher complexion. There are some natural things you can do to slow aging in your skin. Here are some tips:
Follow a strict skin regimen every morning and every night, cleansing, toning, and moisturizing. Exfoliate several times a week.
Protect your skin from the sun's rays on a daily basis by wearing a strong sunblock.
Drink plenty of water every day. It keeps your skin healthy and hydrated.
Eat foods high in vitamins and antioxidants, to help repair the skin barrier and protect it from harm. Try avocados, flaxseed, olive oil, vegetables, and berries.
Sources
Health Insiders relies on peer-reviewed studies, academic research institutions, and medical associations. We avoid using tertiary references. You can learn more about how we ensure our content is accurate and current by reading our editorial policy.
[1] Anti-Wrinkle Benefits of Peptides Complex Stimulating Skin Basement Membrane Proteins Expression
[2] Graf, Jeannette M.D. Antioxidants and Skin Care: The Essentials, Plastic and Reconstructive Surgery: January 2010 - Volume 125 - Issue 1 - p 378-383 doi: 10.1097/PRS.0b013e3181c2a571
[3] Lim, S.H., Sun, Y., Thiruvallur Madanagopal, T. et al. Enhanced Skin Permeation of Anti-wrinkle Peptides via Molecular Modification. Sci Rep 8, 1596 (2018). https://doi.org/10.1038/s41598-017-18454-z
[4] Kojic acid applications in cosmetic and pharmaceutical preparations
[5] Efficacy of a New Topical Nano-hyaluronic Acid in Humans.