About Digestive Enzymes
Digestive Enzymes is a nutritional supplement manufactured by Vita Balance, that combines vital enzymes that according to its manufacturer can improve digestion.
It is a full range enzymic formulation that helps you digest food better and fast[1]. And that it also supports healthy absorptions of nutrients.
The detail that sets the exogenous enzymes in this particular product at an advantage is that they work on different types of foods including; starch, protein, fat, and oils as well as fiber.
Some of the enzymes presents include protease 1 and 2, papain, bromelain, amylase, lipase, lactase, cellulase, and phytase.
These enzymes do break down food, join proteins together, activate compounds, and deactivate harmful components in the body. In other words, your digestive system will appreciate the extra support this product offers.
---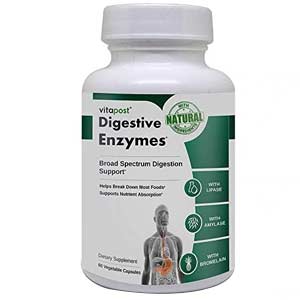 Buy on Official Website
Quick Facts & Specs
Digestive Enzymes
VitaPost Digestive Enzymes is a carefully chosen blend of enzymes that can support digestion and nutrient absorption.
Form:

Capsules

Type:

Supplements

Benefit:

Individuals with lactose intolerance can benefit from the lactase enzyme.

Brand:

VitaPost

Uses:

Helps in preventing indigestion symptoms such as heartburn and early satiety.

Active Ingredients:

Bromelain, Papain, Amylase, Lactase, Lipase

Price:

$24.80
Digestive Enzymes Pros & Cons
Pros
The product contains various enzymes that work on different food types
A prescription is not required to buy this supplement
Individuals with lactose intolerance can benefit from the lactase enzyme
It claims to help prevent indigestion symptoms such as heartburn and early satiety
The formulation supports nutrient absorption in the body
Cons
The product is only available online
To maintain the benefits users may have to keep using this digestive enzyme
---
How Does It Work? | The Science Behind Vita Balance Digestive Enzymes
Digestive Enzymes is a formula that supplements the body with a full range of enzymes. They may work on breaking down food by speeding up the rate of digestion.
This is important because it claims to help improve absorption and reduce indigestion symptoms like bloating. When this happens, not only will your gut health improve but the quality of your life as well.
Digestive Enzymes – The Breakdown
There are many enzymes present in this formula, some of them include;
Bromelain – This enzyme is categorized under a group of protein-digesting enzymes that are often extracted from the stem or fruit of a pineapple.
According to a review article in the Journal of Biotechnology Research International[2], bromelain supports the treatment of diseases such as bronchitis, it enhances drug absorption and relieves diarrhea among other benefits.
Papain – This is the extract of raw papaya fruit and is composed of a number of enzymes that can digest proteins, starch, and fats.
The National Center for Biotechnology Information[3] claims that papain can ease digestive symptoms like constipation and bloat.
Amylase – This is a pancreatic enzyme that falls under the amylolytic enzymes category. It is naturally produced in the saliva and the gut.
According to the Current Drug Metabolism[4] journal, amylase digests starch.
Lactase – Exogenous lactase supplementation according to the Food Science and Technology International[5] journal helps in lactose digestion. This is especially helpful for lactose intolerant individuals.
Lipase – This is also a pancreatic enzyme that helps break down fats and oils. According to the Current Drug Metabolism[6], lipase may be synthesized from microbial sources. The advantage of microbe-derived enzymes only requires a lower dosage for it to be effective.
RELATED – Onnit Reviews and Ensure Ingredients
Vita Balance Digestive Enzymes – Questions and Answers
Q: How to Use Vita Balance Digestive Enzymes?
A: Take 1 to 2 capsules before each meal or as directed by a physician. Do not exceed 6 capsules a day.
Q: Does Digestive Enzymes Have Any Side Effects?
A: This product may have mild side effects as it contains allergens like soy. Also, some people may experience mild gastrointestinal cramping during the first few days of using it.
Q: Can I Use Digestive Enzymes If I Have A Health Condition?
A: Yes, there are no restrictions issued. Even so, ensure to consult your health provider before starting the dose.
Q: Do Vita Balance Digestive Enzymes Work?
A: Yes. This supplement may work as it contains numerous enzymes that work on carbohydrates, proteins, fats, and oils as well as fibers.
Q: What Is Digestive Enzymes Moneyback Guarantee, Return & Refund Policy?
A: Digestive Enzyme's manufacturer offers a 30-day return policy within which you should return damaged or mismatched products.
Is Digestive Enzymes Safe? – Warnings & Complaints
This product contains allergens thus may not be safe for those with allergic reactions. Users are warned against exceeding 6 capsules a day.
Vita Balance Digestive Enzymes Customer Reviews & Results
Customer reviews on this product can only be found on the company's official website. These reviews are only positive and customers claim that they felt better after using it.
Others claimed that the supplement enabled them to eat foods they wouldn't have dared to eat before.
Digestive Enzymes: Packages, Deals, Prices & Where to Buy It
A container of Digestive Enzymes contains 60 capsules and retails for $24.80.
Two bottles go for $44.80
Three bottles go for $67.20 plus you get a free bottle.
This supplement can be bought directly from the official website, and that the company ships its product to 23 different countries worldwide.
The Bottom Line
With today's diet, more and more people face dyspeptic like symptoms including early satiety, bloating, nausea, and heartburn among others. Digestive Enzymes by Vita Balance claims to help solve some of these issues by supplying the body with exogenous enzymes.
These enzymes will help increase the rate of food breakdown and in the long run may lower harmful LDL, ease indigestion symptoms, enhance nutrient absorption, and improve overall health.
In other words, this digestion support product may be of great help to most people, especially if you are not allergic to soy, wheat, or dairy.
Is There Anything Else You Should Know About Digestive Enzymes?
Enzymes, unlike nutrients, do not provide energy thus cannot be measured in calories or weight. Instead, it is measured in an activity.
These activity measurements differ from one food type to another. This means that they will be represented differently.
For instance, starch is measured in (DU), lipid (FIP), and protein (HUT). With this in mind, take note when you encounter these units on this product's ingredient list.

Sources
Health Insiders relies on peer-reviewed studies, academic research institutions, and medical associations. We avoid using tertiary references. You can learn more about how we ensure our content is accurate and current by reading our editorial policy.
[1] Quinten, T., Philippart, JM., De Beer, T. et al. Can the supplementation of a digestive enzyme complex offer a solution for common digestive problems?. Arch Public Health 72, P7 (2014). https://doi.org/10.1186/2049-3258-72-S1-P7
[2] Properties and Therapeutic Application of Bromelain: A Review
[3] Muss C, Mosgoeller W, Endler T. Papaya preparation (Caricol®) in digestive disorders. Neuro Endocrinol Lett. 2013;34(1):38-46. PMID: 23524622.
[4] Ianiro Gianluca,Pecere Silvia,Giorgio Valentina,Gasbarrini Antonio,Cammarota Giovanni, "Digestive Enzyme Supplementation in Gastrointestinal Diseases", Current Drug Metabolism 2016; 17(2) . https://doi.org/10.2174/138920021702160114150137
[5] Rao DR. Oral supplements to improve lactose digestion and tolerance / Aportes orales para mejorar la digestión y la tolerancia de la lactosa. Food Science and Technology International. 1997;3(2):87-92. doi:10.1177/108201329700300203
[6] Digestive Enzyme Supplementation in Gastrointestinal Diseases