What is Boost Milk Enhancer?
Boost Milk Enhancer is a dietary supplement that can help increase the production of breast milk, according to its manufacturer. Users can experience its effects 24 to 72 hours after starting the regiment, but the producer highlights that you need adhere to the dasage.
That is to say, it acts as a fast solution for mothers who face difficulty in being able to get enough breast milk for their infants.
---
Boost Milk Enhancer Pros & Cons
Pros
The product is safe as it uses natural ingredients
It may help to increase breast milk production within 3 days
Most people find these tablets easy to swallow
Some lab test results support the claims in this product's ingredients stand on
Cons
To see results users must stick to the dosage as recommended for the first two weeks
The product is only available online
---
The Science behind Boost Milk Enhancer
Breast milk is the main food that a child consumes in the early months after birth. That is to say, a nursing mother should be able to supply this need for the healthy growth of the child.
Boost Milk Enhancer's role as a formulation is that it may help support the proper levels of the hormones that control the secretion of milk. By supplying the right nutrients to the body, also benefits the baby's overall health.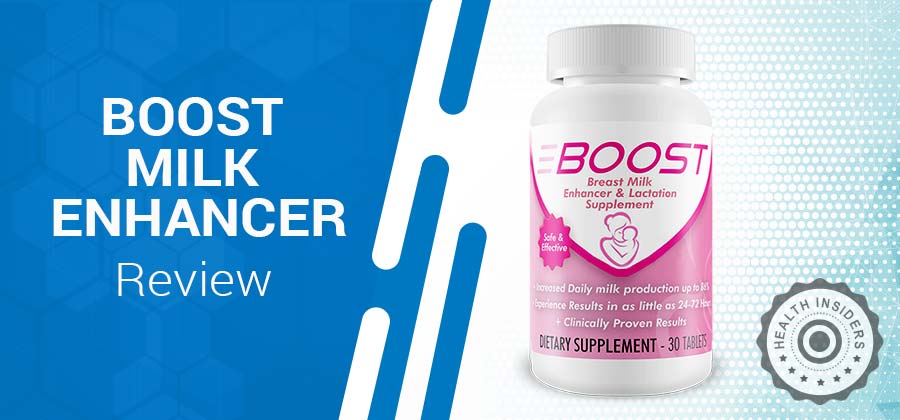 Who is the Manufacturer of Boost Milk Enhancer?
The company that makes this lactation support supplement goes by the same name as the product itself, Boost Milk Enhancer. They have an online presence and an official website with a lot of details and information about this particular product.
Boost Milk Enhancer Ingredients – Are they Safe and Effective?
One reason some people want to try Boost Milk Enhancer is, all its ingredients are natural, safe and that it won't affect the child.
However, it's not one of those products with so many ingredients but still, it claims to be pretty much effective.
It contains the following ingredients:
Silybum Marianum Extract – happens to be the main constituent of this formulation product. This is because it is a legendary herb and that some lab tests found it effective in increasing breast milk. According to one study article in the journal Molecules, an extract from Silybum Marianum also played a role in lowering toxin levels in women thereby supporting a healthier body.
Basil Extract – besides being a common ingredient in the formulation used to treat fertility, it also supports healthy breastfeeding. It is a potent source of galactagogue a prevalent component in healthy breastfeeding mothers, according to a review article in the Drugs and Lactation Database journal.
Artichoke Extract – also considered as a Lactogenic Herb and that it supports breast-feeding. An article in the journal Food and Function suggests that can infusing this ingredient with milk thistle turns it to a source of flavonoids and phenolic acids.
Fenugreek Seeds Extract – some research work associate this seed extract with the ability to support healthy levels of the chemical galactagogue, according to a review article in The Ochsner Journal. In return, this may help the body meet the demand of supplying breast milk as and when needed.
Gelatin – In most cases, this component appears in healthy collagen support products. It also supplies essential proteins in the body for improved health, according to one study article in The Journal of Nutrition. Its link, can increase breast milk, however, is not clear.
ALSO READ – Umzu Redwood Review and 1 MD CholestMD Reviews

Boost Milk Enhancer – Questions and Answers
Q: How to Use Boost Milk Enhancer?
A: Take 1 tablet per day of this lactation supplement. Most importantly, ensure to maintain the recommended dosage for the first two weeks without fail.
Q: How Much Does Boost Milk Enhancer Cost?
A: One-month supply or bottle comes in a 30-tablet bottle. However, the site provides details about the cost of this product after one completes an order form.
Q: Does Boost Milk Enhancer have any Side Effects?
A: The manufacturer insists that this product is free from side effects, owing to the fact that it is 100% natural. And that, it uses purely organic ingredients.
Q: Can I Take Boost Milk Enhancer If I am Lactating or Diabetic?
A: Boost doesn't come with specific restrictions on who shouldn't take the formulation. Of cause, for nursing mothers it's useful. However, for diabetic patients, it's wise that your doctor helps you decide on whether to begin the regimen.
Q: Does Boost Milk Enhancer Work?
A: The fact that this product relies on so-called legend herbs as its ingredients, means its works. In precise, the extract from Silybum Marianum has some evidence it supports breast milk processing and production in the body.
Q: What Is Boost Milk Enhancer Money-Back Guarantee, Return & Refund Policy?
A: There's an option you can try this product for free, the first 30 days. However, it's not clear if they allow returns, as this privilege may cater to the purpose.
Q: Is Boost Milk Enhancer Safe?
A: Yes. The producer mentions that it is purely natural and thus less likely to bring unsafe results.
RELATED – Athletic Greens Reviews and Nutrim Review
Boost Milk Enhancer Alternatives
Fenugreek – Comes in different forms including teas, add on powders, drinks or capsules. Works by supporting the function of sweat glands and that this affects milk productions.
Palm Date – Might work by supporting healthy galactagogues levels in the body, which may improve the amount of breast milk.
Fennel – Found to boost milk secretion in nursing mothers, as well as help to treat colic.
Boost Milk Enhancer – Packages, Deals, Prices & Where to Buy It?
The product is available on the manufacturer's official website. However, users need to complete an address form to get information about the prices, discounts and other details

Is There Anything Else You Should Know about Boost Milk Enhancer?
The producer indicates that nursing mothers can stop using this product once the body has established a constant flow of milk production.
However, for new mothers, as well as beginners of this product, the manufacturer recommends staying under the dosage for the first two weeks.

The Bottom Line
According to the manufacturer claims, the product supposedly raises a person's capacity to produce breast milk by up to 86%.
In the same vein, the producer claims that this product is safe as it uses natural ingredients. And that most of the components making it have scientific evidence, suggesting they can help support the healthy production of breast milk.
However, our bodies respond variably to dietary supplements. This is to say some users have to take it beyond the two weeks cut line to begin seeing notable results.
Others may also have to continue with the regimen to help maintain the benefits.
SEE NEXT – Neuro Gum Reviews
SOURCES
Health Insiders relies on peer-reviewed studies, academic research institutions, and medical associations. We avoid using tertiary references. You can learn more about how we ensure our content is accurate and current by reading our
editorial policy
.
[1] Infant and Young Child Feeding: Model Chapter for Textbooks for Medical Students and Allied Health Professionals.
https://www.ncbi.nlm.nih.gov/books/NBK148970/
[2] Bijak M. Silybin, a Major Bioactive Component of Milk Thistle (Silybum marianum L. Gaernt.)—Chemistry, Bioavailability, and Metabolism. Molecules. 2017; 22(11):1942. https://doi.org/10.3390/molecules22111942
[3] Drugs and Lactation Database (LactMed) [Internet]. Bethesda (MD): National Library of Medicine (US); 2006-. Basil.
[4] Infusions of artichoke and milk thistle represent a good source of phenolic acids and flavonoids
https://pubs.rsc.org/en/content/articlelanding/2015/FO/C4FO00834K
[5] Bazzano AN, Hofer R, Thibeau S, Gillispie V, Jacobs M, Theall KP. A Review of Herbal and Pharmaceutical Galactagogues for Breast-Feeding. Ochsner J. 2016 Winter;16(4):511-524. PMID: 27999511; PMCID: PMC5158159
[6] Ananda Hochstenbach-Waelen, Margriet S. Westerterp-Plantenga, Margriet A. B. Veldhorst, Klaas R. Westerterp, Single-Protein Casein and Gelatin Diets Affect Energy Expenditure Similarly but Substrate Balance and Appetite Differently in Adults, The Journal of Nutrition, Volume 139, Issue 12, December 2009, Pages 2285–2292, https://doi.org/10.3945/jn.109.110403
[7] Christine M. Dieterich, Julia P. Felice, Elizabeth O'Sullivan, Kathleen M. Rasmussen, Breastfeeding and Health Outcomes for the Mother-Infant Dyad, Pediatric Clinics of North America, Volume 60, Issue 1, 2013, Pages 31-48, ISSN 0031-3955, ISBN 9781455771332, https://doi.org/10.1016/j.pcl.2012.09.010.