About Blood Pressure Support
Blood Pressure Support is a multi-ingredient dietary supplement that is formulated to help support natural and normal blood pressure in the body, according to the makers of the product. It may also promote healthy circulation of blood, support a healthy heart and help maintain pulse rate within the normal range.
The company behind Blood Pressure Support is Vita Balance, which claims to be one of the leading health companies in the North American market.
They also claim to depend exclusively on the state of art technologies and research methods to identify and process the ingredients they use in their products. Each supplement to them is a brand and so they have over 35 brands so far.
---
Who Should Use Blood Pressure Support?
Anybody seeking to maintain their cardiovascular health can use this product, as long as they are above eighteen years and not using other heavy medications.
Nevertheless, nursing or pregnant women need to consult with their health practitioner before using any dietary supplement. It supports a stronger heart and that it can nourish and reduce the symptoms that are related to the aging heart.
---
QUICK FACTS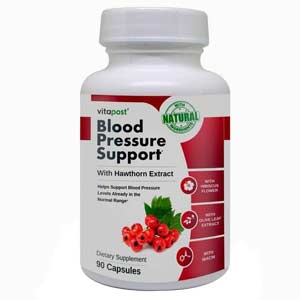 Buy on Website
Quick Facts & Specs
Blood Pressure Support
VitaPost Blood Pressure Support is a bespoke combination of botanicals and vitamins formulated to support blood pressure levels already within the normal range. It nutritionally supports heart health, cardiovascular health, and a healthy lifestyle.
Form:

Capsules

Type:

Supplement

Benefit:

Supports cardiovascular and blood health, enhances heart health and circulatory system, healthy Blood Pressure Within the Normal Range

Phone & Address:

1-888-455-9995; Vita Balance Inc, 7400 Beaufont Springs Drive, Suite 300, Richmond, Virginia 23225, United States; support@vitabalance.net

Brand:

Vitapost

Uses:

Supports nerve and blood cells, gives healthy inflammatory response, providing nourishment for healthy aging arteries, maintains overall good health

Price:

$29.95*

Active Ingredients:

Hibiscus Flower Extract, Olive Leaf, Niacin, Garlic, Hawthorn Extract
Blood Pressure Support Pros & Cons
Pros
May support a healthy heart by lowering blood pressure.
Said to provide anti-oxidative properties that support general health.
The active ingredients are safe on their own.
Cons
It might only support a healthy heart
It is not clear what impact it would have on people who already have high blood pressure. It might not deliver the same results for everybody depending on the severity of the high blood pressure.
More research is needed about the combination of all the ingredients.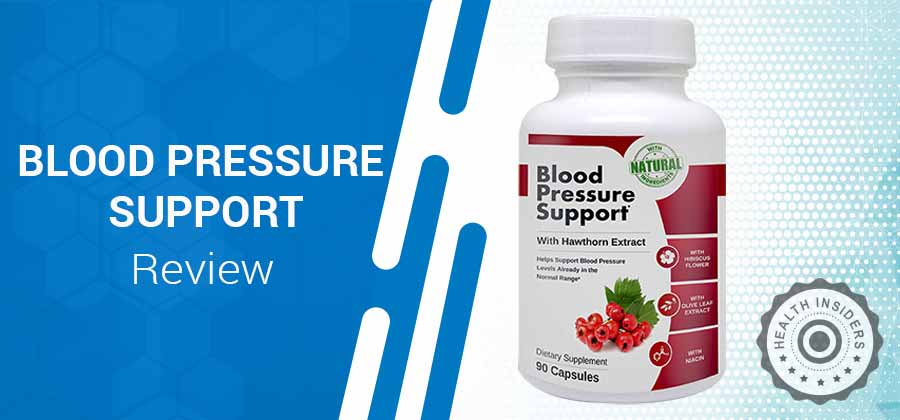 What are the Key Active Ingredients in Blood Pressure Support?
This product may be worth the attention as it uses researched ingredients, such as:
Hibiscus Flower Extract – the findings say might promote liver health, safe weight loss and helps to lower blood pressure due to its antioxidant content. Hibiscus flower may lower both systolic and diastolic blood pressure. It is important to note however that hibiscus may interact with hydrochlorothiazide, a type of diuretic used to treat high blood pressure and is not recommended in this case
Olive Leaf – contains more polyphenols than olive oil or olives themselves (source). This is interesting as polyphenols are plant-based antioxidants that have shown promise in reducing inflammation, including inflammatory heart disease.
Niacin – also known as vitamin B3, may help to lower blood pressure by dilating blood vessels, thereby making blood flow easier. This is especially true when taken for a long time.
Garlic – may be a great and easy way to reduce cardiovascular disease risk factors like high cholesterol, diabetes, and high blood pressure. It does so by relaxing smooth muscle and dilating blood vessels.
Hawthorn Extract – thorny shrub that grows commonly in northern temperate regions around the world. Reportedly used as early as the 1stcentury BCE, hawthorn extract may lower blood pressure by dilating blood vessels.
Blood Pressure Support – Questions and Answers
Q: What Is The Instruction To Use Blood Pressure Support?
A: The direction for using this supplement is to take 1 capsule 1 to 3 times daily.
Q: Does Blood Pressure Support Cause Any Side Effects?
A: The ingredients used on their own are safe, but we do not know what kind of reaction can happen when they are combined.
Furthermore, the producer highlights that it may cause "Niacin skin flush" on some people, which would require seeking advice from your doctor.
Q: How Much Time Does It Take To See Results?
A: People respond differently to Blood Pressure Support, just as it is with many other dietary supplements, and the notion is that you should give it a few weeks before judging the product.
Q: Does It Have a Money Back Guarantee?
A: There is no clear mention of a money-back guarantee; however, you can return the formula for a refund only if it is still in its original state and packaging.
SEE ALSO – Liquid I.V. Reviews

Customer Reviews
"I couldn't be thankful enough in the month I have used this product – in fact, I Intend to recommend it to a relative I think she'd like it. I have been on prescription to help maintain blood pressure health but it was not comfortable with how safe the long use of those medicines would be. Now with this, since it is naturally formulated I have that peace of mind." – Antonio J.
"Glad that this product has really helped me keep my BP down. I was so skeptical that I only ordered a single bottle to see how it all goes. So after using three weeks as recommended I started realizing notable changes and so I will be ordering a few more bottles to keep stock." – Brenda G.
What is the Price of Blood Pressure Support and where can I buy it?
This product is available online, however, the price depends on the order you place.
1 bottle containing 60 Blood Pressure Support pills retails for $29.95
3 bottles (plus 1 free) = $84.92 (save $34.88)
2 bottles = $56.90 (save $3)
Conclusion
This product has some exceptional benefits it claims to offer, it may help maintain healthy blood pressure (source), support the cardiovascular system, support heart health and improve circulation. It may particularly be of help to people who need to maintain their blood pressure within the healthy range.
The producer is also bold on the safety of this product as it is a blend of well-researched organic vitamins and botanical ingredients. However, it's not clear how accurate this product works because blood pressure levels and regulation is a complex biological aspect that is affected by many other factors.
The producer also states that this formulation supports an already healthy system, which suggests that it may not help to rectify an already existing health condition.
Claim Your Product
You can get it directly from the company at www.bloodpressuresupport.us
SOURCES
Health Insiders relies on peer-reviewed studies, academic research institutions, and medical associations. We avoid using tertiary references. You can learn more about how we ensure our content is accurate and current by reading our editorial policy.


[1] Asher, G.N., Viera, A.J., Weaver, M.A. et al. Effect of hawthorn standardized extract on flow mediated dilation in prehypertensive and mildly hypertensive adults: a randomized, controlled cross-over trial. BMC Complement Altern Med 12, 26 (2012). https://doi.org/10.1186/1472-6882-12-26
[2] Bays, H. E., & Rader, D. J. (2009). Does nicotinic acid (niacin) lower blood pressure? International Journal of Clinical Practice, 63(1), 151–159. doi: 10.1111/j.1742-1241.2008.01934.x
[3] Magrone Thea,Spagnoletta Anna ,Salvatore Rosaria,Magrone Manrico ,Dentamaro Francesco ,Russo A. Matteo,Difonzo Graziana,Summo Carmine,Caponio Francesco ,Jirillo Emilio, "Olive Leaf Extracts Act as Modulators of the Human Immune Response", Endocrine, Metabolic & Immune Disorders - Drug Targets 2018; 18(1) . https://doi.org/10.2174/1871530317666171116110537
[4] Sahebkar, A., Serban, C., Dragan, S., Urosniu, S., Florina, A., Rysz, J., & Banach, M. (2015). Effect of sour tea (Hibiscus sabdariffa L.) on arterial hypertension: A systematic review and meta-analysis of randomized controlled trials Atherosclerosis, 241(1). doi: 10.1016/j.atherosclerosis.2015.04.933
[5] Kurt J. Greenlund, Nora L. Keenan, Paula F. Clayton, Dilip K. Pandey, and Yuling Hong, 2012: Public Health Options for Improving Cardiovascular Health Among Older Americans American Journal of Public Health 102, 1498_1507, https://doi.org/10.2105/AJPH.2011.300570
[6] Serban C, Sahebkar A, Ursoniu S, Andrica F, Banach M. Effect of sour tea (Hibiscus sabdariffa L.) on arterial hypertension: a systematic review and meta-analysis of randomized controlled trials. J Hypertens. 2015 Jun;33(6):1119-27. doi: 10.1097/HJH.0000000000000585. PMID: 25875025
[7] Lockyer S, Rowland I, Spencer JPE, Yaqoob P, Stonehouse W. Impact of phenolic-rich olive leaf extract on blood pressure, plasma lipids and inflammatory markers: a randomised controlled trial. Eur J Nutr. 2017 Jun;56(4):1421-1432. doi: 10.1007/s00394-016-1188-y. Epub 2016 Mar 7. PMID: 26951205; PMCID: PMC5486627
[8] Does nicotinic acid (niacin) lower blood pressure? https://europepmc.org/backend/ptpmcrender.fcgi?accid=PMC2705821&blobtype=pdf