About BioFlex
BioFlex is an herbal joint supplement that may reduce arthritis pain and inflammation. It may also improve joint flexibility and mobility.
This product claims to be packed with antioxidants which target the body's immunity as well as anti-inflammation agents. These agents in the supplement may help reduce stress on joints thus easing pain and discomfort.
BioFlex contains natural ingredients that may offer immense support to the joints. The ingredients are also considered safe and effective for users looking to ease joint pains the healthy way.
---
QUICK FACTS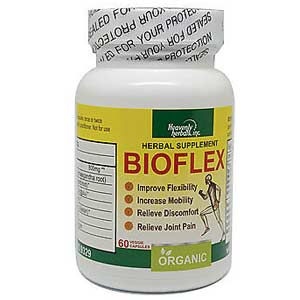 Buy on Website
Quick Facts & Specs
BioFlex
BioFlex is a herbal joint supplement that may help to relieve arthritis pain and inflammation while also increasing joint flexibility and mobility.
Form:

Capsule

Type:

Supplement

Benefit:

Natural health support for aches and soreness, decreases the stress on the joints

Phone & Address:

1.516.514.3536; 1069 Main St, Suite 337, Holbrook, NY 11741, U.S.A;

[email protected]

Brand:

Heavenly Herbals

Uses:

Relieves joint pain and discomfort, enhances joint flexibility and mobility

Price:

$26.95*

Active Ingredients:

Avena Sativa, Ashwagandha Root, Guggul, Shilajit, Turmeric
BioFlex Pros & Cons
Pros
May relieve joint pain and discomfort
Purports to enhance joint flexibility
Might help diminish stress on the joints
Claims to enhance immunity
May improve mobility of the joints
Cons
Requires one to take 2 large capsules daily
May cause side effects such as stomach upset and diarrhea
Does not contain super ingredients like glucosamine and chondroitin
Does not tackle the root cause of the joint pain
Once supplement is over, pain and discomfort may resume
---
How Does It Work? | The Science Behind BioFlex
With age, joints tend to become painful and stiff. BioFlex joint supplement promises to elevate these conditions and help users regain their active life. Ingredients present in this formula are rich in anti-inflammatory and antioxidant components. While anti-inflammatory agents reduce inflammation around the joints, antioxidants stimulate the production of white blood cells and initiate repair damage to the joints as well as the connective tissue. BioFlex also contains minerals and proteins that nourish the joints.
BioFlex Ingredients – What to Look For?
Ingredients used to formulate BioFlex include;
Advertisement
*All individuals are unique. Your results can and will vary.
Turmeric – there are numerous studies that have investigated the effectiveness of curcuma on pain, stiffness, and functionality in patients with knee osteoarthritis. According to the Journal of Evidence-Based Complementary and Alternative Medicine, turmeric functions similar to nonsteirodal anti-inflammatory drugs and glucosamine.
Avena Sativa – this ingredient is a rich source of protein, minerals, lipids, alkaloids, flavonoids, and sterols. The International Journal of Phytotherapy claims that avena sativa has anti-inflammatory, antioxidant, anti-diabetic, dermatological, and gastrointestinal effects.
Shilajit – this is a blackish-brown exudate or powder extracted from high mountain rocks. It is formed from the gradual decomposition of plant. Shilajit is used extensively in ancient herbal formulations where it is used as a rejuvenator and antiaging agent.Scientific Reports claim that shilajit contains selenium which is a significant anti-inflammatory agent.
Ashwagandha Root – ashwagandha has been used traditionally in Ayurvedic medicine. It was used to treat various ailments and promote general well-being. The African Journal of Traditional and Alternative claims that ashwagandha is an analgesic which helps to soothe the nervous system from pain response. Its powerful anti-arthritic properties are now widely accepted.
Guggul – this ingredient has been in use for centuries and has been explored for its various biological activities. It is considered effective against effective diverse diseases including arthritis and Alzheimer's disease. A study in Frontiers in Pharmacology found that guggul is effective in reducing knee pain and swelling.
SEE NEXT – Arctic Blast Reviews
BioFlex – Questions and Answers
Q: How to Use BioFlex?
A: Take 1 to 2 capsules daily. You can take them all at once or take 1 capsule twice daily. Do not exceed the recommended dose.
Q: Does BioFlex Have Any Side Effects?
A: Yes, this herbal formula contains turmeric, Avena sativa, and guggul which are known to cause adverse effects.
Turmeric may cause nausea, stomach upset, diarrhea, and dizziness. Avena sativa may cause gas and bloat. Guggul may cause headache, nausea, hiccups, belching, vomiting, stomach upset and diarrhea.
Q: Can I Use BioFlex If I Have A Health Condition?
A: No, some of the ingredients in BioFlex may worsen your condition. For instance, turmeric may worsen gall bladder problems and may lower blood sugar. Avena sativa may worsen digestive disorders and guggul which acts like estrogen may affect users who are sensitive to this hormone.
Q: Does BioFlex Work?
A: Yes, this product may work since most of its ingredients have scientific proof.
Q: What Is BioFlex Money-back Guarantee, Return & Refund Policy?
A: BioFlex's producer offers a 30-day money-back guarantee for users who are not satisfied with the results.
Advertisement
*All individuals are unique. Your results can and will vary.
BioFlex Alternatives – Compare with Similar Items
Brand
Price
Active Ingredients
1MD D3
$40.99
EVNolMax, Siliphos Bioavailable Silybin, N-acetyl Cysteine, Alpha Lipoic Acid, Zinc, Selenium
Arthrozene
$49.95
Boswellia serrata, hyaluronic acid, collagen II
Flexuron
$29.95
Krill, astaxanthin, hyaluronic acid
Is BioFlex Safe? – Warnings & Complaints
BioFlex claims to be safe as it is allergen free. It does not contain fillers, preservatives, eggs, gluten, peanuts, and soy. Warnings provided for BioFlex is to take the recommended dose only. Users with sensitivity towards any ingredient in the formula should consult with a health practitioner.
BioFlex Customer Reviews & Results – What Users Are Saying
There are very few BioFlex reviews online that may not give a clear picture on whether it is a good product or not. The few reviews are all positive.
BioFlex: Packages, Deals, Prices & Where to Buy It
BioFlex contains 60 capsules and costs $22.95 on eBay. It can be bought from Heavenly Herbals' official website and Amazon.
The Bottom Line on BioFlex
BioFlex as a joint support supplement combines the forces of various herbal ingredients to reduce pain and discomfort while improving flexibility, mobility, and stiffness. It assures users that if they use the supplement religiously, they will regain their active life. Ingredients in this formula are all-natural and allergen-free.
While these ingredients may be safe, they may cause adverse side effects especially to users with health conditions. Ingredients such as turmeric, guggul, and Avena sativa are known to cause side effects. BioFlex has very few reviews which may not provide insight on whether this product is worth the money. Users who intend to buy this supplement may have to try it first to know if it is good as the few reviews claim.
Is There Anything Else You Should Know About BioFlex?
BioFlex is in capsule form. Each BioFlex bottle contains 60 vegan capsules which is a month's supply. For any person with a health condition, it is highly recommended to check with your doctor before starting to use these supplements. That way, you can be safe from any adverse effects that may worsen your condition.
Advertisement
*All individuals are unique. Your results can and will vary.
SOURCES
Health Insiders relies on peer-reviewed studies, academic research institutions, and medical associations. We avoid using tertiary references. You can learn more about how we ensure our content is accurate and current by reading our editorial policy.
[1] Maroon JC, Bost JW, Maroon A. Natural anti-inflammatory agents for pain relief. Surg Neurol Int. 2010 Dec 13;1:80. doi: 10.4103/2152-7806.73804. PMID: 21206541; PMCID: PMC3011108
[2] Perkins K, Sahy W, Beckett RD. Efficacy of Curcuma for Treatment of Osteoarthritis. J Evid Based Complementary Altern Med. 2017 Jan;22(1):156-165. doi: 10.1177/2156587216636747. Epub 2016 Mar 14. PMID: 26976085; PMCID: PMC5871206
[3] Al-Snafi, Ali. (2015). The nutritional and therapeutic importance of Avena sativa - An Overview. International Journal of Phytotherapy. 5. 48-56
[4] Balkrishna A, Sakat SS, Joshi K, Paudel S, Joshi D, Joshi K, Ranjan R, Gupta A, Bhattacharya K, Varshney A. Herbo-mineral formulation 'Ashwashila' attenuates rheumatoid arthritis symptoms in collagen-antibody-induced arthritis (CAIA) mice model. Sci Rep. 2019 May 29;9(1):8025. doi: 10.1038/s41598-019-44485-9. PMID: 31142786; PMCID: PMC6541602
[5] Singh N, Bhalla M, de Jager P, Gilca M. An overview on ashwagandha: a Rasayana (rejuvenator) of Ayurveda. Afr J Tradit Complement Altern Med. 2011;8(5 Suppl):208-13. doi: 10.4314/ajtcam.v8i5S.9. Epub 2011 Jul 3. PMID: 22754076; PMCID: PMC3252722
[6] Kunnumakkara AB, Banik K, Bordoloi D, Harsha C, Sailo BL, Padmavathi G, Roy NK, Gupta SC, Aggarwal BB. Googling the Guggul (Commiphora and Boswellia) for Prevention of Chronic Diseases. Front Pharmacol. 2018 Aug 6;9:686. doi: 10.3389/fphar.2018.00686. PMID: 30127736; PMCID: PMC6087759