About Arthro-7
US Doctors' Clinical Arthro-7 is a clinically-proven dietary supplement that claims to promote and maintain joint health.
It consists of key ingredients that nourish the joints and cartilage to help improve joint strength, mobility, and flexibility. It is said to get rid of joint discomforts in as fast as two weeks.
US Doctors' Clinical, as the name suggests, is a US-based manufacturer of health supplements. They claim to produce the best nutritional supplements in the market and that they have a team of dedicated health professionals to help them with that.
Apart from joint health products like Arthro-7 they also have other formulas for the brain, eyes, heart, prostate health, lung, gut, kidney, bladder, and bone.
---
QUICK FACTS
Buy on Website
Buy on Amazon
Quick Facts & Specs
Arthro-7
US Doctors' Clinical Arthro-7 is a dietary supplement that helps to replenish bones and tissue, improving joint strength, and flexibility.
Form:

Capsule

Type:

Supplement

Benefit:

Promotes overall joint health, nourishes joints and cartilage, and promotes mobility, eases inflammation and discomfort

Phone & Address:

1-800-914-0594; 2781 W. MacArthur Blvd. B-363, Santa Ana, CA 92704; support@usdoctorsclinical.com

Brand:

U.S. Doctors' Clinical

Uses:

Shows quick improvements in joint comfort and mobility, breaks up unhealthy calcium deposits, relieves and lubricates joints

Price:

$29.99*

Active Ingredients:

Collagen, MSM, Vitamin C, CMO, Bromelain, Lipase, Turmeric
Arthro-7 Pros & Cons
Pros
It is composed of ingredients with proven joint health benefits.
May help reduce joint pain and swelling.
Claims to improve joint strength and density.
Can help lubricate the joints to boost joint mobility and flexibility.
It claims to work in as fast as two weeks.
Cons
Results vary among individuals; some say that it is effective, while others say it did nothing.
It requires continuous usage to reap the benefits; it is assumed that once you stop taking it, the symptoms will be back again.
---
How Does It Work? | The Science Behind Arthro-7
Arthro-7 is formulated to provide nourishment and lubrication to the joints. According to its manufacturers, it also addresses the root cause of joint pain at a molecular level – that is, by getting rid of calcium deposits and stimulating cartilage repair through increased collagen production. Regular use of the supplement is said to improve joint strength and density, as well as mobility and flexibility.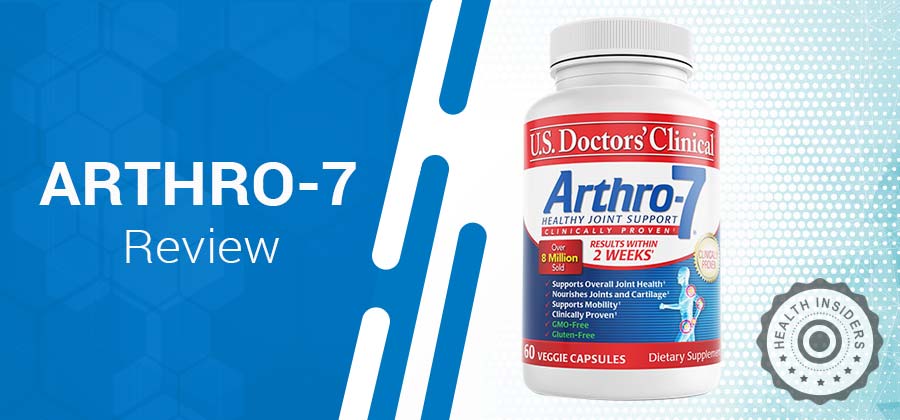 Advertisement
*All individuals are unique. Your results can and will vary.
Arthro-7 Ingredients – The Breakdown
Arthro-7 contains a blend of clinically-proven proprietary ingredients that work together to deliver fast results. These include:
Turmeric – A staple in Ayurvedic medicine, turmeric is loaded with curcuminoids or the compound which gives this spice its anti-inflammatory properties. Aside from reducing inflammation, turmeric offers a wide range of other health benefits and you can learn more about them through this review article from the journal Foods.
Bromelain – Derived from pineapples, its main benefit is to promote proper digestion but studies like this one from the Journal of Autoimmune Diseases show that it also exerts potent anti-inflammatory effects.
Cetyl Myristoleate (CMO) – A naturally-occurring fatty acid that lubricates the joints. According to this study from the journal Medicine (Baltimore), CMO is especially effective in knee arthritis.
Methylsulfonylmethane (MSM) – An organic, bioactive sulfur compound that dissolves calcium deposits in the joints. Calcium deposits cause the joints to stiffen, so removing them will help improve joint mobility and flexibility. It may also help reduce inflammation, as concluded by this review article published in the journal Nutrients.
Collagen – The key structural protein of many body tissues, including the cartilage in joints. This 24-week study from the journal Current Medical Research and Opinion evaluated the effects of collagen on activity-related joint pain, and they found that this protein not only reduces joint pain but could also reduce the risk of joint deterioration.
Vitamin C – This vitamin serves many functions other than protecting the cells against free radical damage. It also stimulates collagen production and this has been proven by numerous studies according to this meta-analysis published in the Orthopedic Journal of Sports Medicine.
Lipase – This enzyme helps break down fats and properly absorb nutrients from food and supplements.
Arthro-7 – Questions and Answers
Q: How should I take Arthro-7?
A: To maximize the benefits of Arthro-7, two capsules twice a day must be taken for at least one to two weeks. Once you feel some improvements, it is advised that you switch to a lower dosage of two capsules daily.
Q: Does Arthro-7 have any side effects?
A: Arthro-7 is not supposed to produce any adverse reactions. In case of such, however, it is advised that you stop taking the supplement right away.
Q: Can I take Arthro-7 if I have a health condition?
A: Those who have medical problems may need to consult their health specialist first prior to using Arthro-7. The same advice is applicable for individuals suffering from severe joint problems.
Q: Does Arthro-7 really work?
According to the product's official website, Arthro-7 is approved by a panel of doctors and other health practitioners. In addition, there was a clinical study that evaluated the safety and effectiveness of the product. Reviews from actual users also matter and fortunately, it's mostly positive for this product.
Advertisement
*All individuals are unique. Your results can and will vary.
Q: Does Arthro 7 interfere with any other medications?
As with any supplement, you should speak with your doctor before taking Arthro-7. Your medical history may indicate that it's not right for you, and it may interact with other medications.
Q: What Is Arthro-7 money-back guarantee, return, and/or refund policy?
A: Arthro-7 is 100% risk-free, as there is a money-back guarantee for those who will fail to experience some improvements.
Arthro-7 Alternatives
| Brand | Price | Active Ingredients |
| --- | --- | --- |
| Arthro-7 | $29.99 | Turmeric, Bromelain, MSM, Cetyl Myristoleate (CMO), Collagen, Vitamin C, Lipase |
| ProJoint Plus | $29.95 | Glucosamine Sulfate and Chondroitin Sulfate, Boswellia Extract, Turmeric, Quercetin, Methionine, MSM, Bromelain |
| Turmeric Curcumin Plus | $23.95 | Organic Turmeric (Curcuma Longa) Root, Turmeric 95% Curcuminoids, BioPerine® |
| Arthrozene | $49.95 | Type 2 collagen, Boswellia, Hyaluronic Acid |
| Omega XL | 39 dollars plus shipping | Vitamin E, Green Lipped Mussel Oil and Olive Oil |
| Relief Factor | $79.95-93.95 | Icariin, turmeric, resveratrol, omega 3 |
| Instaflex | $48.49 | Hyaluronic acid, turmeric, collagen II, ginger, white willow bark |
Is Arthro-7 Safe? – Warnings & Complaints
Arthro-7 is an all-natural formula that is free of gluten, shellfish, and any genetically modified ingredients. Thus, it is assumed to be 100% safe for regular and long-term use.
Arthro-7 Customer Reviews & Results
The reviews for Arthro-7 are mixed, but more than half of them have something positive to say about the product.
According to satisfied users, the product is especially helpful in knee and shoulder arthritis.
SEE ALSO – RenewGen Review – Does It Work For Knee & Joint Pain Relief?

Arthro-7: Packages, Deals, Prices & Where to Buy It
Each bottle of Arthro-7 contains 60 veggie capsules, which is equivalent to 30 servings. It is sold at an affordable price of $29.99, which can be discounted if you subscribe to their newsletter.
Advertisement
*All individuals are unique. Your results can and will vary.
The Bottom Line
All things considered, Arthro-7 seems to be a decent choice when it comes to natural joint pain supplements. It is very affordable and the reviews from actual users confirm that the product is effective.
Not to mention, all the components are well-studied and have been proven for their respective benefits.
Of course, it may not work for everyone (as no supplement ever does), but it is definitely worth a shot.
Anyway, you have nothing to lose since the manufacturer offers a 100% refund in case you're not satisfied.
Is There Anything Else You Should Know About Arthro-7?
Arthro-7 has a topical cream form sold for $9.99 per tube. There is also an improved version of the supplement called Arthro-8, which contains all the original ingredients from Arthro-7 plus hyaluronic acid.
SOURCES
Health Insiders relies on peer-reviewed studies, academic research institutions, and medical associations. We avoid using tertiary references. You can learn more about how we ensure our content is accurate and current by reading our editorial policy.
[1] Hewlings SJ, Kalman DS. Curcumin: A Review of Its Effects on Human Health. Foods. 2017 Oct 22;6(10):92. doi: 10.3390/foods6100092. PMID: 29065496; PMCID: PMC5664031
[2] Verma N, Meena NK, Majumdar I, Paul J (2017) Role of Bromelain as Herbal Anti-Inflammatory Compound Using In Vitro and In Vivo Model of Colitis. J Autoimmune Disord Vol 3:52
[3] Lee, Sang Chul MD, PhD; Jin, Hyun Seung MD; Joo, Young MD, PhD; Kim, Yong Chul MD, PhD; Moon, Jee Youn MD, PhD The minimal effective dose of cis-9-cetylmyristoleate (CMO) in persons presenting with knee joint pain, Medicine: March 2017 - Volume 96 - Issue 9 - p e6149 doi: 10.1097/MD.0000000000006149
[4] Butawan M, Benjamin RL, Bloomer RJ. Methylsulfonylmethane: Applications and Safety of a Novel Dietary Supplement. Nutrients. 2017 Mar 16;9(3):290. doi: 10.3390/nu9030290. PMID: 28300758; PMCID: PMC5372953.
[5] Clark KL, Sebastianelli W, Flechsenhar KR, Aukermann DF, Meza F, Millard RL, Deitch JR, Sherbondy PS, Albert A. 24-Week study on the use of collagen hydrolysate as a dietary supplement in athletes with activity-related joint pain. Curr Med Res Opin. 2008 May;24(5):1485-96. doi: 10.1185/030079908x291967. Epub 2008 Apr 15. PMID: 18416885
[6] DePhillipo NN, Aman ZS, Kennedy MI, Begley JP, Moatshe G, LaPrade RF. Efficacy of Vitamin C Supplementation on Collagen Synthesis and Oxidative Stress After Musculoskeletal Injuries: A Systematic Review. Orthop J Sports Med. 2018 Oct 25;6(10):2325967118804544. doi: 10.1177/2325967118804544. PMID: 30386805; PMCID: PMC6204628