Anxiety Supplements Review
Our team at Health Insiders has looked at a number of the top anxiety supplements on the market and given them a rating based on the formula, user comments, and the scientific research studies supporting their benefits.
Browse our different products for Anxiety Supplements
Daily Stress
Anxiety
Fatigue
CalmiGo is a small hand-held device which provides relaxation breathing, aromatherapy, and multi-sen...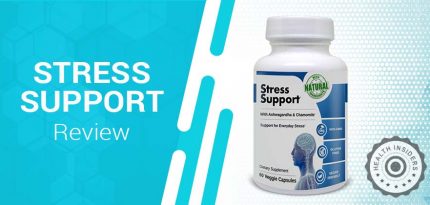 Stress Support is a dietary supplement designed to help individuals deal with stress, fear, and unea...
Daily Stress
Day-to-day stress is something that almost everyone experiences, as we all try to carry out our tasks and responsibilities successfully. It's important to incorporate stress management activities into your routine to improve your mental health, such as meditation and mindfulness, yoga, spending time with loved ones, counselling, or writing in a journal. There are also some high quality stress and mood supplements on the market which can effectively lift you up and improve your daily functioning.
Anxiety
When you experience a high levels of stress, your body and mind respond by producing anxiety. This involves a fear or apprehensive feeling about the future or what's about to occur. In addition, it may go along with physical anxiety and stress symptoms like muscle tension, sleep difficulties, fatigue, and restlessness.
There are some natural methods you can use to combat anxiety, like limiting caffeine and alcohol, getting lots of physical activity, doing deep breathing exercises, and working on getting a quality sleep every night. There are also some highly effective anxiety supplements which can help get you back on track. Have a look at some of the options to find the best anxiety natural supplements for you.
Fatigue
Fatigue is a symptom that often accompanies signs of stress and anxiety, as they take up a lot of energy. Being constantly tired can affect your ability to concentrate, your reflexes, and even your reasoning and judgement. It can also negatively impact your immune system, so you're more likely to get sick.
Working on the symptoms should also help lift your tiredness and bring your energy levels back to normal. Supplements for anxiety can also have a huge impact on your fatigue and decrease some of the associated physical and mental issues.
Sign Up for Free Newsletter
Health Insiders Promise: Encouraging You to Better Your Health
Information about health allows you to make better choices. For this reason, at Health Insiders, we offer only factually correct, medically reviewed, scientifically evaluated wellness information. This gives you the knowledge you require to support optimal health.
We only cite high-level, current, peer-evaluated research studies.
Medical experts, including MDs, RDs, and PhDs, verify the content accuracy.
We review the content on a regular basis to check that citations are updated.