About Zleep Sleep Patches
Zleep Patches is a product you stick on your body before you go to sleep, and it slowly releases ingredients that help you fall asleep fast and stay asleep all night. The product promises to leave you refreshed and alert in the morning.
In addition, the melatonin included can help you reset your sleep-wake cycle. Zleep Patches contain ingredients which can reduce feelings of stress and anxiety and induce calmness.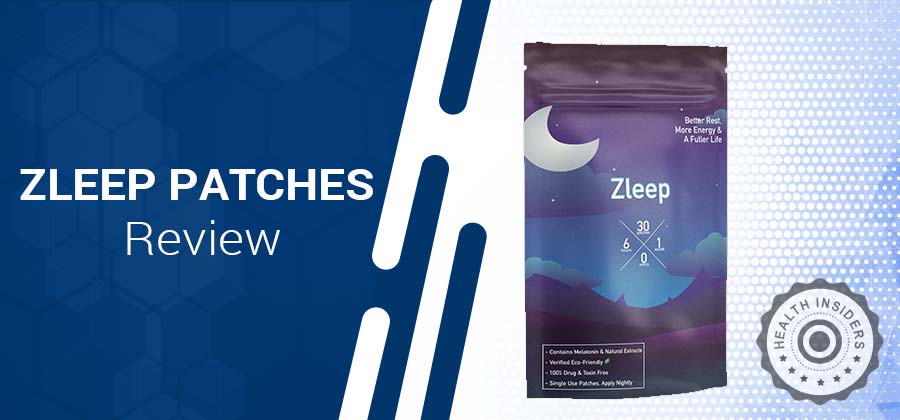 Zleep Patches Quick Facts
Buy on Amazon
Zleep patches include a blend of sleep enhancing ingredients that are delivered directly into the bloodstream through skin pores via transdermal technology.
Form:

Pouch

Type:

Patch

Benefit:

Regulates sleep-wake cycle.

Brand:

Zleep

Uses:

Reduce feelings of stress and anxiety.

Active Ingredients:

Valarian Root, Melatonin, L-Theanine

Price:

$39.98
Pros And Cons of Zleep Patches

Zleep Patches may help you get to sleep fast.
It may help you awaken refreshed and alert.
It could reverse the effects of jet lag.
Zleep Patches might regulate your sleep-wake cycle.
It could prevent nighttime awakenings.
On the internet, there were a variety of Zleep Patch reviews.

There are possible side effects, like nausea and headaches.
Some users said they woke up feeling groggy.
The patch may fall off in the night.
How Does It Work? | The Science Behind Zleep Patches
Zleep Patches contains several ingredients which induce sleep and keep you asleep. They release slowly throughout the night, tapering off towards morning so that you wake feeling refreshed.
This product contains melatonin, which is a substance that the pineal gland in the brain releases when it's time to go to sleep. It makes you feel drowsy and eases you into sleep. A study in PLOS Medicine concluded that melatonin was very effective for sleep-wake scheduling [1].
Other ingredients in this product interact with key brain neurotransmitters that relate to mood, and especially anxiety. They raise levels, and this helps ease stress and induce a feeling of calmness. A systematic review in the International Journal of Pharmaceutical Sciences and Research examined the role of different neurotransmitters in anxiety [2].
Zleep Patches Ingredients – What to Look For?
Here are the primary active Zleep Sleep Patch ingredients:
Advertisement
*All individuals are unique. Your results can and will vary.
Valarian Root – This is a flower which grows in Europe and Asia. There's evidence that it can help you fall asleep faster, and that it can improve the overall quality of sleep. In addition, it can lower levels of anxiety.
A review and meta-analysis published in the Journal of Evidence-Based Integrative Medicine concluded that Valarian root was a safe and effective way to treat insomnia and related disorders [3].
Melatonin – This is a hormone that exists naturally in our pineal gland. When it's time in our cycle to sleep, the gland releases it and this makes us sleepy, as we discussed in our Relief Factor Sleep article on another sleep supplement containing this ingredient.
Melatonin can help regulate the sleep-wake cycle. An article in the British Journal of Pharmacology discussed new perspectives on the role of melatonin in human sleep and the regulation of the circadian rhythm [4].
Chamomile – This herb is widely known for its remarkable medicinal properties that induce a calming effect and helps you sleep faster and longer [6].
"Chamomile is one of the oldest and most well-known medicinal plants, prized for its calming and soothing properties. It has been used for centuries to promote relaxation, reduce anxiety, and improve sleep quality."says
Dr. Michael Murray
,
naturopathic physician and author.
L-Theanine – This is an amino acid that is often found in tea. It increases levels of the brain neurotransmitters GABA, serotonin, and dopamine. These help to elevate mood and decrease levels of anxiety, also observed in our Delta Sleep review article.
There's also evidence that it can help people fall asleep more easily. A study in Pharmaceutical Biology found that a mixture of GABA and L-theanine improved non-REM sleep and decreased sleep latency [5].
Ashwagandha – Ashwagandha is a natural herb used for centuries due to its various health benefits like reducing anxiety and promoting deep relaxation, which can ultimately assist in falling asleep faster [7].
Dr. Aviva Romm
,
who is a physician and herbalist
says "Ashwagandha is a balanced herb that has been in existence for decades. It induces a calming effect on your mind and reduces anxiety due to anxiolytic properties.
Zleep Patches Side Effects
There are some side effects associated with ingredients in this supplement. For example, ashwagandha could cause stomach upset, vomiting, or diarrhea. L-theanine may cause headaches. Melatonin may lead to headaches, dizziness, irritability, stomach cramps, or short-term depression.

Zleep Patches Alternatives – Compare with Similar Items
Brand
Price
Ingredients
Zleep Patches
$30
Ashwagandha, L-Theanine, Melatonin, Chamomile, Valarian Root
Patch It
$30.25
Sage, Green Tea, Dextrin, Bergamot, Mandarin Wood Vinegar,
Ylang Ylang, Bitter Orange Oil, Lavender
The Good Patch Dream
$9.55 for 4 patches
Melatonin, Hops, Valarian Root, other plant-based
Wellness Tree Sleep
Aid Patches
$26.15
Melatonin, 5-HTP, Magnesium, Lavender
The price of Zleep Patches is fairly average for the market. It has a quality collection of ingredients, some of which overlaps with other products. However, there are products richer in ingredients than this one.
Are Zleep Patches Safe? – Warnings & Complaints
The ingredients in the Zleep Sleep Patch are safe, organic substances. There are no chemical or artificial ingredients included. There are some health warnings we provided which you must heed. Otherwise, you may only experience some mild side effects as a result of using this patch.
Advertisement
*All individuals are unique. Your results can and will vary.
Zleep Patches Customer Reviews & Results – What Users Are Saying
The Zleep Sleep Patch reviews weren't amazing, but there were a little over half of the users who did really love this product. People said it helped them sleep better and longer. Other users said the product didn't work well for them, and some said it keeps them asleep but they woke up groggy in the morning.
Zleep Patches: Packages, Deals, Prices & Where to Buy It
You can buy this product on the Zleep Patches website, on Amazon, and from a few other online retailers. The prices on the official site are below. All order over $40 get free shipping.
1 Pack – $30
3 Packs – $67
5 Packs – $97
7 Packs – $126
Subscription – $19.99/ month
Zleep Patches Reviews – The Bottom Line
Zleep Patches is a product designed to help people with insomnia to fall asleep more easily and stay asleep all night. It promises to leave you refreshed and alert in the morning, and it can help reset your sleep-wake cycle. In addition, Zleep Patches reduce anxiety and induce calmness.
The Zleep Sleep Patches reviews offered a variety of opinions. A little over half of the customers did really support this product and said it was the best sleep patch. They claimed it solved their insomnia issues and helped them reset their body clock. The other half either didn't find it effective, or they complained that it made them tired the next day.
There are some mild side effects that could occur from Zleep Patch ingredients. If you experience unpleasant symptoms, stop using these patches immediately. Consider meeting your doctor before you use this product, to get medical approval.
Is There Anything Else You Should Know About Zleep Patches?
Zleep Patches is a product that can help you sleep fast and prevent unnecessary wake-ups. You should get up feeling refreshed. We hope this product is working well for you and helping to solve your sleep issues. There are some natural methods for getting to sleep more easily. Here are some tips:
Avoid drinking caffeine starting at around 6 pm. It can really keep you awake if you consume too much.
Do not use technology before you go to bed. The blue light from the devices is known to keep you awake.
If you can't sleep, don't stay in bed tossing and turning. Get up and do something relaxing until you tire.
Don't exercise for 4 hours before going to bed. It really revs up your metabolism and can keep you awake.
Zleep Patches – Frequently Asked Questions
Q: How to use Zleep Patches?
A: To begin, peel the protective film off the back of the product. Then stick it somewhere on your body where there is no or very little hair, such as the shoulder, stomach, upper thigh, or inner forearm. Lie down and sleep, leaving the patch on all night.
Advertisement
*All individuals are unique. Your results can and will vary.
Q: Is Zleep Patch legit or scam?
A: Checking for Zleep patch reviews is important for determining product validity. We considered this substance legit when looking at the official website or distributor of Zleep patches because it seems to be secure and well-designed to control human sleeping issues. However, as far as we can tell, people have discovered this commodity to be a scam.
People argue that their system is of poor quality, does not perform, is inefficient, and is more costly than others. Positive feedback has also been found, but negative reviews outnumber positive reviews. As a result, we deem this substance to be suspect. Go ahead and do it if you want to.
Q: Can i take Zleep Patches if i have a health condition?
A: There are a few health conditions that would prevent you from taking this product. These include thyroid disorders, auto-immune disorders, depression, seizure disorders, bleeding conditions, high or low blood pressure, and transplant recipients. In addition, you should avoid this supplement if you are having surgery within 2 weeks.
Q: Do Zleep Patches work?
A: The Zleep Patch ingredients do include substances that induce sleep. Melatonin gets you to sleep and keeps you asleep, and it also regulates your sleep-wake cycle. The Zleep Sleep Patch ingredients like L-theanine and ashwagandha raise levels of key neurotransmitters, lowering anxiety and inducing calmness. Anxiety is one of the main causes of insomnia.
Q: What are Zleep Patches moneyback guarantee, return & refund policy?
A: The manufacturer has a 30-day return policy for people living in Canada and the United States. If you're not happy with the product, contact Zleep Patches customer service to let them know you want a refund. Then send the product back within 30 days of the original purchase date. You'll get your money back, minus shipping and a $9.99 restocking fee.
Q: How do you cancel Zleep Patch?
A: If you want to cancel your subscription, you must cancel by contacting the Zleep customer support team via email at ​[email protected]​ or by phone at 1-877-219-9181.
Q: Who makes Zleep Patches?
A: Zleep LLC is the company that manufactures Zleep Patches. They produce products to induce sleep and reset the sleep cycle. However, there is virtually no information about this organization online.
Q: Can i buy Zleep Patches in stores?
A: No, there are no retail stores where Zleep Patches is available. You can get it on the official website, and from a few online retailers.
Q: Who should use Zleep Patches?
A: Zleep Patches are for people who have mild to moderate sleep disturbances and want some help getting to sleep, staying asleep, and waking up alert. It's also for people who are trying to reset their sleep schedule.
7 Sources
Health Insiders relies on peer-reviewed studies, academic research institutions, and medical associations. We avoid using tertiary references. You can learn more about how we ensure our content is accurate and current by reading our editorial policy.
[1] Sletten TL, Magee M, Murray JM, Gordon CJ, Lovato N, Kennaway DJ, Gwini SM, Bartlett DJ, Lockley SW, Lack LC, Grunstein RR, Rajaratnam SMW; Delayed Sleep on Melatonin (DelSoM) Study Group. Efficacy of melatonin with behavioural sleep-wake scheduling for delayed sleep-wake phase disorder: A double-blind, randomised clinical trial. PLoS Med. 2018 Jun 18;15(6):e1002587. doi: 10.1371/journal.pmed.1002587. PMID: 29912983; PMCID: PMC6005466
[2] Sandeep K and Rajmeet S: Role of different neurotransmitters in anxiety: a systemic review. Int J Pharm Sci Res 2017; 8(2): 411-21.doi: 10.13040/IJPSR.0975-8232.8(2).411-21.
[3] Shinjyo N, Waddell G, Green J. Valerian Root in Treating Sleep Problems and Associated Disorders—A Systematic Review and Meta-Analysis. Journal of Evidence-Based Integrative Medicine. January 2020. doi:10.1177/2515690X20967323
[4] Zisapel N. New perspectives on the role of melatonin in human sleep, circadian rhythms and their regulation. Br J Pharmacol. 2018;175(16):3190-3199. doi:10.1111/bph.14116
[5] Kim S, Jo K, Hong KB, Han SH, Suh HJ. GABA and l-theanine mixture decreases sleep latency and improves NREM sleep. Pharm Biol. 2019;57(1):65-73. doi:10.1080/13880209.2018.1557698
[6] Srivastava JK, Shankar E, Gupta S. Chamomile: A herbal medicine of the past with bright future. Mol Med Rep. 2010 Nov 1;3(6):895-901. doi: 10.3892/mmr.2010.377. PMID: 21132119; PMCID: PMC2995283
[7] Singh N, Bhalla M, de Jager P, Gilca M. An overview on ashwagandha: a Rasayana (rejuvenator) of Ayurveda. Afr J Tradit Complement Altern Med. 2011;8(5 Suppl):208-13. doi: 10.4314/ajtcam.v8i5S.9. Epub 2011 Jul 3. PMID: 22754076; PMCID: PMC3252722