What is Vitauthority?
Vitauthority is a brand of organic products which support health and wellness. The line includes supplements, teas, powder drinks, and gummies for a number of issues.
It promises to support weight loss, joint health, digestion, blood sugar, hormonal balance, sleep, and immunity. The prices are fairly reasonable for the market, and the brand is gluten-free. Here are some of the top products:
Vitauthority Collagen Burn Powder – This unflavored powder supports weight-loss, healthy, firm skin, and stronger hair and nails.
Vitauthority Collagen Capsules – These supplements may strengthen the bones and joints, promote weight loss, and enrich the hair, skin, and nails.
Vitauthority Apple Cider Vinegar Gummies – Chewy, apple-flavored gummies which support healthy digestion and body detoxification.
Vitauthority Melt – This is an all-natural weight-loss supplement which suppresses appetite, burns fat, and provides you with added energy.
| | |
| --- | --- |
| Features | Gluten Free, No Fillers |
| Form | Capsules, Powder, Tea, Gummies |
| Health Benefits | Weight Loss, Digestion, Joint Support, Immunity, Blood Sugar, Hormonal Support, Sleep Support, Skin Health |
| Ingredients | Collagen, Apple Cider Vinegar, Elderberry Juice Powder, Eggshell Membrane Collagen, Hydrolyzed Bovine Collagen Peptides, Vitamin D3, Probiotics, Turmeric Curcumin |
| Type | Dietary Supplement |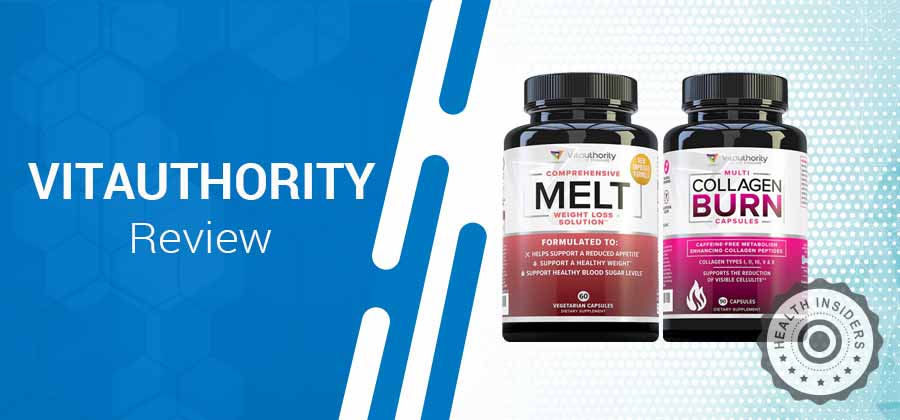 How Does Vitauthority Work?
The line consists of a number of products for different purposes. Most of them are rich in antioxidants, which kill free radicals and lower oxidative stress. This promotes healing in the body and strengthens the immune system.
It protects the hair and skin from UV rays and pollutants. A review in Food and Function discussed skin protection against UV rays by antioxidants [1].
Many of the formulas are high in anti-inflammatory agents, which reduce swelling and redness on the skin and in the body. In addition, they could lessen pain and swelling in the joints and heal wounds and skin conditions. Other ingredients in these formulas balance blood sugar.
Collagen is a key ingredient in this brand, playing a role in weight loss, skin, and joint health. It helps reconstruct damaged cartilage tissue and decrease pain and swelling. It also firms the skin and smooths wrinkles and lines. A review in Rheumatology and Therapy explored the role of collagen in osteoarthritis and cartilage repair [2].
Other ingredients support weight loss by suppressing the appetite, speeding up the metabolism, and burning fat. There are products which detox the body and balance the gut microbiome for better digestive health. This promotes regularity and eases symptoms like gas and bloating.
What Are the Ingredients in Vitauthority?
These are some of the primary active ingredients in Vitauthority:
Apple Cider Vinegar – There's been some research exploring the benefits of ACV as a weight-loss agent, for lowering cholesterol, and balancing blood sugar. Although the results are not conclusive, there may be some effects. In addition, it may boost heart health and provide skin benefits.
An article in Medscape General Medicine discussed the medicinal uses and anti-glycemic effects of apple cider vinegar [3].
Turmeric – Turmeric is a spice commonly used in cooking. High in anti-inflammatory properties, this plant could decrease pain and swelling in the joints. It has powerful antioxidants which promote healing in the body and strengthen the immune system.
A study in BMJ Open Sport and Exercise Medicine found that turmeric and curcumin promote a decrease in pain for osteoarthritis patients [4].
Eggshell Membrane Collagen – This substance is a natural source of collagen, hyaluronic acid, glucosamine, and chondroitin. It can ease pain and swelling in the joints, repair degraded tissue, and lubricate the area in between the joints to decrease stiffness.
An article in Clinical Interventions in Aging explored the use of eggshell membrane in treating joint and tissue disorders [5].
Elderberry Juice – These berries are potent antioxidants which can promote healing in the body and strengthen the immune system. There's some evidence they can lower stress levels, enhance heart health, and decrease inflammation.
An article in the Journal of Functional Foods discussed the antioxidant and health benefits of elderberry [6].
Pros and Cons of Vitauthority
Pros
Vitauthority may promote healthy digestion.
The products could ease joint pian and inflammation.
Vitauthority might strengthen the immune system.
It may promote hormonal balance and support.
Vitauthority might lower blood sugar levels.
Cons
Some of the products have limited ingredients.
There may be side effects from some ingredients.
Results will vary from customer for customer.
How Does Vitauthority Rate?
| Feature | Rating | Comments |
| --- | --- | --- |
| Ingredients | 7 | Quality ingredients, although sometimes not enough per product |
| Prices | 8 | Some are high, but most fall around average for the market |
| Return Policy | 9 | 60-day money back guarantee |
Vitauthority (FAQs)
Q: How Do You Take Vitauthority?
A: There are a number of products in the line including powder drinks, teas, and capsules. Each has their own individual instructions provided with the product. Read and follow them carefully, and do not take more than the maximum dosage under any circumstances.
Q: Who Sells Vitauthority?
A: You can purchase Vitauthority on the official website, and from quite a few other online and offline retailers like Walmart and Amazon. On the official site, you can save 20% by bundling products. Here are the prices of some of the top products:
Vitauthority Multi Collagen Burn Powder – $59.99
Vitauthority Collagen Gummies – $19.99
Vitauthority Apple Cider Vinegar Gummies – $24.99
Vitauthority Detox Tea – $39.99
Vitauthority Lean Greens – $49.99
Vitauthority Vitamin D3 Gummies – $19.99
Vitauthority Collagen Gummies – $19.99
Q: What is the Vitauthority Return Policy?
A: The manufacturer has a 60-day money-back guarantee. If you are not happy with the product, contact the company through email or by filling out the form on the website. Then send the items back within 60 days of the order date. There's a 15% processing fee, and the customer pays for the shipping charges.
Q: Where is Vitauthority Located?
A: Vitauthority has their headquarters in Philadelphia, Pennsylvania. The business started in 2020, and they focus on making organic supplements, gummies, and other products to support health and wellness.
Q: Is Vitauthority Worth It?
A: Vitauthority is a quality brand of health products, and the prices are fairly reasonable for the market. However, you may find other brands which are richer in ingredients, as some of these products are missing key substances.
Q: What Sets Vitauthority Apart From the Competition?
A: There's nothing huge that sets the brand apart from the competition, but they do have a nice selection of supplements, powder, and gummy products that support heart benefits.
Q: What Do the Customers Think of Vitauthority?
A: The Vitauthority reviews were fairly good for the most part, with a number of users saying they got great health benefits like weight loss and decreased joint pain. Others said they didn't get as much from the products, and some complained that they didn't enjoy the taste. A few users said the powder products were difficult to dissolve.
How Does Vitauthority Compare with Other Brands?
| Brand | Price | Ingredients |
| --- | --- | --- |
| Primal Harvest | Approx. $35-$50 | Huperzine A, Omega-3 Fatty Acids, Collagen, Caffeine Anhydrous, Probiotics, Turmeric, Bacopa Monnieri |
| Beverly Hills MD Deep Wrinkle Filler | 125.00 | Tightenyl, Diamond Powder, Chondrus Crispus, Camomile Flower Extract |
| AlgaeCal | Approx. $33-$102 | Strontium, Boron, Vitamin K, Calcium, Magnesium, Vitamins C and D3, Omega 3 Fatty Acids |
| UMZU | Approx. $29-$54 | Probiotics, Collagen, Digestive Enzymes, Betaine, Vitamin D3, L-Taurine, L-Tyrosine, L-Leucine, Kelp, Forskolin, Boswellia Serrata, Bromelain |
| Plexus | Approx. $26-$86 | Green coffee bean extract, Chromium polynicotinate, Xylooligosaccharide, Lactobacillus, Magnesium |
Conclusion
Vitauthority is a health and wellness brand which sells organic supplements powder drinks, gummies, and teas. Their products aim to help promote digestion, weight loss, joint health, lower blood sugar, hormonal balance, sleep, and immune functioning. These are quality products but could use added ingredients in each formula.
There were numerous reviews on Vitauthority online, and many of them were quite positive. Many customers said the products provided them with great benefits like weight-loss and digestive wellness. There were also users who did not get the benefits they expected, and some said the powder did not dissolve well in liquid.
Vitauthority contains all-natural, organic ingredients, but some of them may lead to mild side effects. If you should experience any unpleasant symptoms, stop taking the brand right away. Prior to taking a new product, see a doctor and make sure it's medically suitable for you.
11 sources
Health Insiders relies on peer-reviewed studies, academic research institutions, and medical associations. We avoid using tertiary references. You can learn more about how we ensure our content is accurate and current by reading our editorial policy.
[1] Fernández-García E. Skin protection against UV light by dietary antioxidants. Food Funct. 2014 Sep;5(9):1994-2003. doi: 10.1039/c4fo00280f. PMID: 24964816.
[2] Honvo, G., Lengelé, L., Charles, A. et al. Role of Collagen Derivatives in Osteoarthritis and Cartilage Repair: A Systematic Scoping Review With Evidence Mapping. Rheumatol Ther 7, 703–740 (2020)
[3] Johnston CS, Gaas CA. Vinegar: medicinal uses and antiglycemic effect. MedGenMed. 2006;8(2):61. Published 2006 May 30.
[4] Paultre K, Cade W, Hernandez D, Reynolds J, Greif D, Best TM. Therapeutic effects of turmeric or curcumin extract on pain and function for individuals with knee osteoarthritis: a systematic review. BMJ Open Sport Exerc Med. 2021 Jan 13;7(1):e000935. doi: 10.1136/bmjsem-2020-000935. PMID: 33500785; PMCID: PMC7812094.
[5] Ruff KJ, DeVore DP, Leu MD, Robinson MA. Eggshell membrane: a possible new natural therapeutic for joint and connective tissue disorders. Results from two open-label human clinical studies. Clin Interv Aging. 2009;4:235-240. doi:10.2147/cia.s5797
[6] Advanced Research On The Antioxidant And Health Benefit Of Elderberry (Sambucus Nigra) In Food – A Review - ScienceDirect
[7] Role Of Probiotics In Health Improvement, Infection Control And Disease Treatment And Management: https://www.sciencedirect.com/science/article/pii/S1319016413000819
[8] Woo M, Song YO, Kang KH, Noh JS. Anti-Obesity Effects of Collagen Peptide Derived from Skate (Raja kenojei) Skin Through Regulation of Lipid Metabolism. Mar Drugs. 2018;16(9):306. Published 2018 Aug 30. doi:10.3390/md16090306
[9] Daily JW, Yang M, Park S. Efficacy of Turmeric Extracts and Curcumin for Alleviating the Symptoms of Joint Arthritis: A Systematic Review and Meta-Analysis of Randomized Clinical Trials. J Med Food. 2016;19(8):717-729. doi:10.1089/jmf.2016.3705
[10] Akanksha, Singh & Mishra, Sunita. (2017). STUDY ABOUT THE NUTRITIONAL AND MEDICINAL PROPERTIES OF APPLE CIDER VINEGAR ARTICLE INFO ABSTRACT. 8.
[11] Hexsel, Doris & Zague, Vivian & Schunck, Michael & Siega, Carolina & Camozzato, Fernanda & Oesser, Steffen. (2017). Oral supplementation with specific bioactive collagen peptides improves nail growth and reduces symptoms of brittle nails. Journal of Cosmetic Dermatology. 16. 10.1111/jocd.12393.