About Essential Skin Food
Essential Skin Food is a dietary supplement that targets to enhance skin appearance. What makes it unique and effective is that, after ingesting, the ingredients in this formula are absorbed and transported to the skin to offer the most needed nutritional value for healthy-looking skin.
The product supplies six plant-based skin-nourishing constituents that actively promote collagen production. In other words, this is a proprietary blend of components that not only trigger but maintain high collagen production.
Collagen in itself exists as a protein and is found in plenty on the skin. It is a key building block that ensures and maintains skin health.
Prolonged exposure to elements such as light sunlight or hot air, alters the skin's overall resiliency and ability to handle ultraviolet radiation, negative effects of free radicals and inflammation, and also weaken the skin's outer cell wall. Talking of collagen, the skin is made up of collagen, elastin, and proteins that helps keep it young and resilient.
Quick Facts & Specs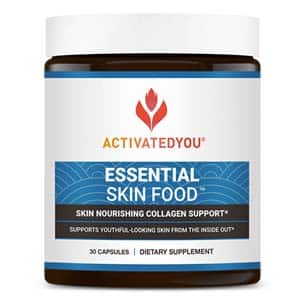 Buy on Website
ActivatedYou Essential Skin Food
Essential Skin Food is perfect for anyone who wants to achieve skin that looks and feels smooth, tight, and youthful at any age.
Benefits:

Improves skin health, reduces wrinkles, improves skin plumpness

Brand:

Activated You

Form:

Capsules

Uses:

The anti-aging solution, Skincare

Ingredients:

Vitamin C, Cosmythic, Dermaval, Amino Acid Complex

Type:

Supplement

Price:

$69.95*
Essential Skin Food Pros and Cons
Pros
It claims to support smoother skin
Improves fine lines
Firms and tightens the skin
Promotes healthy-looking skin
Cons
It is only available online
It may not work the same for everybody
It may not reverse deep wrinkles
Some users may have to wait longer for results
Essential Skin Food Ingredients – The Breakdown
Dermaval™
This is a compound ingredient that has natural collagen-enhancers. It uses phytonutrient components like Pomegranate Extract, Quercetin, Camu Camu, and Coffeeberry to slow down elastin breakdown in the body. It also helps improve the skin's firmness and elasticity.
Vitamin C
This is a common ingredient in the skincare industry. It is regarded as a natural antioxidant, and it helps reduce skin damage that comes from free radicals. Some of its standalone effects are that it makes the skin brighter, more radiant-looking, and youthful.
A study in The Journal of Clinical and Aesthetic Dermatology confirmed the positive effects of Vitamin C on the skin.
Triple Amino Acid Complex
This group of acids is the foundational block of a key skin component called collagen. Essential Skin Food primarily prides itself on enhancing collagen, in that it contains L-Proline and Lysine.
The components work synergistically to tighten up and noticeably plump the skin, improving its texture over time. One review article in the Journal Amino Acids checked into the collagen-boosting effects of amino acids.
Cosmythic™
This compound ingredient is supposedly polyphenol-rich, one of the skin elixirs that one source cites and points out that it can help re-energize the skin's collagen production function.
While more research is necessary to ascertain this claim, the company also points out that this ingredient improves skin radiance, as well as keeps your under-eye skin younger.
How Does Essential Skin Food Work?
Collagen is considered one of the skin's main building blocks that support firmer, less-wrinkled, and plumper-looking skin. Essential Skin Food is made with 6 active collagen-enhancing plant-based skin rejuvenating and nourishing compounds.
In precise, this formula is designed to encourage healthy, active, and consistent collagen production.
The compound ingredient Dermaval for instance has phytonutrient components like quercetin, Camu Camu, pomegranate, and coffeeberry which help boost collagen naturally. Besides, the formula also reduces the breakdown of key skin firming and structure support components like elastin.
Vitamin C on the other hand has strong antioxidant benefits that help control free radicals that speed up aging. It also contains other skin tightening components like L-proline, and lysine, which improve the skin's overall look.
How Does Essential Skin Food Rate?
| Feature | Rating [1 – 10] | Comments |
| --- | --- | --- |
| Ingredients | 8 | There is some evidence that supports collagen's effect in maintaining skin health. However, the company needs to involve third-party testing to help boost user confidence, besides the money-back guarantee. |
| Manufacturer | 8 | The producer has a good online presence, an official website, and a physical location. The only downside is the website limits accessibility to certain regions. |
| Return Policy | 9 | Unsatisfied users can return and have their refund, under the company's 90-day money-back guarantee policy. This is an indication that the company trusts in the capability of its product to deliver. |
Frequently Asked Questions
Q: How to Use Essential Skin Food?
A: The recommended dosage for this supplement is one capsule per day. It's also advisable to use it together with your meals for optimum absorption of the nutrients and best results.
Q: Does Essential Skin Food Have Any Side Effects?
A: ActivatedYou which is the brand behind Essential Skin Food claim to prioritize the purity and safety of their formula and that since this is a fully natural product, it is completely side-effect free. Nevertheless, people who suspect unwanted results or reactions, should stop using it and get in touch with their physician, before proceeding.
Q: Does Essential Skin Food Work?
A: Yes. People who are already seeing aging signs on their skin such as wrinkles and fine lines may notice a notable change with this product. It is a collagen-enhancing supplement, and collagen as a component has been linked to healthy skin. Besides, it has researched ingredients that help restore the skin's youthfulness.
Q: What Do Customers Think About Essential Skin Food?
A: Most people give a positive comment about Essential Skin Food and purport that their skin texture improved. One user by the name of Nancy points out that the results for her were awesome and that she wishes she had found it earlier. Gena, another user comments that she has tried different collagen support products and that this is the only one that has given her tangible results.
Q: How Much Does Essential Skin Food Product Cost: Packages, Deals, Prices & Where to Buy It
A: This skin superfood is available on the official website;
1 Jar – $69.95
3 Jars – $191.85 (save $18.00)
6 Jars – 365.70 (save $54.00)
Alternatives
Conclusion
The biological concept that empowers Essential Skin Food is that with age, the body starts to decline in its ability to maintain healthy levels of collagen, thereby giving way to skin dullness, sagginess, and wrinkle formation. So, this product comes to rescue the situation by re-introducing the missing ingredients for healthier skin – which in this case is collagen.
That is, it triggers the healthy production of collagen, which all along has been the main component that kept the skin young during your youthful days.
One of the reasons this skin food stands out is that it is an ingestible skin care product and that it requires no changes to one's daily skincare routine. This allows you to benefit from the other products that you may already be using or as planning to start on.
In summary, Essential Skin Food by ActivatedYou focuses in improving overall skin health by nourishing it from the inside out. Taking it as directed will supposedly correct the fine lines as well as improve other skin aging signs. For more inquiries and clarity on whether you need to give it a try, users can get in touch with the producer through the official website.